How to Make Red Eggs at Home
Note- This post may contain affiliate links, we earn from qualifying purchases made on our website. If you make a purchase through links from this website, we may get a small share of the sale from Amazon and other similar affiliate programs.
As we all know that eggs hold unique symbolic importance in many of the cultures. Chinese basically believes that the egg is the symbol of rebirth, new life, and fertility. These Red eggs are a traditional part of the Greek Easter and have a great significance.
After getting married, I celebrated my first Easter with my in-laws family. Everyone had to choose one egg at a time and then paired up two-by-two.
Taking the eggs and matching end to end, as everyone says 'Christos Anesti' they patted the ends of the eggs together and that egg which left unbroken will 'win'. This will continue until the last and the final person had at least one end of their egg intact. 
Do you want to know the secret behind the bright and beautiful red eggs? If yes! then you are at the right place. Today, we are going to discuss how to make Red eggs recipe at home.
But the first thing that we need is the basic ingredients that are required to make these Red Eggs at home. Also, there are other recipes that you can have as starters, let's check them out.
1. Soft Boiled Eggs– The whites of the eggs are firm, but the yolk stays in a silky, creamy, liquid gold state that is a little like a cross between butter and melted cheese. They're seriously divine.
2. Vietnamese Egg Rolls– Many of you must be in a dilemma; what are Vietnamese Egg Rolls. To make you clear, they are different from a basic egg roll. They are made with wheat wrappers and deep-fried.
3. Eggplant Napoleon– These eggplant napoleon appetizers are stacked with slices of baked eggplant, tomatoes, and mozzarella cheese. It's the perfect appetizer for a summer dinner.
4. Crab Cake– Crab cakes make the perfect appetizer for your family bonding or get together, regardless of the main course you intend to serve.
Ingredients for Red Eggs
| | |
| --- | --- |
| Ingredients | Amount |
| Powdered red dye for eggs | 1 sachet |
| Boiling water | 1 Cup |
| Cold Water | 6 Cups |
| Large eggs | 12 |
| White vinegar | 1 Cup |
| Vegetable oil | for polish |
I hope these ingredients are already available at your home. If not, so you will get all these ingredients them any of the nearest supermarkets or any store. Now, let's see how much time it will take to make this Red Eggs at home.
How much time it will take?
| | | | |
| --- | --- | --- | --- |
| Prep time | Cook time | Total time | Servings |
| 2 minutes | 20 minutes | 22 minutes | 12 |
So this table of time consumption will help you to manage your time accordingly. Moving on, here are the final steps that will help you to make this complete Red egg recipe. So let's get started.
Red Eggs Recipe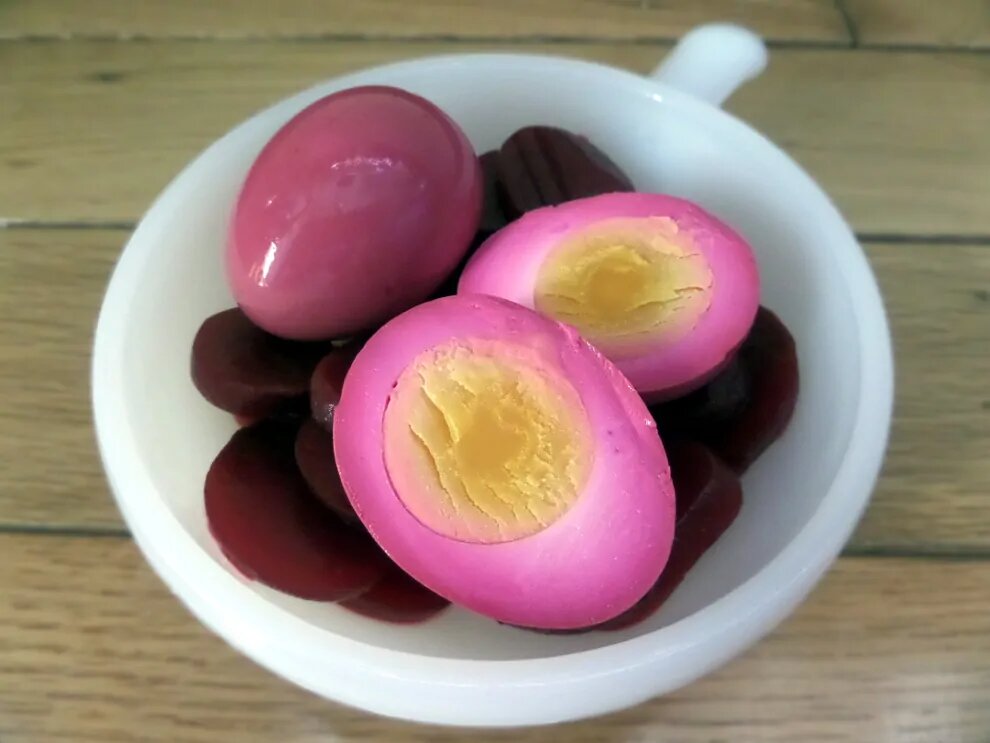 First of all, add dye in a large pan. Add the boiling water in the pan and mix it with a spoon until the dye gets dissolve. After that, mix in the cold water.
Place all the eggs in the dye. Add more cold water if required to cover all the eggs in the pan.
Place the pan over medium flame and bring to the boil.
Reduce the flame to low and simmer, mix the eggs for 2-3 times with a large spoon, for near about 15 minutes.
Add the vinegar and cook it for 2 more minutes. After that, remove the pan and turn off the flame.
Use a large spoon or slotted spoon to lift eggs out of the dye. Place all the eggs in cartons to cool and dry.
Once they are completely dry, use a cloth with vegetable oil to polish all the eggs gently.
Now, your Red eggs recipe is ready. Enjoy these easter Red Eggs and have a great day with your family.
Nutritional Facts of Red Eggs
I know getting worried about our own health is a good thing. So, keeping this thing in mind, I have added the breakdown of nutrients of the Red Eggs which will help you.
| | |
| --- | --- |
| Calories | 172.3 |
| Protein | 8.8 g |
| Carbohydrates | 21.6 g |
| Fat | 6.3 g |
| Cholesterol | 186 mg |
| Calcium | 81.7 mg |
| Iron | 1.4 mg |
| Magnesium | 29.7 mg |
| Potassium | 399.4 mg |
| Sodium | 82.1 mg |
How to make Red Eggs at Home | Video
This Easter recipe is not that difficult but I have something for you to make this more interesting. Check out this video that will help you to make this Red Eggs recipe tastier.
I hope you all will like this recipe. If yes, please let us know about your experience in the comments section below. Till then stay connected and happy cooking.