How To Make Red Death Cocktail At Home
Red Death Drink! It may sound unpleasant to you but this drink is a winner with its sweetness. It is just a tricky name given to this drink because of the drink's beautiful red color. This drink is not too harsh and with this drink, you will experience the best of both worlds as it gives you a fruity flavor with hard contents like vodka. It is a delicious drink for sure with a combination of a variety of liquor and fruit juice.
The cocktail is a combination of different spirits mixed with a fruit juice or some fruit-based drink. There are various cocktails that have a combination of one to two or as many as five to six liquors. One such drink came to my mind with a combination of five spirits with fruit juice, which I thought to share with you. The drink is known as Red Death Drink.
This drink can be taken as a substitute for your dessert after your dinner as it's sweet and the dose of alcohol in it will comfort your night. It pairs best with salty food like nuts. So check out the recipe for this party hit the drink. But there are many other drinks that we've covered in our blog. You should definitely check them as well.
1. Kamikaze Shots– Kamikaze shots are sweet with a punch of tartness and the name of this drink is inspired by the Kamikaze pilots of WW II. It is my most favorite shot to start a party with.
2. Pineapple Coconut Jello Shot– A drink having pineapple and coconut sounds like a treat to hear. These two ingredients have different tastes and are mixed to make a drink that is considered one of the best drinks in the American region.
3. Cream Ale– It is a light beer that can be consumed repeatedly. It is an American-style lager with a touch of corn in it. Ales give you a more bitter taste. Till the 20th-century cream ales remained localized. But after the Canadian brewers started brewing cream ales, it got improved.
4. Flaming Doctor Pepper– The flaming Doctor Pepper cocktail tastes like pepper and it is put on fire. It is an irony that Doctor Pepper is not its ingredients. This flaming cocktail is notorious for the harm it may cause, if not made with precautions.
What Equipment Will You Need To Make Red Death Cocktail?
Cocktail Shaker – This is a cocktail that is shaken not stirred. So, we need a cocktal shaker to make the drink.
Sieve – Before serving, pass the drink through a sieve.
Serving Glass – Serve your drink in fancy serving glasses.
How Much Time Will You Need To Make Red Death Cocktail?
| Preparation Time | Cooking Time | Total Time |
| --- | --- | --- |
| 5 minutes | – | 5 minutes |
What Ingredients Will You Need To Make Red Death Cocktail?
Liquors – The liquors in the drink are Sloe Gin, Southern Comfort Liqueur, Vodka, Lime Rum, Triple Sec, Amaretto Liqueur, and Galliano Liqueur. These spirits give a variety of flavors to the drink.
Grenadine Syrup – The grenadine syrup gives the drink its red color and sweetness,
Orange Juice – The tang of the orange juice helps balance the sweetness of the syrup. It also gives a fresh taste to the drink.
Ice Cubes – We need the drink to be chilled, Thus, we need to add ice cubes to the drink.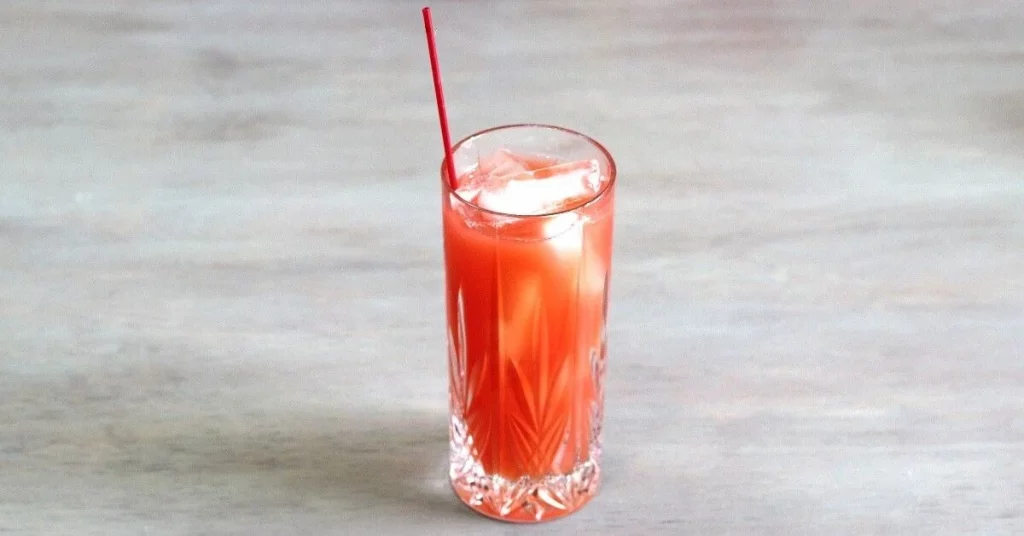 Steps To Make Red Death Cocktail
1. The Cool Shaker
Take a cocktail shaker. To it, add all the liqueurs, lime rum, gin, triple sec, grenadine syrup, orange juice with some ice and shake well. Shake it till the shaker gets frosted from outside. You know how tiny droplets race down the glass, we are looking for that.
2. Strain and Serve
Strain it and pour it into the serving glass. Serve the drink chilled. Your Red Death Cocktail is ready. Enjoy this sweet drink with your friends and family and feel its freshness.
Nutritional Information
| | |
| --- | --- |
| Calories | 818 kcal |
| Protein | 1.3 g |
| Carbohydrates | 71.5 g |
| Fat | 0.6 g |
| Sodium | 20.4 mg |
Recipe Card
Red Death Cocktail Recipe
The red death cocktail is made with a combination of liquors, orange juice, and sweet syrup. All the ingredients are added into a shaker along with some ice. Shake them up a bit and your drink is ready.
Cocktail Shaker

Sieve

Serving Glass
1

fluid ounce

Sloe Gin

1

fluid ounce

Southern Comfort Liqueur

1

fluid ounce

Vodka

2

fluid ounce

Lime Rum

1

fluid ounce

Triple Sec

1

fluid ounce

Amaretto Liqueur

1

fluid ounce

Galliano Liqueur

½

fluid ounce

Grenadine Syrup

6

fluid ounces

Orange Juice

1

cup

Ice Cubes
In a cocktail shaker, add the liqueurs, vodka, gin, rum, grenadine syrup, orange juice, and ice cubes. Close the shaker and shake it for 3-5 minutes.

Then, strain the drink and pour it into glasses. Your red death cocktail is ready! Serve it chilled and enjoy!
Try out this Red Death Cocktail recipe and give your reviews in the comment section below. Also, you can ask me any query related to the recipe without any hesitation. I hope you like this drink. Cheers!