How To Make Raspberry Charlotte Cake At Home
Note- This post may contain affiliate links, we earn from qualifying purchases made on our website. If you make a purchase through links from this website, we may get a small share of the sale from Amazon and other similar affiliate programs.
I have this super yummy and easy recipe for you, which is Raspberry Charlotte Cake for an amazing dessert idea. So today, I will be sharing the complete recipe with you of this grand dessert.
This raspberry charlotte dessert is a wonderful cake by taste (just like it looks). The baked dessert is topped with raspberries and its filling gives it a sweet and tangy taste. I first had this cake when I went to a birthday party and since then, I fell in love with this raspberry charlotte cake.
To prepare this Raspberry Charlotte Cake, Boil milk in another pan, then whisk egg and sugar together. In the other bowl, mix milk and vanilla, then make custard in a seprate pan with gelatin and refrigerate it for few hours. Invert it into a platter and top with raspberries and confectioner's sugar.
I know this recipe seems very easy, but it is just the overview. I will explain the complete recipe below, along with its Ingredients and nutritional values. If you love cakes, then you should definitely check out the other cake recipes that I've handpicked just for you.
1. White Texas Sheet Cake– Sheet cakes are easier to make in comparison to regular cakes. The creamy frosting and white sponge will make you drool over this cake. This is a kind of cake which gets better with time. You will surely love the recipe for this sheet cake.
2. Lemon Meringue Cake– The main ingredients which elevate the taste of this cake are lemon curd, lemon Meringue and vanilla cake. This recipe is really simple and this cake leaves a remarkable impact on the tongue of the people who eat it.
3. Fiesta Cake– Fiesta cake is a cake made with fiesta or fruit cocktail mixed fruits with raisin and chopped cashew nuts.  A cake that simply has fruit in it as an ingredient can also be colloquially called a fiesta cake.
4. Dr. Bird Cake– Dr. Bird Cake is a soft cake flavored with banana and pineapple. It's baked in a 9×13 pan and is essentially a scaled-down version of a classic Hummingbird Cake.
Ingredients For Raspberry Charlotte Cake
15 Lady Fingers
1 cup Whole Milk
1 Vanilla bean
5 Egg Yolks
1/2 cup Sugar
1 tsp Gelatin Powder
1 cup Heavy cream
5 ounces Raspberries
You can buy all these ingredients from the nearby supermarket. Making this cake at home will not take much of your time. Let's check out the breakdown of the timings we need to invest in making this raspberry charlotte cake.
How Much Time It Will Take To Prepare Raspberry Charlotte Cake?
| Preparation Time | Cooking Time | Total Time |
| --- | --- | --- |
| 15 minutes | 1 hour | 1 hour 15 minutes |
This yummy cake needs more time in refrigeration and rest, you don't need any tedious efforts to make this cake at home.
Steps To Make Raspberry Charlotte Cake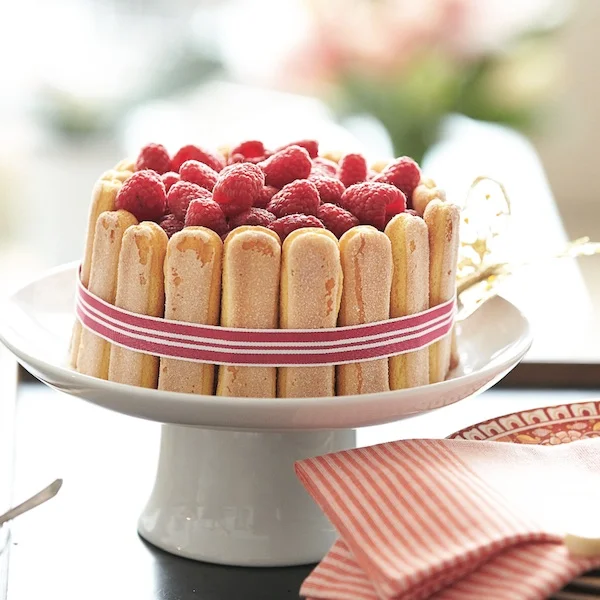 With wax paper, line the bottom of the cake pan and around the pan's sides and arrange ladyfingers and sugar.
In a medium saucepan, bring milk and vanilla to a simmer over low heat.
In a bowl, whisk egg yolk and sugar together.
In a separate bowl, whisk the milk mixture and remove the vanilla bean. Pour through a wire sieve in a clean bowl.
Return this custard to the saucepan and stir it over medium-low heat at 185F
In a small heatproof dish, sprinkle the gelatin over 1/8 cup of water. Let it stand for 5 minutes until it becomes spongy.
Stir it into the custard and mix well.
Fold the cream into the custard, stir in half the raspberries. Spoon into the ladyfinger-lined pan and refrigerate for 3 hours.
To unmold, invert the pan onto a platter. Now arrange the raspberries on the top and sprinkle confectioner's sugar and serve.
Your easy to make Raspberry Charlotte Cake is ready. Do make this cake at your next party and everyone is going to love it.
Nutritional Breakdown Of Raspberry Charlotte Cake
This cake is rich in Carbohydrates and no amount of sodium and iron is available in it. So let's check out the nutrients present in this cake.
| | |
| --- | --- |
| Calories | 58kcal |
| Carbs | 5g |
| Fats | 3.9g |
| Protein | 0.3g |
| Sodium | 0g |
| Iron | 0g |
How to Make Raspberry Charlotte Cake at Home | Video
Here is a recipe video for you. You can watch it to know more about the recipe and you can solve any confusion about the recipe by referring to this video.
Try this cake at home and share your valuable feedback in the comment section and also, if you have any questions regarding the recipe, then do ask in the comment section. If you liked this recipe, share it with your friends and family and also, for more amazing cake ideas and cooking ideas, stay connected with us!