How To Make Quick Vegetable Biryani At Home
Every state in India has its own culture, tradition, and food. Indian cuisine is a celebration of different spices and colors. One such vibrant and delicious dish is the vegetable biryani. It has a lot of different spices that blend perfectly together to give a balanced dish.
Hyderabad, also known as The City of Nawabs, is famous for its biryani. I visited a restaurant there, which is about 50 years old. They only serve vegetable biryani and it was absolutely delicious. It was a well-blended mixture of rice and vegetables with aromatic spices in every bite.
To make vegetable biryani, cook the rice along with whole spices. Mix clarified butter with it. Heat oil in a pan and cook cumin seeds in it until they crackle. Add onion, ginger paste, green chilly paste, and spices to the pan and cook. Then, add the vegetables and yogurt to it and cook for 5 minutes. Then, layer the rice and vegetable mixture in a pan. Cover it and cook for 30 minutes.
Want to make aromatic and flavorful biryani but out of basmati rice? I'll tell you what you can use instead. Here is a list of basmati rice substitutes for you. Give 'em a read!
There are many other recipes that you can make with rice, I highly recommend you to check them as well.
1. Jasmine Rice– This rice is famous all across South East Asia. It is a long-grain rice that is native to Thailand. As the name suggests, jasmine rice is lovely and subtly fragrant.
2. Brown Rice– This brown rice has many benefits other than traditional rice noodles. It contains high fiber, which is good for your metabolism and cholesterol is not an issue if you have brown rice.
3. Chinese Fried Rice– A quick fried rice like you get at your favorite Chinese restaurant. A couple of eggs, baby carrots, peas and soy sauce is all you need.
4. Carrot Rice– This recipe is a delicious and healthy recipe. It is made from sauteed vegetables, rice and spices. It is flavorful and aromatic. It is also really simple to make.
Ingredients for Vegetable Biryani Recipe
| | |
| --- | --- |
| Long Grained Rice | 1 1/2 cup |
| Bayleaf | 1 |
| Cinnamon | 25 |
| Clove | 1 |
| Cardamon | 1 |
| Corn | 1/4 cups |
| Carrots (Small Pieces) | 2 |
| Cauliflower | 15 florets |
| French Beans (cut into pieces) | 6 |
| Tomatoes (chopped) | 1 cup |
| Cottage Cheese (Paneer) | 1/4 cups |
| Oil | 2 tablespoons |
| Cumin Seeds | 1/2 teaspoon |
| Ginger Paste | 2 teaspoon |
| Green Chilly Paste | 2 teaspoon |
| Turmeric Powder | 1/4 teaspoon |
| Coriander Powder | 2 teaspoon |
| Chilli Powder | 1/2 teaspoon |
| Garam Masala | 1/2 teaspoon |
| Salt | as per taste |
| Plain Yogurt | 1/4 cup |
| Clarified Butter | 2 tablespoons |
Vegetable Biryani Recipe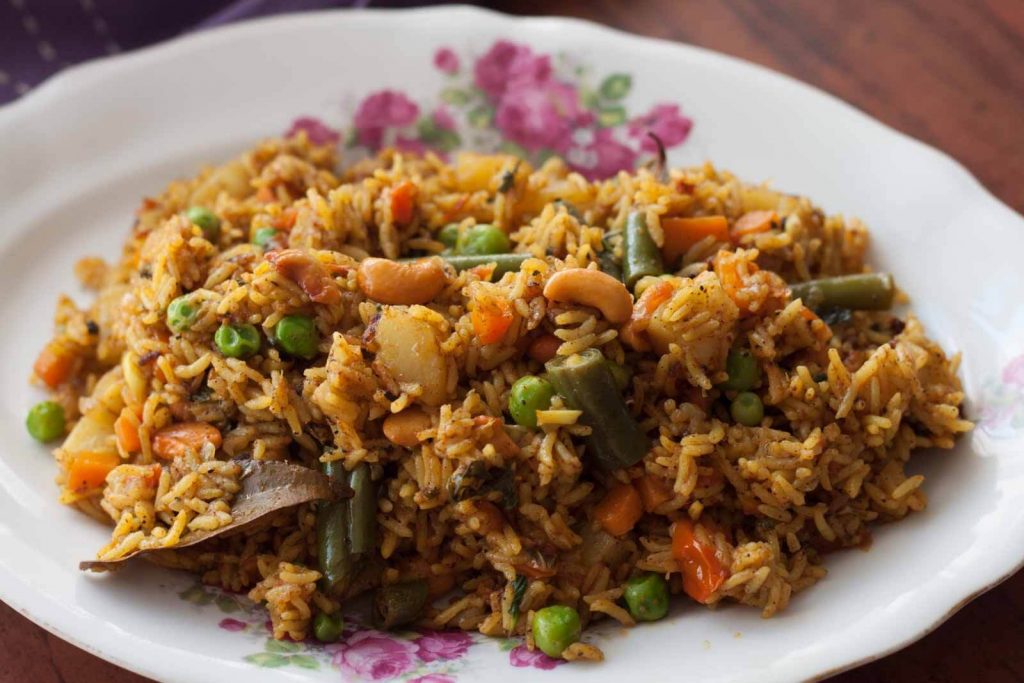 Add cinnamon, clove, cardamom, bay leaf, and salt to a bowl of water. Soak the rice in it for about 30 minutes. Then, drain the water and keep the rice aside.
Now, in a non-stick pan, add oil and cumin seeds. Cook the seeds for some minutes until it starts to crackle.
Then, add onions to the oil and cook them until they become translucent.
Add ginger paste, green chilly paste, turmeric powder, coriander powder, chili powder, and garam masala to the pan. Cook for around 1 minute.
Now, add tomatoes, carrots, cauliflower, french beans, cottage cheese, yogurt, and water to it. Cook it on a medium flame for about 5 minutes.
Take out half of this mixture on a plate.
Add the clarified butter to the cooked rice and mix. Then, spread half of the rice on the mixture in the pan. Put the rest of the vegetable mixture on the layer of rice.
Spread the remaining rice on top of the vegetable mixture.
Cover the pan with a lid and cook it on a medium flame for about 30 minutes.
How Much Time it Will Take?
| | | |
| --- | --- | --- |
| Preparation Time | Cooking Time | Total Time |
| 45 Minutes | 30 Minutes | 1 Hour 15 Minutes |
Nutritional Information of Vegetable Biryani Recipe
| | |
| --- | --- |
| Calories | 241 |
| Protein | 4.8 g |
| Carbohydrates | 13.9 g |
| Fiber | 3.3 g |
| Fat | 17.9 g |
| Cholesterol | 0 mg |
How to Make Vegetable Biryani at Home | Video