How to Make Purple Haze Drink at Home
Drinks are the best way to make our life a relaxed and refreshed one. Any party, occasion or gathering is always incomplete without a drink. But why always to wait for any occasion to enjoy a smooth and refreshing drink when we can make it anytime at home? To make drinks, it needs very fewer ingredients and only requires the perfection of mixing it in adequate proportions. So let's try making a drink at home, which will make your day better.
The drink that I am about to mix is called Purple Haze Cocktail. The name is due to its purple colour and this drink looks beautiful once done. Yes, the taste is also mind-blowing. This drink consists of alcohol and I think kids and infants should be kept away from it. But if you want, you can change the proportions of those ingredients and can make a soft drink out of it which still tastes the best.
So what are we waiting for, let's start making this drink and enjoy the sip of it with your buddies or loved ones? The ingredients are the initial stage of how a recipe can be started. But there are many other drinks that we've covered in our blog. You should definitely check them as well.
1. Vampiro Cocktail– This Vampiro Cocktail combines the flavors of the Blanco tequila with a twist of different juices and a little spiciness. You can pair this Vampire cocktail drink with chips, salsa, and several other things.
2. Vodka Sour– This drink has a blend of various citrus juices and some high protein egg whites that make it the best choice for you. This drink can be made with very few ingredients and is very easy to make as well.
3. Spanish Sangria– Making a drink like Spanish sangria to beat the scorching heat of the sun can be fun. The recipe I am sharing with you today is of a popular wine drink. Yes, you guessed I right. I will be talking about Spanish Sangria.
4. Eggnog– Have you ever imagined a drink with egg in it? If no, then this eggnog recipe is just for you. Don't you worry about the taste; it is one of the most delicious and healthiest drinks you would have ever tasted in your entire life.
Ingredients for Purple Haze Drink
| Ingredients | Amount |
| --- | --- |
| Vodka | 1 ½ ounces  |
| Black Raspberry Liqueur | ½ ounce |
| Cranberry Juice | 2 ounces |
| Fresh Mint | To garnish |
Surprised? Yes, the list is short and you can get these ingredients from the nearest supermarket in your locality. This drink doesn't take much of your time. The only thing you have to do is to mix these ingredients and you are ready to go.
How Much Time It Will Take?
| Preparation Time | Total Time |
| --- | --- |
| 3 Minutes | 3 Minutes |
Now here comes the final part which is my personal favourite and I know you guys are also eagerly waiting for it. So, by not creating much suspense, let's make this drink.
Purple Haze Drink Recipe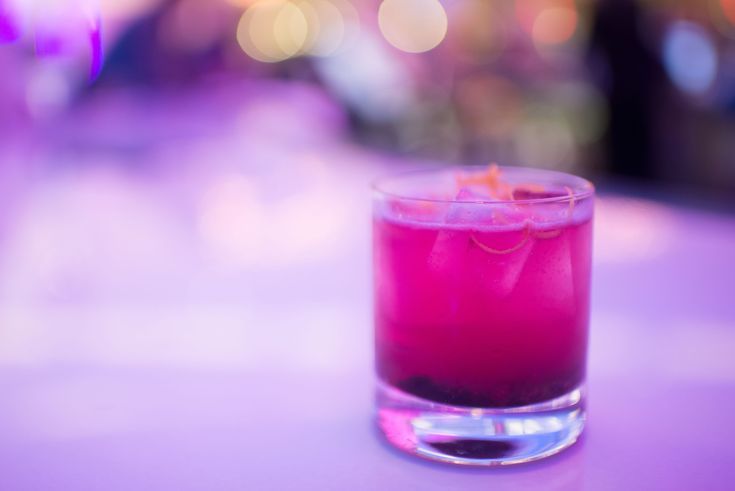 Gather and collect all the ingredients.
Take a cocktail shaker and add vodka and black raspberry liqueur in it.
Shake it well and make sure it has a perfect quantity of both.
Fill it in some glass which is filled with ice.
Add some cranberry juice on top and mix it up. Garnish with some mint leaves and here you go.
Serve chilled and to add more taste have some fresh limes with it. You will love the taste and it will make you feel refreshed and relaxed at the same time.
Nutritional Breakdown of Purple Haze Cocktail
When we talk about nutrition, the precise values and info is significant. Here is the complete breakdown of this recipe done for you in the table below.
| | |
| --- | --- |
| Fat | 0 gm |
| Sugars | 5 gm |
| Carbohydrates | 0 gm |
| Fiber | 0 gm |
| Sodium  | 40 mg |
So do you like this recipe? If yes, then please let us know in the comments box below and why don't you check out some other cool recipes as well. Make any of these easy recipes at home and bring a smile on the face of your loved ones.
Root Beer Float Recipe: The combination of a vanilla ice cream with root beer which makes it a perfect one for every drink lover.
Tokyo Tea Recipe: The sweet and sour taste of lemon, vodka and rum blended together in perfect proportions. This will make you feel relaxed and refreshed at the same time.
Hot Pepper Infused Vodka Recipe: It's a combination of some firing pepper and vodka mixed together to give a very spicy taste to your tongue. 
How to Make Purple Haze Cocktail at Home | Video
This drink is very easy to make. But still, I've added a How to Make video below that will definitely help you in the procedure.
I hope you will like these recipes and will try these at your place. Let us know if you have any good recipe of any drink and we will love to share it. Till then have a great day and take care.