How To Make Pumpernickel Bread At Home
Pumpernickel Bread is made with a high proportion of rye flour and wheat flour. It differs from rye bread as Rye bread is made with rye flour with the addition of different grains in it.
Pumpernickel bread is good for digestion and cures many digestion problems. A study has found that Pumpernickle bread has four to eight times starch resistance that keeps blood sugar at a level.
To make pumpernickel bread, mix bread flour, cornmeal, rye flour, cocoa powder, wheat flour, and salt in a bowl. In another bowl, mix warm milk, brown sugar, yeast, and molasses. Add the dry mixture, the wet mixture, and butter in a mixer and knead. Let the dough rest for 45 minutes. Then, bake it for 35 minutes. Let it cool for 10 minutes. Your pumpernickel bread is ready.
This is just a snippet of the recipe. Find the complete recipe below. But before going to the full recipe, do check out other bread recipes as well.
1. Pugliese Bread– This special Italian bread originated from Puglia. It is the Pugliese bread. It is an oval bread made from moist fermented dough and is really crispy and delicious.
2. Classic Banana– Banana bread is the old times' classics. It is probably one of the most famous bread recipes out there. Everyone loves banana bread and should learn how to make one. Fortunately, it's quite easy to do.
3. Rosca de Reyes– Rosca means 'wreath' and Reyes means 'king.' So, Rosca de Reyes means 'King's Wreath' when translated. That is why the bread is shaped like a wreath.
4. Pizza Crust– This is hands down the best pizza dough. You will love this crust – it's crisp, chewy and so satisfying. Make this and you will never want a store-bought crust again. 
Ingredients For Pumpernickel Bread
| Ingredients | Amount |
| --- | --- |
| Bread Flour | 3 cups |
| Rye Flour | 1 1/3 cups |
| Cornmeal | 1/2 cup |
| Whole-Wheat Flour | 1/4 cup |
| Cocoa Powder | 1/4 cup |
| Kosher Salt | 1 tablespoon |
| Milk | 2 cups |
| Dark Brown Sugar | 1 1/2 tablespoons |
| Dry Yeast | 1 tablespoon |
| Molasses | 1/4 cup |
| Butter | 3 tablespoons |
How Much Time It Will Take?
| | | |
| --- | --- | --- |
| Preparation Time | Cooking Time | Total Time |
| 35 Minutes | 1 Hour 5 Minutes | 1 Hour 40 Minutes |
Pumpernickel Bread Recipe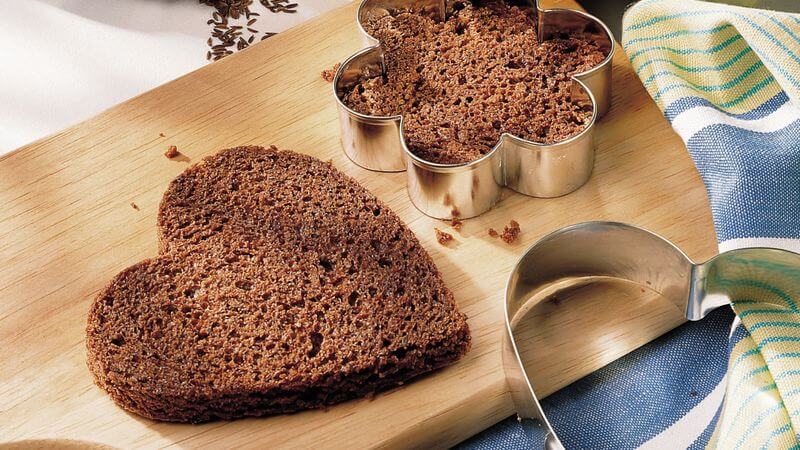 In a large bowl, add bread flour, cornmeal, rye flour, cocoa powder, wheat flour, and salt. Mix all these ingredients.
Heat milk in a pan until just warm. Pour the milk into a small bowl. Add brown sugar and yeast to it. Mix it until sugar is completely dissolved.
Then, add molasses to the milk and mix.
Add the dry mixture and the wet mixture into the mixer. Blend for about 5-6 minutes until a sticky dough is formed.
Then, add butter to the dough mixture and mix. Knead it for another 8 minutes.
Transfer the dough to a bowl and cover with plastic wrap. Set it aside for about 45 minutes.
After that, place it on a surface dusted with flour. Roll the dough into a cylindrical shape. Put it in a greased loaf pan. Cover it with plastic wrap and set it aside for 45 minutes.
Preheat the oven to 375° C. Remove the plastic wrap from the pan and place it in the oven.
Bake it for about 35 minutes. Take the bread out when it has turned dark brown in color. Place the loaf on a wire rack and let it cool for 10 minutes.
Your pumpernickel bread is ready.
Nutritional Facts Pumpernickel Bread
| | |
| --- | --- |
| Calories | 218 |
| Protein | 6.3 g  |
| Carbohydrates | 40.9 g |
| Fats | 3.5 g  |
| Cholesterol | 2.6 mg |
| Sodium | 225.6 mg |
How To Make Pumpernickel Bread at Home | Video