How To Make Pugliese Bread At Home
Today, I'm going to tell you about a special Italian bread that originated from Puglia. It is the Pugliese bread. It is an oval bread made from moist fermented dough and is really crispy and delicious.
Puglia is basically a mountainous region and is bordered by the Ionian and Adriatic seas. Pugliese bread is a lot like ciabatta because it has very wet dough. One of its pre-fermented forms is known as Biga and so many people also like it. So in this blog, I will also tell you how you can prepare biga at home.
To make Pugliese bread, make biga by mixing flour, yeast, and water in a bowl. Let it rest for a day. In a stand mixer, mix flour, salt, yeast, biga, mashed potatoes, and water. Mix until and sticky and smooth dough is formed. Let it ferment for 2 hours. Then, make 3 balls from it and proof them for 1 hour. Bake the balls for 30 minutes and let them cool for 40 minutes.
This was just a brief summary of the recipe. You can find the complete recipe with all the details below. But before going to the full recipe, do check out other bread recipes as well.
1. Pecan Raisin Bread– We love raisin bread and also enjoy the nutty flavor of pecans, so I decided to combine the two for this delectable loaf. It smells wonderful and the tastes so good.
2. Pumpernickel Bread– Pumpernickel Bread is made with a high proportion of rye flour and wheat flour. It differs from rye bread as Rye bread is made with rye flour with the addition of different grains in it.
3. Manna Bread– Manna bread is healthy and very easy to make. It has various health benefits too. This bread is considered one of the oldest food that we humans used to eat. Its history goes as far as biblical days.
4. Squaw Bread– Squaw bread is a healthy bread made with rye flour, molasses, honey, butter, cocoa powder, and cornmeal. It is a delicious and sweet bread. You can also add raisins and nuts to it.
Ingredients for Pugliese Bread
For Biga
| Ingredients | Amount |
| --- | --- |
| Bread Flour | 2 cups |
| Yeast | 1/2 teaspoon |
| Water | 3/4 cup |
For Pugliese Bread
| Ingredients | Amount |
| --- | --- |
| Biga | 18 oz. |
| Durum Flour | 1 1/4 cups |
| Bread Flour | 1 1/2 cup |
| Salt | 2 1/4 teaspoon |
| Yeast | 1/2 teaspoon |
| Mashed Potatoes | 1/3 cup |
| Lukewarm Water | 1/3 cup |
With these handful of ingredients, we can make this yummy bread at home. Now let's check out the timings.
How Much Time It Will Take?
| Preparation Time | Resting Time | Cooking Time | Total Time |
| --- | --- | --- | --- |
| 20 Minutes | 1 Day 3 Hours | 30 Minutes | 1 Day 3 Hours 50 Minutes |
Pugliese Bread Recipe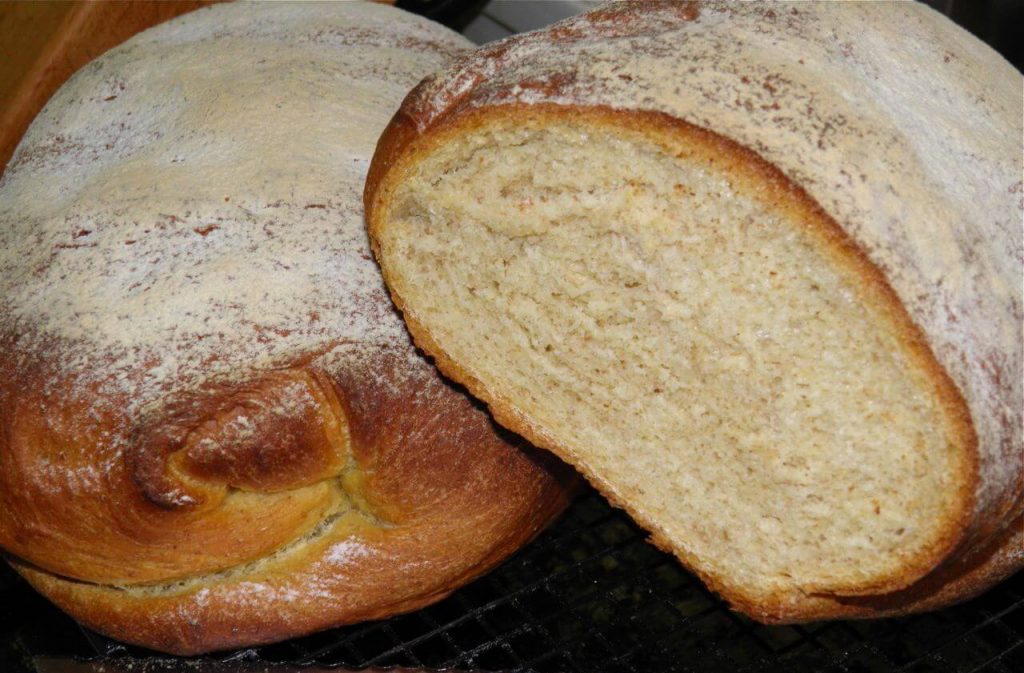 Directions to Prepare Biga
In warm water, stir the yeast and wait for 10 minutes until it becomes creamy.
Add 1 cup of flour into it and stir it. Mix it in a food processor or beat it manually, but make sure it forms a sticky dough.
In a lightly oiled bowl, transfer the biga. Now at room temperature, let it settle down. Allow it to rest for 24 to 48 hours.
Refrigerate it until ready to use.
Directions to Prepare Pugliese Bread
Take out biga from the refrigerator 1-hour before cooking.
Cut it into small pieces and cover them with plastic wrap.
In a standing mixer bowl, add the durum flour, bread flour, yeast, and salt. Then, add the biga, mashed potatoes, and water. Mix it until it forms a sticky ball.
Then, mix it for another 5 minutes until the dough becomes sticky and smooth.
Use a spatula and transfer the dough to a surface dusted with flour. Stretch it and fold to give it the proper shape.
Wait for half an hour and then, stretch again. Let the dough rise in size.
Transfer the dough to a bowl greased with oil. Cover it with plastic wrap and let it ferment for 2 hours.
Then, cut the dough into 3 pieces and shape them into oval balls. Cover them with oil. Leave them to proof for an hour.
Preheat the oven to 500oF.
Place the dough balls on a baking tray lined with parchment paper and greased with oil. Place in the oven and bake them at 450oF for 15 minutes. Then, rotate the tray 180o. Cook for another 15 minutes.
When the bread has cooked, take it out. Place it on a cooling rack and let it cool for about 40 minutes.
Nutritional Breakdown of Pugliese Bread
| | |
| --- | --- |
| Calories | 169 |
| Carbs | 34 g |
| Protein | 6 g |
| Fat | 1 g |
| Sodium | 333 g |
| Potassium | 84 g |
| Fiber | 2 g |
How to Make to Pugliese Bread at Home | Video