How to Make Primavera Pizza at Home
Note- This post may contain affiliate links, we earn from qualifying purchases made on our website. If you make a purchase through links from this website, we may get a small share of the sale from Amazon and other similar affiliate programs.
Primavera Pizza is an American pizza chain and their pizzas are so popular and tasty as well. Today, I will reveal my secret way of making this awesome at my home.
My friend once threw a party in Pizza Hut and there I got the chance to eat Primavera pizza. This pizza was really tasty and healthy. When I returned home, I checked for the recipe for this pizza. I didn't get the perfect recipe on the internet, so I called my friend who worked for Pizza Hut and asked for the recipe from him.
The primavera pizza's main ingredients are pizza crust, carrot, onion, tomato, capsicum, cheese, garlic, basil, and olive oil. Preheat the oven and place the pizza crust on pan. Add all the veggies and cheese on the pizza. Bake for 20 minutes. Pizza is ready to serve.
If you didn't get the recipe, don't worry this was just a short recipe. The complete recipe is mentioned below with all the detailed instructions. But here are some other amazing recipes that you should definitely try.
1. Lahmacun Turkish Pizza– Lahmacun pronounced as "lahma'joun ' is derived from the Arabic word "lahma bi'ajeen" meaning "dough with meat." Flatbreads or pizzas are one of the most delicious dishes.
2. Vegan Cheese Pizza– There are many misconceptions among the masses that veganism will restrict your food options. Today I will debunk those misconceptions with a quick Vegan Cheese Pizza Recipe.
3. Fiestada Pizza– Forget about the pizza from those big pizza outlets, Fiestada Pizza is much better than those pizzas.
4. Sausage and Tomato Pizza– This simple homemade sausage, mozzarella and basil pizza is absolutely delicious! With sweet Italian sausage, fresh tomatoes, basil and balsamic vinegar, it makes for a fantastic weeknight dinner.
Ingredients for Primavera Pizza
1 Pizza Crust
1/2 cup sliced Carrot
1/2 cup sliced Onion
1/2 cup sliced Tomato
1/2 cup sliced Capsicum
1 cup Parmesan Cheese
1 cup Mozzarella
1 tbsp Garlic
1/2 cup Basil
1/2 cup Asparagus
2 tbsp Olive Oil
Now get these ingredients and be ready to make the pizza. Let's see how much time will it take to make this pizza.
How Much Time It Will Take To Make Primavera Pizza?
| Preparation Time | Cooking Time | Total Time |
| --- | --- | --- |
| 15 mins | 35 mins | 50 mins |
Unlike other pizzas, this pizza is very easy and takes very less time to make. Now let's see the steps to make this recipe.
Steps to Make Primavera Pizza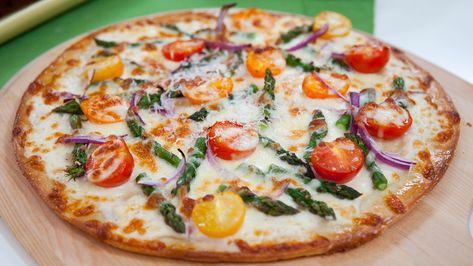 Preheat oven to 375 degrees.
Place pizza crust on a pizza pan, prick it with a fork in different sides of the crust and bake for 7 to 8 minutes.
Apply oil on pizza crust.
Add garlic and a little mozzarella on the crust.
Top with basil, asparagus, and mushrooms. Sprinkle with remaining mozzarella.
Bake Pizza for 20 minutes.
Cut pizza into slices before you serve.
The authentic Primavera Pizza is ready. Make it at your home and everyone is going to love it.
Nutritional Breakdown Of Primavera Pizza Recipe
The below nutritional breakdown will be very helpful for diet-conscious people to help monitor the calories and other nutrients intake.
| | |
| --- | --- |
| Calories | 217 |
| Fats | 10 g |
| Cholesterol | 25 mg |
| Sodium | 513 mg |
| Potassium | 509 mg |
| Protein | 15 g |
| Carbohydrates | 20 g |
How to Make Primavera Pizza at Home | Video
To make the perfect Primavera pizza I suggest you watch this video and then only make the pizza.
Now make this pizza for your loved ones and make them happy. Please leave us your reviews in the comment section below.