How to Make Potato Masoor Dal Ki Patties (Tikki) Recipe
Note- This post may contain affiliate links, we earn from qualifying purchases made on our website. If you make a purchase through links from this website, we may get a small share of the sale from Amazon and other similar affiliate programs.
In my city where I live, there is a place where you will find only street food. I used to go to that place every Sunday with my family. One day, I went to a stall where that uncle serves only Potato Masoor Dal Ki Patties. I ate it and it was the best Tikki I ever had and I asked uncle about he will make the patties, he gave me the recipe with some tips and Guess What?
Today, I will share the Potato Masoor Dal Ki Patties Recipe. But first I will tell you about Tikki and I got this information from the internet.
Tikki snack originated from Indian subcontinent north India Pakistani and Bangladeshi preparation, it is made out of boiled potatoes, peas, and various curry spices. "Aloo" means potato, and the word "tikki" means a small cutlet or croquette in Hindi and Marathi. Also, there are other recipes that you can have as starters, let's check them out.
1. Mirchi Pakoda– Mirch Pakoda or Mirchi Bhajiya are deep-fried fritters made with a bigger sized variety of green chillies, gram flour, herbs and spices.
2. Dahi Palak Patta Chaat– Spinach leaves are coated in a batter and deep fried to make spinach fritters and then drizzled with smooth beaten yoghurt, chutneys, and masalas.
3. Vegetable Uttapam– Vegetable Uttapa, also Uttapam, is a crisp and spongy breakfast south Indian delight. The recipe for Uttapam is both easy to cook and healthy. The recipe is nutritious and seasoned with healthy vegetables.
4. Chinese Spring Rolls– These Chicken Spring Rolls are light with crisp-crackly skin and small enough to enjoy in 4 bites. The filling is also light, full of tender-crisp vegetables and you should be able to taste and distinguish every single ingredient in the filling.
Ingredients for Potato Masoor Dal Ki Patties Recipe
| | |
| --- | --- |
| Ingredients | Amount |
| Masoor daal | 1 cup |
| Turmeric powder | 1 tsp |
| Oil | 4 tbsp |
| Boiled potatoes | 500 gm |
| Finely chopped onions | 2 units |
| Finely chopped garlic | 2 tsp |
| Green chillies | 2 units |
| Bread crumbs | 4 slices |
| Salt | 1tsp |
| Black pepper powder | ½ tsp |
| Thickly chopped tomatoes | 2 units |
How Much Time It Will Take?
| | | |
| --- | --- | --- |
| Preparation Time | Cooking Time | Total Time |
| 30 minutes | 45 minutes | 1 hour 15 minutes |
Potato Masoor Dal Ki Patties Recipe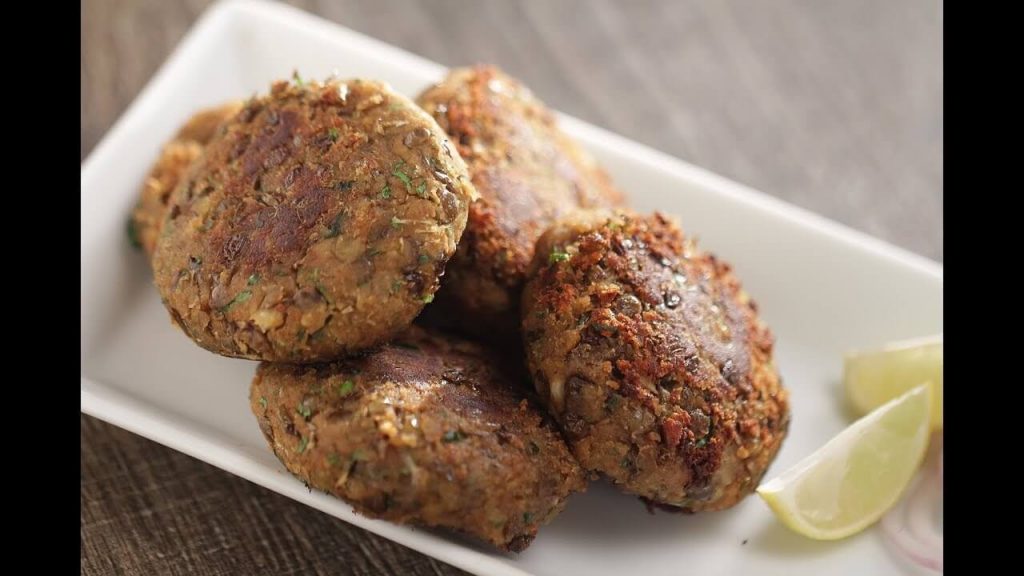 Boil the daal with 1 tsp turmeric powder added to it.
In a preheated pan add 2 tsp oil and heat it.
Add mashed potatoes to it.
Add chopped onions and garlic to it.
Roast it and put it on a plate.
Now add chopped green chillies, bread crumb, salt, and black pepper powder to it.
Mix all.
Add boiled daal about ¾ cups.
Mix it all to the dough.
Make small round tikkis out of it.
Shallow fry them in the preheated oil pan.
Put them on tomato slices.
Sprinkle black pepper powder on it.
Serve hot.
Taste the new pleasure, of the change in your normal recipe and savour the newness of MASOOR DAL KI PATTIES RECIPE, and equally delight your taste buds. A change and a new makes you keep moving on gives you a new reason to live on.
Masoor Dal Ki Patties Recipe Nutritional Information
| | |
| --- | --- |
| Calories | 94 |
| Fats | 3 g |
| Cholesterol | 1 mg |
| Sodium | 155 mg |
| Potassium | 75 mg |
| Carbohydrates | 15 g |
| Protein | 4 g |
How to Make Masoor Daal ki Patties at Home | Video