How to Make Pork Panko at Home
Note- This post may contain affiliate links, we earn from qualifying purchases made on our website. If you make a purchase through links from this website, we may get a small share of the sale from Amazon and other similar affiliate programs.
Panko or panko bread is a type of bread crumbs from japan. They are made up of white bread and have no crusts in them. And today the recipe that we are about to make has this panko as the main ingredient. This Panko helps in making the outer crust of any vegetable or the Non-vegan item, without consuming excessive amounts of oil and helps to keep them more crispy.
Various delicious recipes, other than Japanese cuisine use this Panko as their ingredient; and so are we going to do today. Today's special is the Pork Panko Recipe. It is just a regular pork recipe with some added twist. The Panko plays its role here. The crispy and juicy texture given to the pork pieces is all due to the Panko that has been coated all around it.
Out of panko? No need to panic. Here is a list of the best panko substitutes that you can use instead.
So let's initiate our recipe and start making this delicious pork panko at home. To make it at home, you will need ingredients that are easy to arrange and can be found in any nearest supermarket store.
But here are some other amazing recipes that you should definitely try.
1. Pork Fry– Anyone can make this delicious pork fry recipe at their home by just following this simple recipe that I've mentioned.
2. Poached Chicken– The name of this dish is Poached chicken and you are going to find it different and more delicious than the normal chicken. You can use this to make wonderful chicken salads or use it as a topper for ria bowls and tacos.
3. Dragon's Breath Chili– Dragon's Breath Chili invokes a kind of dangerous thing in your mind. Well, Dragon's Breathe is a chilli pepper cultivar which is believed to be the second hottest chilli. This Guy Fieri's fiery chilli dish would make your day.
4. Lemon Pepper Pork Chops– The bright flavour of lemon pepper seasoning will do wonders to the chops. You can bake them, grill or fry them as per your preference. But the recipe I am sharing with you involves baking them in an oven.
Ingredients for Pork Panko
| Ingredients | Quantity |
| --- | --- |
| Eggs  | 2 large  |
| Milk  | 1 tsp. |
| Garlic  | 1 clove  |
| Panko Breadcrumbs  | 1 ½ cups  |
| Pork Chops  | 8 pc.  |
| Vegetable Oil  | 1 cup |
The next step is to know the timings of the recipe and manage your schedule accordingly. This recipe doesn't take much longer and gets ready in a few minutes. Down below, you will find the complete time details.
How Much Time Will It Take?
| Preparation Time | Cooking Time | Total Time |
| --- | --- | --- |
| 8 Minutes  | 20 Minutes  | 28 Minutes |
Now comes the final part of any recipe, after which you can cherish the taste and flavors of your favorite food that you have been waiting for. I think you all have guessed what's coming? Ok, then. Let's start cooking! Follow the steps to make the perfect Pork Panko at home.
Pork Panko Recipe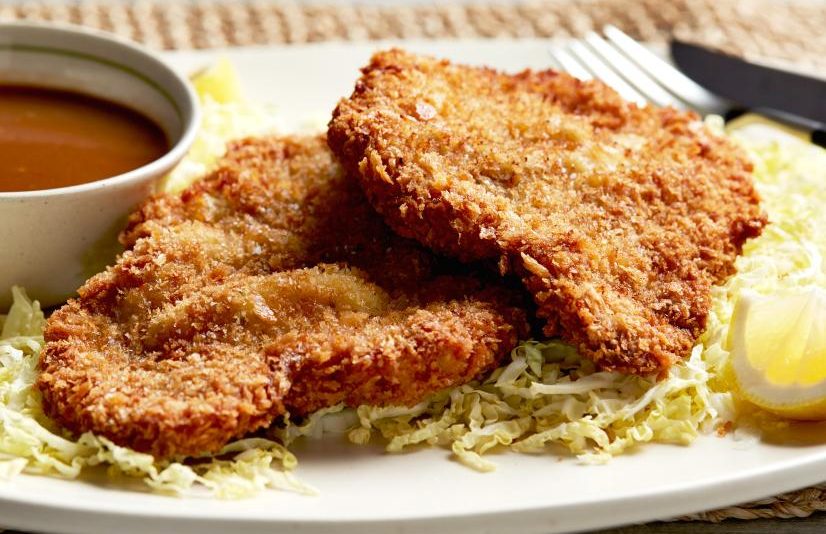 In a small bowl, add milk, eggs and garlic. Mix them well and keep them aside.
Season your pork chops with some salt and pepper and dip them in the egg mixture.
Keep your panko bread crumbs ready and immediately coat the pork chops dipped in egg mixture with it. Properly coat the pork chops such that no area is left uncovered.
After the coating is done, let the pork chops sit for at least 10 minutes to make sure the coating is all set.
Take a large skillet and heat the oil keeping it on high heat. Fry these pork chop pieces for about3-4 minutes until they turn golden brown.
Make sure the pork chops are not overcooked, as they cook fast and gives no time to react.
And your pork panko recipe is ready. Serve it immediately with any beverage and enjoy the best of your weekends or holidays.
Nutritional Breakdown of Pork Panko
The nutritional contents of this recipe are provided in the table below. 
| | |
| --- | --- |
| Calories  | 1128 |
| Fats  | 87.6 gm. |
| Cholesterol  | 256 mg. |
| Carbohydrates  | 29.6 gm. |
| Sugars  | 2.7 gm. |
| Fiber  | 1.8 gm. |
How to Make Pork Panko at Home | Video
The video of this recipe is attached below. Check it out and make it easy for you to know and understand this pork panko recipe.
Try out this pork panko and tell us your reviews in the comment section below. Also, you can ask me any queries related to the recipe without thinking twice. I hope you will like this recipe. Stay tuned for more such content. Cheers!