How To Make Popeyes Popcorn Shrimp At Home
Note- This post may contain affiliate links, we earn from qualifying purchases made on our website. If you make a purchase through links from this website, we may get a small share of the sale from Amazon and other similar affiliate programs.
Popeyes is known for offering amazing crispy fried popcorn shrimp. They are fresh, crunchy, and delicious. Who wouldn't love crispy shrimp loaded with rich spices and followed by Southern-style breading? Making these flaky Popeyes popcorn shrimps at home is a cakewalk. Get to know more further in this article!
The Popeyes menu is known for its delectable and classic chicken dishes. However, their seafood menu is not the one to miss out on either. The popcorn shrimps are one of the popular seafood dishes served at Popeyes. The recipe of popcorn shrimps will surely make you try this in your kitchen. 
Perfectly roll the raw shrimp, coat, and fry. Recreate the copycat recipe by first dipping the raw shrimps into egg batter, then coat with the dry rubs, and finally deep-fry. The breading spices will result in the flavorful, crispy, and flakey texture of the popcorn shrimps. Serve them with your choice of dips and sauces. 
If you are craving to have well-spiced, crunchy, and tender popcorn, then follow the entire recipe. Make the Popeyes popcorn shrimps by following the detailed list of equipment, ingredients, nutritional information, and step-by-step instructions. But before getting the instructions, check out our other copycat recipes below.
1. Popeyes Coleslaw – Popeyes coleslaw is a fresh and healthy side dish. It's a healthy combination of mayonnaise, sweet relish, sugar, mustard sauce, vinegar, and fresh veggies like carrots, onions, cabbage, etc. The taste of this coleslaw is enhanced with salt-pepper seasoning. This dish can be paired with any main course dish. 
2. Popeyes Cajun Gravy – Popeyes Cajun gravy is a delish meld of flavors. This gravy has red bell pepper, oregano, thyme, cayenne pepper, white pepper, garlic powder, and many other spices in it. It also has the taste of Tabasco sauce, Worcestershire sauce, and bacon grease. This gravy can be enjoyed with mashed potatoes, turkey dishes, and biscuits. 
3. Popeyes Spicy Mayonnaise – Popeyes spicy mayonnaise is a combination of hot sauce, vinegar, and mayonnaise. This mayonnaise is spiced up by adding cayenne pepper, smoked paprika, onion powder, ground cumin, and salt. This mayonnaise is easy-to-make and can be enjoyed as a dip with snacks and many side dishes. 
4. Popeyes Chicken Tenders – Popeyes chicken tenders are chicken pieces marinated with buttermilk and hot sauce. This chicken is coated with a dry rub and then fried until it has a perfect golden brown finish. These chicken tenders are served with hot sauce or any other condiment. 
What Equipment Will You Need To Make Popeyes Popcorn Shrimp?
Frying Pan –  By using a frying pan, fry the popcorn shrimps. 
Tong – Flip the shrimp with the help of a tong.
Bowls – Take two separate bowls for adding breeding elements. 
How Much Time Will You Need To Make Popeyes Popcorn Shrimps?
| Preparation Time | Cooking Time | Total Time |
| --- | --- | --- |
| 5 Minutes | 15 Minutes | 20 Minutes |
What Ingredients Will You Need To Make Popeyes Popcorn Shrimp?
Raw Shrimps – Peel and wash the shrimps for making popcorn shrimps.
All-Purpose Flour – In a bowl, add all-purpose flour blended with dry rubs for coating the shrimps. 
Eggs – Take two eggs for coating the shrimps. Beat the eggs nicely. 
Vegetable Oil – For frying the shrimps, use any vegetable oil to your preference. 
Garlic Powder – Aromatic flavors will be added by using a teaspoon of onion powder to the coating mix. 
Onion Powder – Enhance the sweet and savory flavors by adding onion powder. 
Black Pepper – A teaspoon of black pepper can be added for the seasoning of coating. 
Cayenne Pepper – The coating of the popcorn shrimps will be crispy and spicy if you add a teaspoon of cayenne pepper to the coating mix. 
Smoked Paprika – Adding smoked paprika with other spices will add smoky flavors. 
Oregano – Season the coating mix with a teaspoon of dried oregano.
Thyme – Using thyme will add fresh, minty, and grassy taste to the shrimp coating. 
Salt – Add salt to your taste.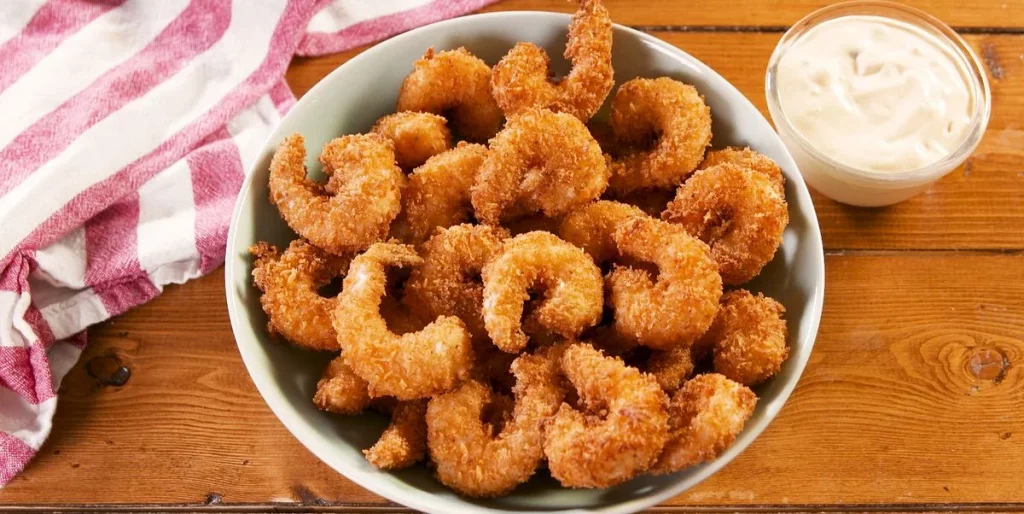 Steps To Make Popeyes Popcorn Shrimp 
1. Batter Mix 
In a large bowl, beat two eggs evenly for preparing the batter mix. In a separate bowl, add the dry elements. Take half a cup of flour, a teaspoon of onion powder, garlic powder, cayenne pepper, smoked paprika, oregano, salt, thyme, and black pepper. By using a spoon, mix it well. 
2. Coat And Fry 
After washing and peeling off the shrimps, dip them into the egg batter. Then, roll out the shrimps into the dry mix and put it in the frying pan to fry at 350 degrees F. Make sure to fry the shrimps in batches until it turns golden brown. Serve the fried crispy popcorn shrimps with your choice of dips and sauces. 
Nutritional Information
| | |
| --- | --- |
| Calories | 330 kcal |
| Carbohydrates | 28 g |
| Protein | 11 g |
| Sodium | 1290 mg |
| Cholesterol | 65 mg |
| Fat | 9 g |
| Dietary Fiber | 3 g |
How Will Popeyes Popcorn Shrimp Look And Taste Like?
Popeyes popcorn shrimps are delicious and an amazing treat. The shrimps have a pleasing golden finishing with a crispy crunch. Nicely battered, coated, and fried shrimps satiate your taste buds.
Popeyes Popcorn Shrimp Recipe
Popeyes popcorn shrimp are crispy, crunchy, and delightful. Popcorn shrimps are prepared by using raw shrimps, eggs, flour, oil, and some flavorful spices. Get started to prepare crispy and fresh shrimps at home. Refer to the recipe to know the details!
½

pound

Raw Shrimps

½

cup

All-Purpose Flour

2

Eggs

½

cup

Vegetable Oil

1

teaspoon

Garlic Powder

1

teaspoon

Onion Powder

1

teaspoon

Black Pepper

1

teaspoon

Cayenne Pepper

1

teaspoon

Smoked Paprika

1

teaspoon

Oregano

2

teaspoon

Thyme

2

teaspoon

Salt
In a bowl, combine flour, black pepper, onion powder, garlic powder, cayenne pepper, smoked paprika, oregano, salt, and thyme.

In another bowl, beat the eggs nicely.

Dip the pieces of shrimp, first into the egg batter, then generously coat with the dry spices.

Drop the coated shrimp into the hot oil. Fry for 15 minutes at 350 degrees F.

Repeat the same to fry the batches of shrimps.

Dust the Cajun seasoning on the top and serve hot with your favorite dips and sauces.
Frequently Asked Questions(FAQs)
1. What is Popeyes popcorn shrimp made of?
Popeyes shrimps are prepared by coating them with egg batter, dry spices, and at last deep-frying to form the crisp and crunchy shrimps. 
2. How is Popeyes popcorn shrimp?
Popeyes Shrimps are delicious, spicy, and irresistible. If you are a food fanatic, you will surely love the amazing popcorn shrimps served at Popeyes. 
3. Does Popeyes popcorn shrimp have tails?
Popeyes popcorn shrimps come peeled, deveined, yet with the tail attached. 
4. Does Popeyes still have popcorn shrimp?
Yes, Popeyes still serve popcorn shrimps. The popcorn shrimps at Popeyes costs you $5.49 for 6 pieces.
Grab a chair and get started to make these crispy Popeyes popcorn shrimps in your kitchen. Take the help of the recipe article and follow the right steps. Share your cooking experience with us in the comments section below.