How to Make Popeyes Coleslaw at Home
Note- This post may contain affiliate links, we earn from qualifying purchases made on our website. If you make a purchase through links from this website, we may get a small share of the sale from Amazon and other similar affiliate programs.
Popeyes is best known for its spicy fried chicken and chicken sandwiches. However, Popeyes coleslaw is worth drooling over as well. Popeyes has been one of America's beloved and fastest booming chicken brands. Popeyes coleslaw is not prepared by using buttermilk or lemon juice. If you wish to know what it is, then keep reading!
Coleslaw is a sort of salad prepared by using veggies and some sauces. For making Popeyes Coleslaw, you need mayonnaise, sweet relish, sugar, vinegar, mustard sauce, and some fresh veggies seasoned with the spices. The perfect accompaniment to your favorite food, a well-spiced homemade coleslaw dish rounds out a delightful meal. 
Get started with your staples and prepare the copycat Popeyes country-style coleslaw in your kitchen. This side dish is sure to impress your family as well as the guests. Make sure you put together the cabbage mix and the dressing uniformly. For better results, let it sit in the refrigerator for 2 hours before serving. 
Once you make Popeyes coleslaw copycat recipe, I am sure it will be one of your top picks. Go through the article below. It will get you familiar with the list of required equipment and ingredients. Moreover, find the step-by-step instructions and nutritional information mentioned below! But before getting the instructions, check out our other copycat recipes below.
1. Popeyes Cajun Gravy – Popeyes Cajun gravy is a delish meld of flavors. This gravy has red bell pepper, oregano, thyme, cayenne pepper, white pepper, garlic powder, and many other spices in it. It also has the taste of Tabasco sauce, Worcestershire sauce, and bacon grease. This gravy can be enjoyed with mashed potatoes, turkey dishes, and biscuits. 
2. Popeyes Spicy Mayonnaise – Popeyes spicy mayonnaise is a combination of hot sauce, vinegar, and mayonnaise. This mayonnaise is spiced up by adding cayenne pepper, smoked paprika, onion powder, ground cumin, and salt. This mayonnaise is easy-to-make and can be enjoyed as a dip with snacks and many side dishes. 
3. Popeyes Chicken Tenders – Popeyes chicken tenders are chicken pieces marinated with buttermilk and hot sauce. This chicken is coated with a dry rub and then fried until it has a perfect golden brown finish. These chicken tenders are served with hot sauce or any other condiment. 
4. Popeyes Popcorn Shrimps – Popeyes popcorn shrimp are crispy and crunchy. These shrimp are battered with eggs and a flour mix and then fried until they're crispy and golden brown. These shrimp are served with ranch. You can pair this dish with any other condiment of your choice.
What Equipment Will You Need To Make Popeyes Coleslaw?
Bowl – Whisk all the elements together in a bowl.
Knife – Finely chop the veggies with a sharp knife.
Whisk – Mix all the elements by using a whisk.
Tong – With the help of a tong, mix the veggies into the mixture. 
How Much Time Will You Need To Make Popeyes Coleslaw?
| Preparation Time | Cooking Time | Total Time |
| --- | --- | --- |
| 5 Minutes | 10 Minutes | 15 Minutes |
What Ingredients Will You Need To Make Popeyes Coleslaw?
Mayonnaise – Mayonnaise is used as a base element for making coleslaw.
Sugar – A teaspoon of sugar will balance the tangy flavors. 
Sweet Relish – The sweet relish is prepared by using pickled cucumbers or fresh cucumbers seasoned with vinegar, sugar, salt, and spices. It adds extra flavors to the bland foods. 
Vinegar – For the tangy touch, add a teaspoon of vinegar.
Vegetable Oil – The moisture can be retained by using a teaspoon of oil. Moreover, the coleslaw prepared with vinegar and oil can be stored for up to 2-3 days. 
Mustard Sauce – The mustard sauce is well combined with the veggies. It adds sweet and spicy flavors.
Carrot – Thinly sliced carrots bring out the bright colors to the coleslaw.
Onions – Use diced onions for adding to the coleslaw. 
Cabbage – Freshly chopped cabbage will add the crispy crunch to the coleslaw. 
Salt – Add a teaspoon of salt to your taste. 
Black Pepper – Season the coleslaw with a pinch of black pepper.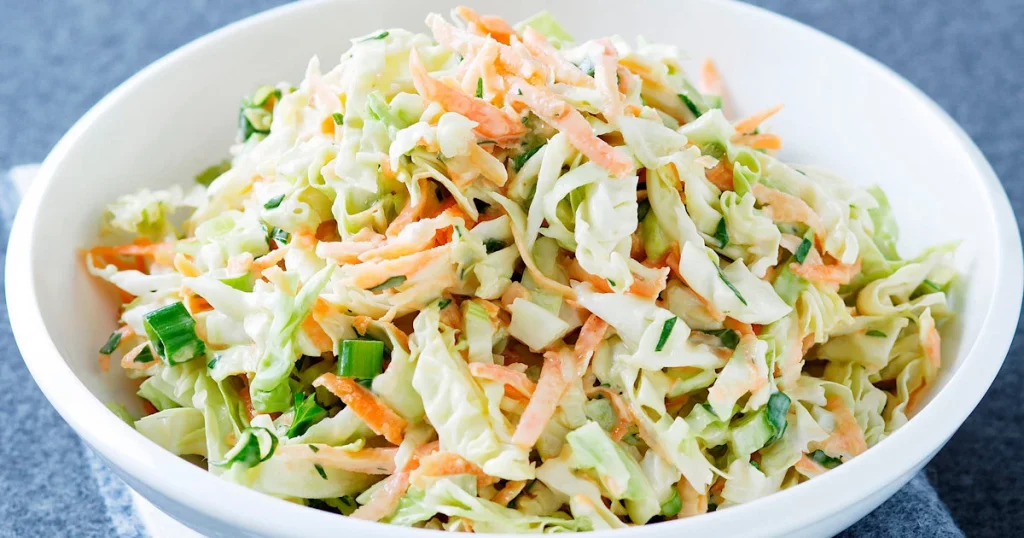 Steps To Make Popeyes Coleslaw
1. Coalesce The Coleslaw
Grab a bowl and add half a cup of mayonnaise, a teaspoon of sugar, vinegar, sweet relish, vegetable oil, mustard sauce, salt, and black pepper. Whisk all together to achieve a smooth texture. 
2. Color Up
Finally, add the chopped carrots, onions, and cabbage. The colorful veggies look fresh and beautiful. Stir in the veggies nicely with a tong. Serve with your favorite side dishes. You can also store the rest of the coleslaw in an airtight container. 
Nutritional Information
| | |
| --- | --- |
| Calories | 193 kcal |
| Carbohydrates | 17 g |
| Protein | 1.2 g |
| Cholesterol | 8.4 mg |
| Sugar | 16 g |
| Sodium | 262 mg |
| Fat | 13 g |
| Dietary Fiber | 2 g |
How Will Popeyes ColeslawLook And Taste Like?
Replace the fried goodness with refreshing Popeyes coleslaw. It is delicious, refreshing, and highly nutritious. The base of mayonnaise is mixed with rich spices and fresh veggies. Homemade Popeyes coleslaw is filled with vitamins and fiber-packed food.
Popeyes Coleslaw Recipe
Popeyes coleslaw is delicious. It is prepared to serve as a side dish with any meal of your choice. For making the coleslaw you need mayonnaise, fresh veggies, and some rich spices. The best part of coleslaw is that it is prepared in just 10 minutes without any fuss of cooking or baking.
1

tablespoon

Mayonnaise

1

teaspoon

Sugar

1

teaspoon

Sweet Relish

1

teaspoon

Vinegar

1

teaspoon

Vegetable Oil

1

teaspoon

Mustard Sauce

½

cup

Carrot (chopped)

½

cup

Onions (chopped)

½

cup

Cabbage (chopped)

1

teaspoon

Salt

1

teaspoon

Black Pepper
In a bowl, add mayonnaise, a teaspoon of sugar, vinegar, sweet relish, vegetable oil, mustard sauce, salt, and black pepper.

Whisk everything together.

Then, add chopped carrots, onions, and cabbage. Combine all the veggies into the flavorful mayonnaise.

Mix it well and serve with your choice of favorite food.
Frequently Asked Questions (FAQs)
1. What is Popeyes coleslaw made of?
Unlike other coleslaw recipes, Popeyes coleslaw isn't made with buttermilk or lemon juice. Popeyes Coleslaw is packed with fresh veggies, sweet pickle relish, vinegar, mustard, and mayonnaise. 
2. Does Popeyes have good coleslaw?
Popeyes coleslaw is delicious and loved by many people. It is so refreshing that you would not want to have anything after eating Popeyes coleslaw. 
3. Is Popeyes coleslaw vegan?
Popeyes vegan coleslaw has vegan mayonnaise added to it. They serve vegan coleslaw at their restaurants. 
4. Did Popeyes discontinue coleslaw?
Popeyes didn't discontinue the coleslaw. It is still served in all their outlets.
5. Is coleslaw healthy to eat?
As it is loaded with fresh veggies and rich spices, Popeyes coleslaw is healthy and highly nutritious, packed with vitamins and fiber. 
Get started with this amazing Popeyes coleslaw recipe in your kitchen. Refer to the above recipe article to know some thick and thins. Don't forget to share your cooking experience with us in the comments section below.