How to make Poached Chicken at Home
Note- This post may contain affiliate links, we earn from qualifying purchases made on our website. If you make a purchase through links from this website, we may get a small share of the sale from Amazon and other similar affiliate programs.
Are you in the mood of eating something spicy and juicy? If yes, then today's recipe is just for you and this will tickle your taste buds. You are going to love this recipe so much that you will make it again and again after having it once!
Chicken is liked by so many people. But today, I'm going to share a recipe with you that is different from the normal chicken. This recipe is soft, tender and juicy chicken that will totally change your view about the chicken.
The name of this dish is Poached chicken and you are going to find it different and more delicious than the normal chicken. You can use this to make wonderful chicken salads or use it as a topper for ria bowls and tacos.
This tangy flavour recipe can uplift your mood and you will be very pleased to have it . Trust me that you will love the process of making it at home as well. But here are some other amazing recipes that you should definitely try.
1. Chicken And Dumplings– I came across this Southern delicious chicken and dumplings in a buffet. It was so tasty that I had to try making it at home. This recipe is very delicious and you can enjoy it with your whole family.
2. Sweet Potato Dumplings– Sweet Potato Dumplings are delicious and so easy to make. I've always loved sweet potatoes. Because sweet potatoes are, well, sweet. You can fry them, bake them, casserole them, or soufflé them.
3. Chicken Murphy– This recipe is a lovely mix of diced chicken breast, sausage, potatoes, white wine, and several other ingredients. The best thing is that you don't have to be a great and experienced chef to cook delicious and amazing food.
4. Pork Panko– Panko or panko bread is a type of bread crumbs from japan. They are made up of white bread and have no crusts in them. And today the recipe that we are about to make has this panko as the main ingredient.
Ingredients for Poached Chicken
| Ingredients | Amount |
| --- | --- |
| Bay Leaves | 1-2 |
| Chicken Breast | 1 lb |
| Water | 1/2 tsp |
| Garlic and Ginger | 3 |
| Salt | 1/2 tsp |
The key ingredients to make this poached chicken at home are given in the table above. Now let's just have a look at the time we need to make this chicken at home.
How Much Time It Will Take?
| Preparation Time | Cooking Time | Total Time |
| --- | --- | --- |
| 5 minutes | 20 minutes | 25 minutes |
This will only take about half an hour and thus you can make it in very little time at home. Let's move to the instructions to make poached chicken at home.
Poached Chicken Recipe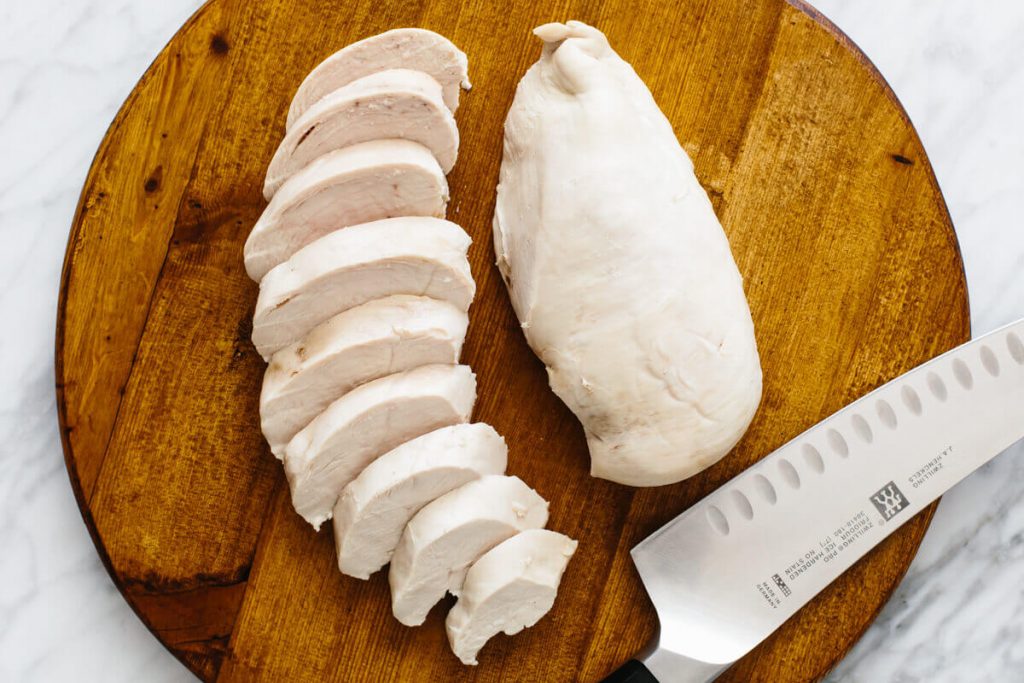 Add ginger, garlic, chicken and salt to a pot.
Dip the chicken in water and put it on medium flame.
Cook it at sim flame and this will help in softening of the chicken.
Lower the heat and cook it for 10 more minutes.
Slice it on the cutting board and serve it.
You can top your favourite rice and grain bowls with poached chicken.
Your poached chicken is ready now. You can try it with salads and drinks as it'll be a perfect meal.
Nutritional Breakdown of Poached Chicken
As we all know that chicken is really healthy for us. That is why I've added a nutritional breakdown of this Poached Chicken below.
| | |
| --- | --- |
| Calories | 165kcal |
| Protein | 31mg |
| Fat | 3g |
| Carbohydrates | 0 |
| Cholesterol | 284mg |
| Sodium | 18mg |
| Potassium | 72mg |
How to Make Poached Chicken at Home | Video
I have put this video for your better understanding of the recipe. You can refer to this video anytime whenever you have any confusion with the recipe.
You can now try this dish at home and share this recipe with your friends and family and stay tuned for more fabulous recipes and dishes.