How To Make Pizza Hut Thin Crust Pizza At Home
Pizza Hut's thin crust pizza is delectable and irresistible. Do you agree? Now, you can make a look-alike Pizza Hut thin crust pizza at home. Prepare this super simple and gratifying thin crust with our recipe!
It begins with the dough that is thin n' crispy. With a perfectly kneaded dough and hints of buttery flavor, the crust stands out of all the toppings. The crunch will leave you feeling good instantly after that first slice. 
Add toppings and sauces of your choice. Moreover, don't forget the fact that the seasoning offered by Pizza hut is truly magical. If you have some extra packets in your pantry, give it a try!
So are you ready to go to the edge? Don't worry, pushing the flavor boundaries is a savory option! Cheer up and prepare a delectable Pizza Hut thin crust pizza in your kitchen.  
Don't want cheese in your pizza? Well, just swap it. Here's a list of cheese substitutes for pizza that you can use.
Know the entire recipe with the required equipment and ingredients below. Determine the nutritional facts instructions. Don't miss your chance of adding this recipe to your cookery list. Scroll down to yield the perfect flavors. But before getting the instructions, check out our other copycat recipes.
1. Pizza Hut Chicken Alfredo Pasta – Cooked fusilli pasta slathered with creamy, buttery alfredo sauce along with chicken pieces. I am talking about Pizza Hut chicken alfredo pasta. This amazing pasta really is as good as it sounds. Try it once and you're never going back.
2. Pizza Hut Taco Pizza – Can't decide whether to make tacos or pizza for dinner? Make both with Pizza Hut taco pizza recipe. Crispy pizza dough covered in guac, queso, salsa, beef, tortilla chips, and everything taco!
3. Pizza Hut Style Salad – Pizza Hut-style salad is not your run-of-the-mill salad. This creamy salad has macaroni and fusilli. These pasta buddies are drenched in a creamy sauce along with your favorite veggies. Not the healthiest salad but definitely the creamiest one.
4. Pizza Hut Buffalo Wings – The Pizza Hut Buffalo chicken wings are the wings of your dreams (if your dreams include fiery food). The chicken wings are marinated in a mixture of flavorful and hot sauces. Then, they are dipped in hot sauce after they are fried. So, it's hot inside out!
What Equipment Will You Need To Make Pizza Hut Thin Crust Pizza?
Baking Tray – Place the pizza in a baking tray and get the magnifying results.
Bowls – Take bowls to knead the dough and prepare the yeast mixture. 
Rolling Pin – Using a rolling pin, flatten the dough nicely to form a thin crust. Rolling it with your hands will also work. 
Cling Film – Cover the dough with a cling film.
How Much Time Will You Need To Make Pizza Hut Thin Crust Pizza?
| Preparation Time | Resting Time | Cooking Time | Total Time |
| --- | --- | --- | --- |
| 5 Minutes | 1 hour | 20 Minutes | 1 Hour 25 Minutes |
What Ingredients Will You Need To Make Pizza Hut Thin Crust Pizza?
For Dough 
All-Purpose Flour – Make the dough by using all-purpose flour. 
Salt – Add salt to your taste in the flour. 
Yeast – Raise the dough by adding yeast mixture.
Sugar – Adding sugar will help activate the yeast quickly.
Olive Oil – Olive oil will add moisture and make the dough soft and smooth. 
Mozzarella Cheese – Use grated mozzarella cheese for achieving string cheese pizza.
Marinara Sauce – Choose a marinara sauce to smear on top of the pizza base.
For Toppings
Fried Sausages – We have used fried chicken sausages. You can add your choice of toppings.
Bell Peppers – Sausages pair well with the bell peppers. 
Olive – Add some olives for extra flavors.
Oregano – Season your thin crust pizza with oregano or Italian seasoning.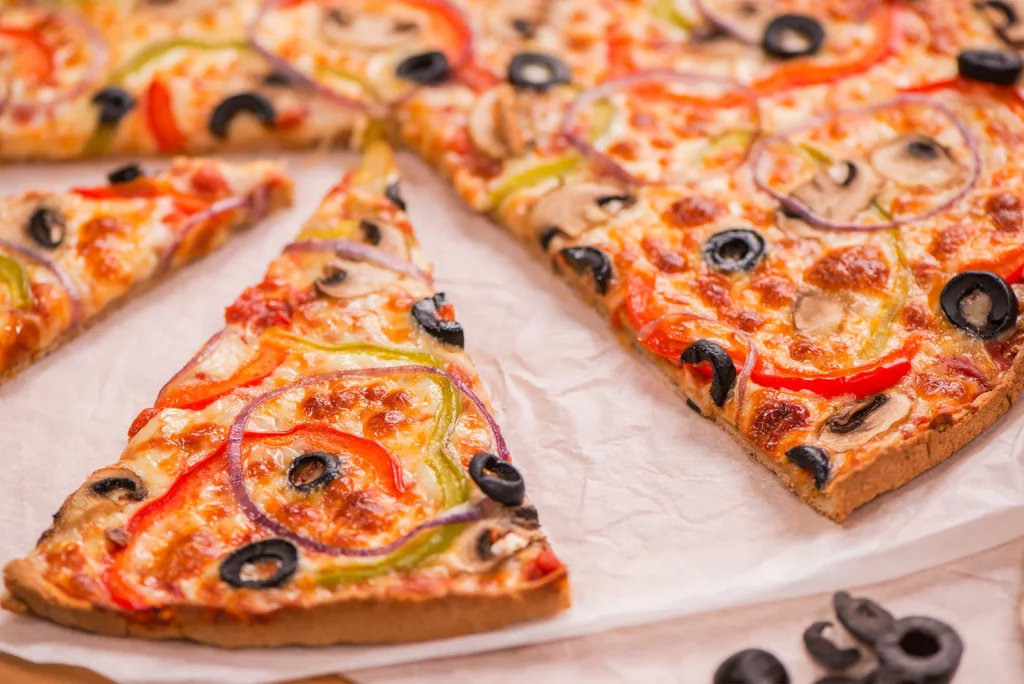 Steps To Make Pizza Hut Thin Crust Pizza 
1. Initial Stage
Prepare the yeast mixture by adding instant yeast in warm water and a teaspoon of sugar. Let the yeast get activated. For dough batter, add flour, salt, yeast mixture, a teaspoon of olive oil, and mix it until it is combined. Punch down to knead the dough. Slather some olive oil all over and cover it with cling film. Let it rest for an hour for a smooth dough.
2. Spread Out The Dough
When the dough is all set, roll the dough as thin as you wish. Place it in the oven for 4 minutes to pre-bake. Pre-baking the pizza base results in a thin and finely crisp crust.
3. Top Up
Slather the sauces of your choice. Top it up with shredded cheese and fried sausages, and bell peppers. Season it with oregano. Put some more cheese on top and put it to bake at 450℉. Pizza Hut thin crust pizza will be ready in no time.
Nutritional Information
| | |
| --- | --- |
| Calories | 280 Kcal |
| Carbohydrates | 29 g |
| Protein | 13 g |
| Fat | 13 g |
| Sodium | 660 mg |
| Dietary Fiber | 2 g |
| Cholesterol | 35 mg |
| Sugar | 4 g |
How Will Pizza Hut Thin Crust Pizza Look And Taste Like?
Pizza Hut's thin crust pizza is just as thin as you'd like. It is filled with appetizing texture, flavorful toppings, and delectable cheesy flavors. I assure you that you would cherish the cracker-style thin crust pizza. 
Pizza Hut Thin Crust Pizza Recipe
Prepare this Pizza Hut fairy-crust pizza recipe. To get the fine thin crust, follow the steps accurately. As the dough is the soul of pizza, make your dough soft and smooth. The toppings can completely depend on your choice. Here we have used fried sausages with bell peppers.
Baking Tray

Bowls

Rolling Pin

Cling film
For Dough 
½

cup

All-Purpose Flour

2

cup

Water

1

teaspoon

Salt

1

tablespoon

Yeast

1

teaspoon

Sugar

1

teaspoon

Olive Oil

½

cup

Mozzarella Cheese

1

tablespoon

Marinara Sauce
For Toppings
100

g

Fried Sausages

½

cup

Bell Peppers

1

teaspoon

Oregano

½

cup

Olives
Combine all the elements in a bowl or a dough machine. Knead the dough for 10 minutes.

Cover it with cling film and cover it to rest for 1 hour. Allow fermenting for better results.

When the resting time is over, punch down the dough to roll in the shape of a pizza.

Roll the dough as thin as you wish it to be.

Grease the pan with olive oil and put the rolled dough to pre-bake for 4 minutes.

Now remove from the oven, add the cheese and toppings. Put it back in the oven for 10-15 minutes or until the cheese is bubbly.
Frequently Asked Questions (FAQs)
1. What are the different crusts at Pizza Hut?
Pizza Hut offers various crust options like the pan crust, hand-tossed, stuffed, cheesy, and thin crust. 
2. Is thin crust pizza dough different?
Thin crust pizza dough is slightly thinner than the usual one. Also, make sure the dough is warmed up before you roll. This helps in stretching out the pizza nicely. 
3. What is Pizza Hut's thin crust called?
Pizza Hut's thin crust has also been named the edge. It is made with thin and crispy dough. 
4. Does thin crust pizza have yeast?
Yes, thin-crust pizza is prepared by adding yeast to it. The yeast helps in raising the dough. 
Follow the recipe and prepare a copycat Pizza Hut thin crust pizza at home. Add your tweaks and let us know how it goes in the comment section below.