How To Make Pizza Hut Taco Pizza At Home 
Pizza Hut taco pizza is one of the most delicious pizzas served since the 1980s. The trick to making Pizza Hut taco pizza at home is super easy. Just a handful of pantry staples, and the taco pizza will be ready right in your cookhouse. Let's know-how!
The copycat taco pizza is prepared with all the bold Mexican flavors. Loaded with refrigerator beans, beef, onions, lettuce, salsa, and some spices, it is a must-try! The toppings include tortilla chips and taco seasoning mix. 
Prepare the dough, sauces, and toppings. Assemble to put together everything and put it to bake. The same Pizza Hut taco pizza will be ready in 20 minutes. You can make some tweaks with the toppings and seasoning. 
Here, we have smeared the salsa on the base along with the bean sauce. However, you can surely add the salsa at last for extra flavors. Moreover, remember to pre-bake your pizza base for better results. It will help in achieving the fairy and crispy crust. 
Now let's get the recipe for taco pizza from Pizza Hut. You will have to read the full article instructions to make a delicious taco pizza. Below is the recipe card with equipment, ingredients, nutritional facts, and instructions. It will guide you through the process. But before getting the instructions, check out our other copycat recipes.
1. Pizza Hut Chicken Alfredo Pasta – Cooked fusilli pasta slathered with creamy, buttery alfredo sauce along with chicken pieces. I am talking about Pizza Hut chicken alfredo pasta. This amazing pasta really is as good as it sounds. Try it once and you're never going back.
2. Pizza Hut Thin Crust Pizza – Fan of the crispy yet chewy thin crust? Then, Pizza Hut thin crust pizza is your one true pizza choice. The fact is you need to roll it thin but the secret is to let the dough rest longer.
3. Pizza Hut Style Salad – Pizza Hut-style salad is not your run-of-the-mill salad. This creamy salad has macaroni and fusilli. These pasta buddies are drenched in a creamy sauce along with your favorite veggies. Not the healthiest salad but definitely the creamiest one.
4. Pizza Hut Buffalo Wings – The Pizza Hut Buffalo chicken wings are the wings of your dreams (if your dreams include fiery food). The chicken wigs are marinated in a mixture of flavorful and hot sauces. Then, they are dipped in hot sauce after they are fried. So, it's hot inside out!
What Equipment Will You Need To Make Pizza Hut  Taco Pizza?
Saucepan – Take two saucepans for preparing the refried bean sauce and sauteeing the ground beef. 
Baking Tray – Place the pizza in a baking tray to bake it nicely. 
Grater – Use a grater to grate the cheese. 
Ladle – Stir in the sauce with the help of a ladle.
Knife – With a knife, chop all the veggies. 
How Much Time Will You Need To Make Pizza Hut Taco Pizza?
| Preparation Time | Resting Time | Cooking Time | Total Time |
| --- | --- | --- | --- |
| 5 Minutes | 1 Hour | 20 Minutes | 1 Hour 25 Minutes |
What Ingredients Will You Need To Make Pizza Hut Taco Pizza?
For Dough 
Yeast – A teaspoon of yeast for raising the dough. 
All-Purpose Flour – Use all-purpose flour for making the pizza base. 
Sugar – Add a teaspoon of sugar to the yeast mixture.
Oil – Slather some oil all over the dough to keep it moist.  
Salt – Add salt as per your taste. 
For Sauce 
Canned Refried Beans – Prepare a sauce by cooking refried beans with melted bacon grease. 
Bacon Grease – Meltdown the bacon grease and add beans with ground spices to the grease. It will add a thick and glazy texture to the sauce.
Chili Powder – Spice up the sauce with a teaspoon of chili powder. 
Garlic Powder – The sauce will have an aromatic flavor blend if you add a teaspoon of garlic powder. 
Cumin Powder – Cumin powder will warm up the sauce with nutty flavors. 
Water – Add half a cup of water to the sauce and let it cook for 3 minutes. 
For Toppings 
Ground Beef – Taco pizza has ground beef as the main element of toppings. Take sauteed ground beef for the pizza toppings. 
Cheddar Cheese – Top the taco pizza with shredded cheddar cheese. 
Diced Onions – For toppings, pizza would go well with tortilla chips and salsa. 
Salsa – Adding salsa on the top of your pizza will bring out sweet and spice flavors. 
Tortilla Chips – Crush the tortilla chips and put some on the top of the pizza. 
Lettuce – At last, put some freshly chopped lettuce. This will add crunchiness to the taco pizza. 
Taco Seasoning Mix – Season the taco pizza with a teaspoon of taco seasoning mix.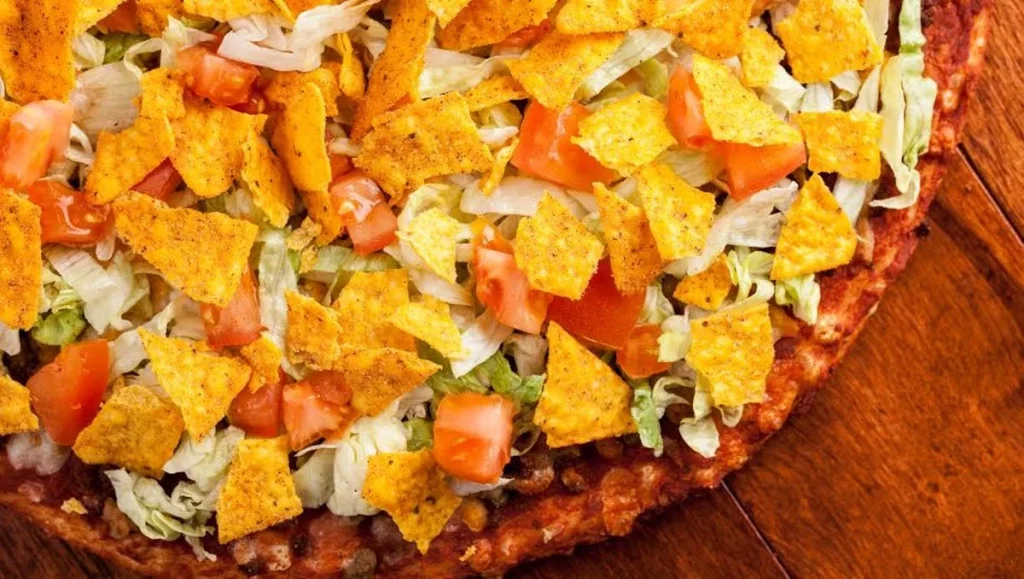 Steps To Make  Pizza Hut Taco PIzza 
1. Dough Play 
Begin with preparing the dough. Activate the yeast with a teaspoon of sugar salt and warm water. In a bowl or dough machine, add flour, yeast mixture, and water. Knead it until it is combined uniformly. Smear a teaspoon of olive oil all over the dough surface and let it rest. 
2. Saucy Concoction
In a saucepan, melt down the bacon grease, add refried beans, garlic powder, cumin powder, water, and salt. Let it cook for 3-4 minutes until it is combined well. The sauce will be ready!
3. Remaining Sautee Prep  
Saute half a cup of ground beef with a teaspoon of taco seasoning for topping up the pizza. Grate a cup of cheddar cheese and gather everything to assemble. 
4. Assemble 
First, roll the dough in the round shape of a pizza. Put it to pre-bake for 3 minutes. Then, remove the base from the oven. Assemble the toppings and begin with the first layer of bean sauce and a teaspoon of salsa, following the next layer of ground beef, onions, and shredded cheddar cheese. 
5. It's Oven Turn 
Place the taco pizza in the baking tray and put it in the oven to bake at 400℉ for 15 minutes. Remove the pizza once it is baked. At last, put some tortilla chips and lettuce. Enjoy! 
Nutritional Information
| | |
| --- | --- |
| Calories | 780 kcal |
| Carbohydrates | 90 g |
| Fat | 35 g |
| Protein | 27 g |
| Sodium | 1330 mg |
How Will Pizza Hut Taco PIzza Look And Taste Like?
A fairy light crust and deliciously rich toppings make this taco pizza truly magical. The bean sauce is emulsified well with bacon grease. On top of that tortilla chips and lettuce, add the crispy crunch with each bite. 
Pizza Hut Taco Pizza Recipe
Pizza Hut taco pizza is a delectable pizza with ground beef toppings and tortilla chips. The beans sauce along with salsa is well emulsified. All in all the taco pizza tastes heavenly. Prepare this pizza in just 20 minutes.
Saucepan

Baking Tray

Grater

Ladle

Knife
For Dough
1

teaspoon

Instant Yeast

½

cup

All-Purpose Flour

1

teaspoon

Sugar

1

teaspoon

Olive OIl

1

teaspoon

Salt
For Sauce 
½

cup

Canned Refried Beans

1

tablespoon

Bacon Grease

1

teaspoon

Chili Powder

1

teaspoon

Garlic Powder

1

teaspoon

Cumin Powder

½

cup

Water
For Toppings
100

g

Ground Beef

½

cup

Cheddar Cheese (Shredded)

½

cup

Dived Onions

1

tablespoon

Salsa

½

cup

Tortilla Chips

½

cup

Lettuce

1

teaspoon

Taco Seasoning Mix
Prepare pizza dough and spread it out on a pizza pan.

Saute the ground beef and prepare the bean sauce with melted bacon grease and ground spices, one at a time.

Gather the chopped onions, shredded cheese, sauteed beef, and bean sauce to assemble.

Spread the bean sauce on the pizza dough evenly. Top it with the ground beef. Put 1/3 of the cheese over beef and beans sauce.

Put the pizza in the oven to bake at 400℉ for 15 minutes.

Remove the pizza when it is baked and garnish it with tortilla chips and lettuce on the top.
Frequently Asked Questions (FAQs)
1. What comes on a Pizza Hut Taco pizza?
Pizza Hut taco pizza has a perfect blend of cheese, ground beef, refried beans, lettuce, onions, tortilla chips, and salsa. 
2. How much is a large taco pizza at Pizza Hut?
Pizza Hut taco pizza is available in all sizes. The large taco pizza costs you $12.
3. Is the taco pizza good?
Yes, taco pizza offered at Pizza Hut is delectable. 
4. How is the chicken taco pizza?
Pizza Hut chicken taco pizza is delicious just like regular taco pizza. The ground beef is replaced with chicken. 
Get this delectable taco pizza just like Pizza Hut on your table now! The article will guide you through the process to make it. Share your experience in the comment section below.