How To Make Pizza Hut Style Salad At Home
Light on calories, loaded with taste, Pizza Hut-style salad is delectable. Today, we have come up with the Pizza Hut-style salad at home. This salad is amazing and chock full of flavors. Get started to fill your salad bowl to the brim with all the colorful elements. To know more, look through the article!
The salad prepared with creamy dressing is healthy and appetizing. It takes just 20 minutes to put it together and tastes delicious. Began to prepare the creamy dipping and stir in the macaroni pasta. Moving forward, get the salad dressing sauce and toppings ready.
We have made the creamy dressing for Pizza Hut salad. However, you can also add the vinaigrette instead of creamy dressing. Healthy and wholesome salad can be enjoyed with any salad dressing of your choice. 
Invigorate your salad bowl with a veggie vibe. Add this copycat Pizza Hut salad recipe to your to-make list and become a salad fervent. Get the list of required elements and instructions to make the salad down below. Also, find a similar video for reference. But before getting the instructions, check out our other copycat recipes.
1. Pizza Hut Chicken Alfredo Pasta – Cooked fusilli pasta slathered with creamy, buttery alfredo sauce along with chicken pieces. I am talking about Pizza Hut chicken alfredo pasta. This amazing pasta really is as good as it sounds. Try it once and you're never going back.
2. Pizza Hut Taco Pizza – Can't decide whether to make tacos or pizza for dinner? make both with PIzza Hut taco pizza recipe. Crispy pizza dough covered in guac, queso, salsa, beef, tortilla chips, and everything taco!
3. Pizza Hut Thin Crust Pizza – Fan of the crispy yet chewy thin crust? Then, Pizza Hut thin crust pizza is your one true pizza choice. The fact is you need to roll it thin but the secret is to let the dough rest longer.
4. Pizza Hut Buffalo Wings – The Pizza Hut Buffalo chicken wings are the wings of your dreams (if your dreams include fiery food). The chicken wigs are marinated in a mixture of flavorful and hot sauces. Then, they are dipped in hot sauce after they are fried. So, it's hot inside out!
What Equipment Will You Need To Make Pizza Hut Style Salad?
Bowls – Take three separate bowls for preparing the salad and the dressing.
Ladle – To stir in all together, use a ladle.
Whisk – With a whisk merge all the elements. 
How Much Time Will You Need To Make Pizza Hut Style Salad?
| Preparation Time | Cooking Time | Total Time |
| --- | --- | --- |
| 20 Minutes | – | 20 Minutes |
What Ingredients Will You Need To Make Pizza Hut Style Salad?
Macaroni – For preparing the salad, take half a cup of boiled macaroni. 
Fusilli – For preparing cold salads, specially with creamy dressing, the fusilli is a great choice. For a visual effect, it also has an appropriate shape for holding thick sauces. 
Raisins – Adding raisins to the salad makes it more nutritious. It brings out a subtle sweet flavor to the salad.
Carrot – The chopped carrot is well paired with creamy macaroni pasta. 
Milk – Take a tablespoon of milk to prepare the macaroni salad cream and a teaspoon to add to the dressing sauce. 
Heavy Cream – Use half a cup of heavy cream to prepare the creamy macaroni dip. Moreover, add a teaspoon of cream for the dressing sauce.
Condensed Milk – The creamy macaroni dip has a tablespoon of condensed milk. With the condensed milk, the cream sauce will be smooth and thick. 
Bagdonis – For some earthy and minty flavor, add crushed bagdonis to the fusilli pasta.
Olive Oil – Add a teaspoon of olive oil to the bowl of fusilli. 
Tomato Ketchup – Make the salad dressing with a teaspoon of tomato ketchup. 
Corn – Top the salad with boiled sweet corn.
Red or Orange Food Coloring – For the colorful dressing sauce, add a teaspoon of red or orange food color.     
Oregano – Season the fusilli pasta with a teaspoon of oregano.
Lettuce – Garnish the salad with hand-torn fresh lettuce.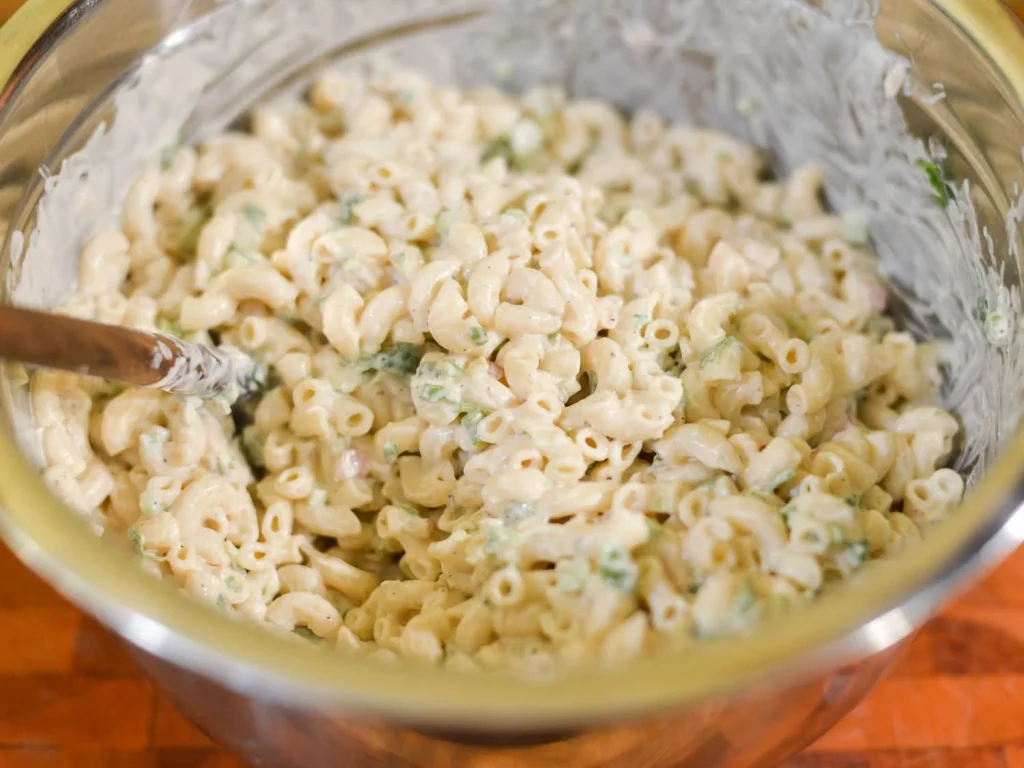 Steps To Make Pizza Hut Style Salad
1. Salad 
In a bowl, add half a cup of heavy cream, milk, and two tablespoons of condensed milk. Whisk until it is smooth and combined well. Then, add the boiled macaroni, raisins, and carrots. Mix it well. 
2. Dressing Delicacy 
In a small bowl, add a teaspoon of heavy cream, ketchup, milk, red or orange food color, and mayonnaise. Emulsify all together for the salad dressing. 
3. Replenish
Take a separate bowl, add boiled fusilli, chopped bagdonis, oregano, and olive oil. Mix it nicely. It will add the extra flavors as the toppings of the pizza. 
4. Garnish 
Assemble the salad in the salad bowl. Add the macaroni dipped into cream to the bowl. Put the fusilli mixed with herbs and boiled corn on the top. Garnish the salad with creamy dressing and fresh lettuce. 
Nutritional Information
| | |
| --- | --- |
| Calories | 220 kcal |
| Carbohydrates | 27 g |
| Dietary Fiber | 2 g |
| Protein | 7 g |
| Sodium | 248 mg |
| Cholesterol | 12 mg |
| Sugar | 2 g |
| Fat | 4 g |
How Will Pizza Hut Style Salad  Look And Taste Like?
Pizza Hut-style salad looks creamy and tastes delightful. Tossed and turned, this salad is full of sweet and savory flavors. With a hint of parsley, the earthy and minty flavors are enhanced. On top of that, the oregano seasoning adds a peppery touch to the salad. Loaded with fiber and essential nutrients, this knockoff salad is refreshing and never-to-be-forgotten. 
Pizza Hut Style Salad Recipe
Pizza Hut-style salad is fresh, creamy, delicious, and full of life. This salad is a scrumptious meal filled with colorful elements. For making this salad you need macaroni, fusilli, raisins, carrots, cream, milk, bagdonis, corn, olive oil, ketchup, mayonnaise, and some herbs. Get it ready in just 20 minutes.
½

cup

Macaroni

½

cup

Fusilli

½

cup

Carrot

1

tablespoon

Milk

½

cup

Heavy Cream

1

tablespoon

Condensed Milk

1

tablespoon

Bagdonis

1

tablespoon

Olive Oil

1

tablespoon

Tomato Ketchup

½

cup

Corn

1

teaspoon

Red Or Orange Color

1

sprig

Lettuce

1

teaspoon

Oregano
In a bowl, whisk cream with half a cup of milk and a tablespoon of condensed milk.

Then add boiled macaroni and combine it evenly with the cream. Keep it aside.

Moving on, take a separate bowl to prepare the dressing sauce. Merge a tablespoon of mayonnaise, heavy cream, milk, ketchup, and food color. Whisk until it is smooth.

In another bowl add boiled fusilli, oregano, bagdonis, and olive oil. Mix it well with the herbs.

Now when all is prepared, begin to assemble. Pour the macaroni dipped into cream in a salad bowl.

Layer the salad with fusilli mix. Put some boiled corn and top it with boiled corn.

Finally, garnish the salad with chopped fresh lettuce.
Frequently Asked Questions (FAQs)
1. What kind of salad does Pizza Hut have?
Pizza Hut offers an assortment of salads. They have pepperoni salad, pasta salads, green salads, etcetera. 
2. What is the most common salad dressing at Pizza Hut?
Pizza Hut offers Italian salad dressing made with cream, milk, and seasoning mix. 
3. What pizza chain has salads?
Pizza Hut and Dominos are the pizza chains to offer an assortment of salads. 
4. Does Pizza Hut offer salad?
Yes, Pizza Hut offers family-size salads in its restaurants. 
Prepare this delicious salad with fewer calories and more strength. Follow the recipe and let us know how it goes in the comment section below.