How To Make Pizza Hut Buffalo Wings At Home
Looking for easy snack options? Treat yourself with spicy coated chicken wings. The copycat Pizza Hut buffalo wings at home can be prepared in a jiffy. Get the perfect balance of tangy and spicy flavors in your kitchen. Scroll down to know more. 
Do you ever think about how buffalo wings are invented? Let me shed some light on a little history. It was in 1964 when a bar owner Teressa Bellissimo prepared leftover chicken with hot sauce as a late-night easy snack. 
Lo and behold! That's when the classic buffalo wings were born! Ever since then, these wings have been added to the menu by fast-food restaurants. Pizza Hut came up with their version of deep-fried buffalo wings. 
Just the thought of juicy and spicy scrumptious chicken wings will make you hungry. But no need to worry, I have got the full easy recipe of Pizza Hut buffalo wings. 
Cheer up! After reading the article, you would get this buffalo wings recipe done right. Without waiting for more, dive in to know the list of equipment, ingredients, nutritional information, step-by-step instructions mentioned below. But before getting the instructions, check out our other copycat recipes.
1. Pizza Hut Chicken Alfredo Pasta – Cooked fusilli pasta slathered with creamy, buttery alfredo sauce along with chicken pieces. I am talking about Pizza Hut chicken alfredo pasta. This amazing pasta really is as good as it sounds. Try it once and you're never going back.
2. Pizza Hut Taco Pizza – Can't decide whether to make tacos or pizza for dinner? make both with PIzza Hut taco pizza recipe. Crispy pizza dough covered in guac, queso, salsa, beef, tortilla chips, and everything taco!
3. Pizza Hut Thin Crust Pizza – Fan of the crispy yet chewy thin crust? Then, Pizza Hut thin crust pizza is your one true pizza choice. The fact is you need to roll it thin but the secret is to let the dough rest longer.
4. Pizza Hut Style Salad – Pizza Hut-style salad is not your run-of-the-mill salad. This creamy salad has macaroni and fusilli. These pasta buddies are drenched in a creamy sauce along with your favorite veggies. Not the healthiest salad but definitely the creamiest one.
What Equipment Will You Need To Make Pizza Hut Buffalo Wings?
Bowl – Marinate the chicken in a bowl with ground spices. 
Tong – Flip the top to bake on both sides with a tong. 
Air-Fryer – Fry the buffalo wings in an air-fryer. If you wish, you can also bake them in the oven. 
How Much Time Will You Need To Make Pizza Hut Buffalo Wings?
| Preparation Time | Resting Time | Cooking Time | Total Time |
| --- | --- | --- | --- |
| 5 Minutes | 10 Minutes | 25 Minutes | 40 Minutes |
What Ingredients Will You Need To Make Pizza Hut Buffalo Wing?
Chicken Wings – Take some bone-in chicken wings.
Hot Sauce – Dilute 2 tablespoons of hot sauce in water to prepare the marinade. 
Butter – Butter will retain the moisture in the marinade. 
Water – Half a cup of water added to the hot sauce will let it dilute and make it less spicy. 
Garlic Salt – Add garlic salt for extra enhanced flavors to your taste. 
White Vinegar – A teaspoon of vinegar will add a tangy touch to the chicken wings.
Brown Sugar – To balance the spice, add a teaspoon of brown sugar. 
Smoked Paprika – For rich, spicy, and smoky flavors, add a teaspoon of smoked paprika to the marinade.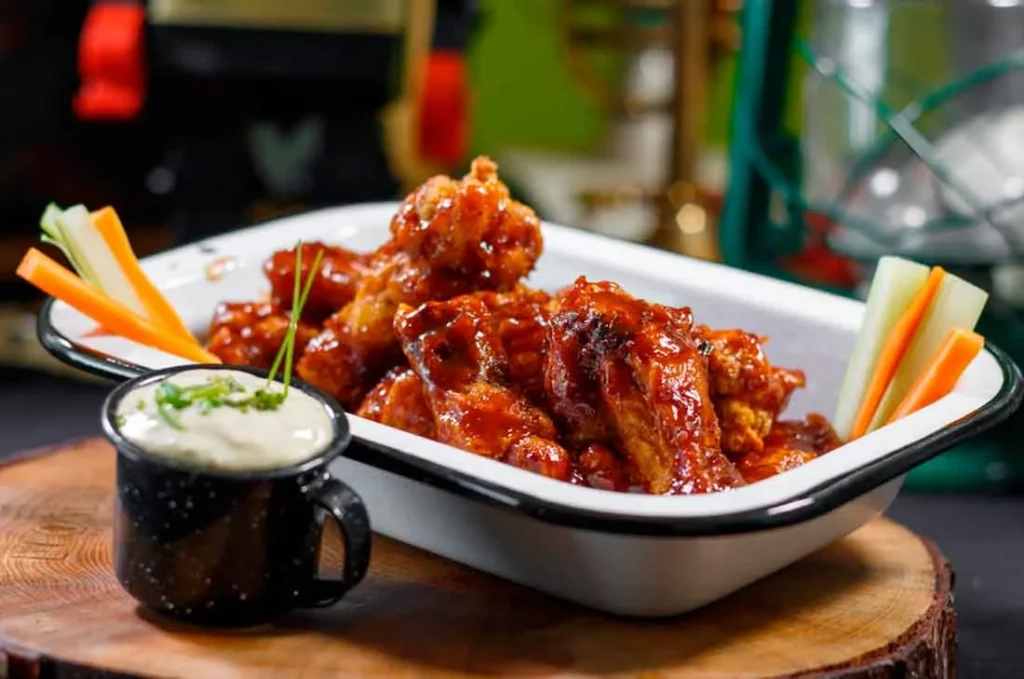 Steps To Make Pizza Hut Buffalo Wings
1. Marinade 
Take a bowl to add water, hot sauce, salt, and smoked paprika. Add chicken wings to the marinade and coat it evenly. Let it sit for 10 minutes before you bake the wings. 
2. Air-fryer 
Here, we have used an air-fryer to fry the coated buffalo wings. You can also bake the wings. Put it in the air fryer and fry the wings for 20 minutes until it is tender and juices run clear. Serve with your choice of sauces. 
Nutritional Information
| | |
| --- | --- |
| Calories | 200 kcal |
| Carbohydrates | 18 g |
| Fat | 9 g |
| Protein | 10 g |
| Sodium | 870 mg |
| Dietary Fiber | 1 g |
| Sugar | 2 g |
| Cholesterol; | 20 mg |
How Will Pizza Hut Buffalo Wings Look And Taste Like?
Pizza Hut buffalo wings are juicy, spicy, and scrumptious. These wings are deep-fried to perfection. The hot sauce and spices marinade results in a glazy, shiny, and juicy texture of the chicken wings. 
Pizza Hut Buffalo Wings Recipe
Pizza Hut buffalo wings are crispy chicken wings coated with hot sauce. The tangy and spicy flavors make it delectable. Marinade the chicken with hot sauce, spices, and put it to deep-fry. The copycat buffalo wings will be ready!
100

g

Chicken Wings

2

tablespoons

Hot Sauce

1

tablespoon

Butter

½

cup

Water

1

teaspoon

Garlic Salt

1

teaspoon

White Vinegar

1

teaspoon

Brown Sugar

1

teaspoon

Smoked Paprika
Begin to marinate the chicken wings with hot sauce and some ground spices. In a bowl, add hot sauce, water, garlic salt, butter, smoked paprika, white vinegar, and brown sugar.

Let it sit for 10 minutes.

Place the wings in the air fryer and deep-fry until it is juicy and golden brown.

Remove the buffalo wings from the fryer. If you wish, you can again toss it into the hot sauce.

Serve the wings with your choice of dipping sauces.
Frequently Asked Questions (FAQs)
1. How does Pizza Hut cook wings?
Pizza Hut no longer follows the baking. The buffalo wings at Pizza Hut are fried to perfection. 
2. What kind of wing sauce does Pizza Hut have?
Pizza Hut offers buffalo wings with buffalo burnin hot sauce, buffalo mild, honey bbq, and many more. 
3. Are Pizza Hut Buffalo wings good?
Pizza Hut buffalo wings are delectable. It is said that Pizza Hut has the meatiest wings. 
4. Are Pizza Hut buffalo wings spicy?
Buffalo wings are spicy; however, you can add sugar to the marinade to balance the spiciness.  
Are you ready to try homemade juicy and flavorful buffalo wings? If yes, then follow the recipe and give wings to the chicken. Let us know how it goes in the comment section below.