How To Make Pizza Hut Breadsticks At Home 
Gear up for preparing Pizza Hut breadsticks at home from scratch. These breadsticks are chewy, buttery, and packed with a flavorful seasoning. The taste of breadsticks is enhanced with seasoning sprinkled on the top. 
Satiate your cravings with homemade buttery-flavored breadsticks. Do you want to bake these breadsticks to perfection? If yes, then follow the tips and tricks mentioned in the article below!
For getting these breadsticks on your table, you need a few spices like onion powder, garlic powder, oregano, basil, and salt. Infuse the spices with bread flour and roll out the breadsticks.
The fluffy, brown sticks are topped with a blend of "fairy dust" that has parmesan and Italian seasoning. Now how to make copycat Pizza Hut breadsticks? What's required to make it? Is it worth making? Are you inquisitive? 
Relax, after reading the article, you would surely get this done right. I have shared all the details below. Find the right amount of elements, equipment, and steps to make some piping hot breadsticks. But before getting the instructions, check out our other copycat recipes.
1. Pizza Hut Pan Pizza – Pizza Hut pan pizza is the OG of the pizza house. The best part? You can easily make it home. The pizza crust has crispy buttery edges. This deep-dish pizza is perfect for your deep cravings.
2. Pizza Hut Sauce – The secret is out! Make your copycat Pizza Hut sauce at home for the authentic Pizza Hut experience. This tomato sauce has a herby taste with a spicy kick. This will make pizza nights so much better.
3. Pizza Hut Cavatini – The Pizza Hut cavitini is nothing but a great Pizza Hut pasta. The fusilli pasta is fused with sauces, veggies, beef, and of course cheese. One of its great qualities? It can easily be made in your kitchen.
4. Pizza Hut Dough – You can easily replicate the Pizza Hut dough at home now. It is fluffy, moist, and has all the air pockets you need. You need the basics; some flour, water, and some yeast. There's a little more you need to know, dough!
What Equipment Will You Need To Make Pizza Hut Breadsticks?
Bowls – Take two bowls, one for activating the yeast and the other for mixing the dough elements.
Cling Film – Cover the dough to rest with a cling film. 
Baking Tray – Place the rolled-out breadsticks in the baking tray.
Oven – Put the breadsticks in the oven to bake at 500 degrees for 20 minutes.
How Much Time Will You Need To Make Pizza Hut BreadSticks?
| Preparation Time | Resting Time | Cooking Time | Total Time |
| --- | --- | --- | --- |
| 5 Minutes | 15 Minutes | 10 Minutes | 30 Minutes |
What Ingredients Will You Need To Make Pizza Hut Breadsticks?
Rapid Rise Yeast – Adding instant yeast will raise the dough. 
Sugar – Sugar will activate the yeast quickly. 
Milk Powder – For a smooth dough, add a teaspoon of milk powder to activate the yeast.
Hot Water – Activate the yeast with half a cup of lukewarm water.
Olive Oil – Olive oil will maintain moisture in the dough. 
Bread Flour – Prepare the breadstick dough using bread flour. 
Parmesan cheese – Top the breadsticks with shredded parmesan cheese. 
Salt – Add salt to your taste.
Oregano – For seasoning, add crushed oregano leaves on top of the breadsticks. 

 

Basil – Put in a teaspoon of basil for pronounced flavors of mint. 
Garlic Powder – A teaspoon of garlic powder will bring out the aromatic flavors. 
Onion Powder – Incorporate sweet and savory touch, adding a teaspoon of onion powder.
Butter – Brush up the breadsticks with melted butter on the top.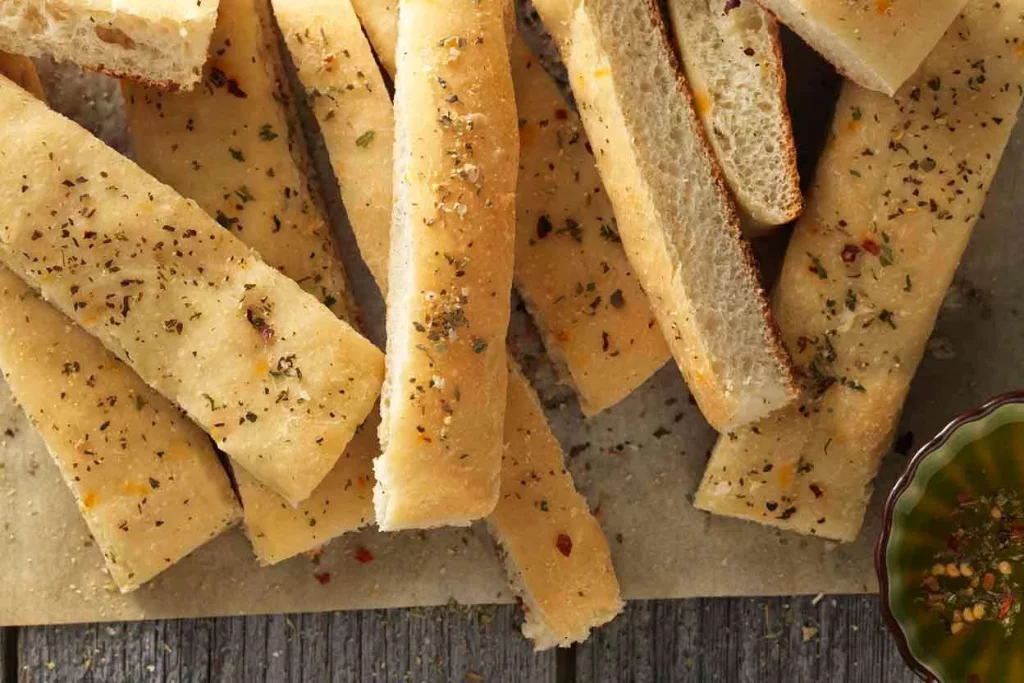 Steps To Make Will You Need To Make Pizza Hut Breadsticks
1. Bread Dough 
Activate the yeast using rapid rise yeast, sugar, salt, and milk powder. Once the yeast is activated, prepare the dough. Combine the bread flour, activated yeast, sugar, salt, olive oil, and half a cup of warm milk. Knead the dough until the dough is soft and smooth. Let it rest for 15 minutes.
2. The Wonder Of Play Dough 
You will see the dough has doubled in size after resting. Roll out the dough and make some slits on the top with a knife. Place the rolled dough in the baking tray. Brush the dough with butter. Bake the bread for 10 minutes. 
3. Ending Soon
When the bread is baked, slather melted butter combined with onion powder, garlic powder, oregano, basil, and salt on the top. Garnish it with parmesan immediately after you remove the bread from the oven. Let the cheese melt, slice the breadsticks and serve with your choice of dips and sauces. 
Nutritional Information
| | |
| --- | --- |
| Calories | 140 kcal |
| Carbohydrates | 19 g |
| Protein | 4 g |
| Fat | 4.5 g |
| Sodium | 260 mg |
| Dietary Fiber | 1 g |
| Sugar | 1 g |
How Will Pizza Hut Breadsticks Look And Taste Like?
The Pizza Hut breadsticks are delicious. The flavors in the breadsticks come from herbal seasoning. The toppings like parmesan, garlic powder, onion powder, oregano, basil, and salt bring you the pizza crust flavor. 
Pizza Hut Breadsticks Recipe
Pizza Hut breadsticks are bread strips that are also known as dipping sticks and grissini. Making these breadsticks at home is an easy job! Knead the dough, let it rest, and put it to bake. Season with spices and top it with parmesan cheese.
Bowls

Cling film

Baking Tray

Oven
1

teaspoon

Rapid Rise Yeast

teaspoon

Sugar

teaspoon

Milk Powder

teaspoon

Butter

2

tablespoons

Hot Water

1

teaspoon

Olive Oil

½

cup

Bread Flour

1

tablespoon

Parmesan cheese (shredded)

1

teaspoon

Salt

1

teaspoon

Oregano

1

teaspoon

Basil

1

teaspoon

Garlic Powder

1

teaspoon

Onion Powder
Prepare the dough with bread flour, olive oil, yeast, sugar, milk powder, and salt. Knead the dough with warm milk.

Sit for 15 minutes until the dough is doubled in size.

Place the dough on a floured surface and roll out in the shape of bread. Make small slits on the top and slather melted butter mixed with herbs.

Grease the baking tray with a teaspoon of oil.

Place the rolled bread onto the baking tray.

Put it in the oven to bake at 500ºF for 20 minutes.

Meanwhile, mix parmesan, onion powder, garlic powder, oregano, basil, and salt for the seasoning.

Take out the bread once it is baked and immediately top it with the seasoning mix.

Serve Hot!
Frequently Asked Questions (FAQs)
1. What is the hut's favorite crust seasoning?
Pizza Hut's signature seasoning has a buttery garlic blend, nutty taste of parmesan, and flavors of Italian herbs.
2. What does Pizza Hut spray on its crust?
Pizza Hut uses garlic-flavored oil spray on its crust. This results in a shiny, crispy, and less-dry texture of the crust. 
3. How many breadsticks come in Pizza Hut?
Pizza Hut breadsticks include 5 sticks. However, it is customizable, which will help you to add more breadsticks. 
4. Should a pizza pan be oiled?
Yes, for a better crust, grease your tray with oil before baking. Even if you are using non-stick, you should grease it.
Are you ready to get seasoned crispy breadsticks just like Pizza Hut? If yes, then follow the recipe for getting it right. Share your cooking experience with us in the comment section below!