How to make Pistachio Mastani at Home
Flavours in your favourite dessert drink are what you would love to have. This yummy delight is one of the best respites for hot summer days. Life is one such change of flavour, why not put in our drink today. Another rich and royal essence to make your taste buds blow with its lavish taste.
My mother does experiments with different types of drinks and one day, she made a drink which is Pista Mastani even more. It is gorgeously thick and tastes like pistachio heaven and I take the recipe from my mother and Guess What?
Today, I will share the Pistachio Mastani recipe with you and you can serve as a great dessert to your lovable meals with family. Let's journey to make Pista dessert. But there are many other drinks that we've covered in our blog. You should definitely check them as well.
1. Chocolate Mastani– This Chocolate Mastani is a chocolate rich simple recipe; here's a fine addition to your delightful drinks list. A glass full of happiness and a topping that soothes the eye, actives your taste buds is all that is needed to change the air around you.
2. Dry Fruit Mastani– This dry fruit mastani topped with vanilla ice cream is something that you can't resist. So let's try out this delicious mastani at our home this summer.
3. Black and White Shake– The most basic and best flavour of the black and white shake is chocolate and vanilla. That was my favorite drink in the summers and I'm very excited to share this recipe with you all so that you can also enjoy your summers with healthy drinks.
4. Smooth Sweet Tea– This tea is perfect for hot summer days. Making smooth sweet tea is an easy recipe. Anyone can make it at their home in just 5 ingredients.
Ingredients Required for Pistachio Mastani Recipe
| | |
| --- | --- |
| Ingredients | Quantity |
| Milk (Cooked) | 2 Cups |
| Sugar | 3 Tablespoons |
| Pista (Pistachio) Essence | ½ Teaspoon |
| Pista (Pistachio) Chopped | 1 Tablespoon |
| Pista (Pistachio) Ice-Cream | 1 Scoop |
How Much Time It Will Take?
| | | |
| --- | --- | --- |
| Preparation Time | Extra Time (Chilling) | Total Time |
| 10 min | 30 min | 40 min |
Pistachio Mastani Recipe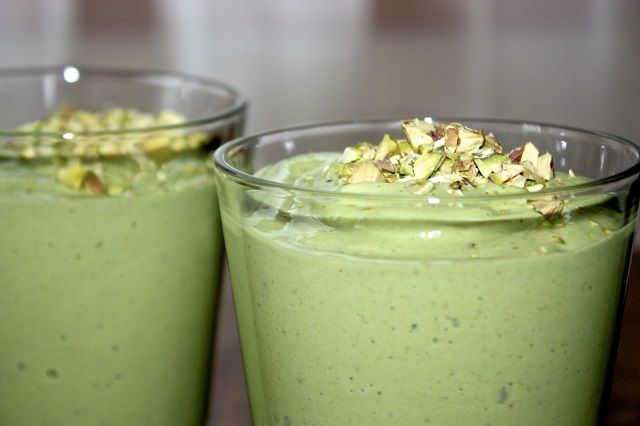 Take milk in a mixing jug and mix essence and sugar to it.
Also, mix in chopped pistas and chill in the refrigerator for 30 minutes.
Pour the milk into a serving glass.
Finally, add a scoop of ice cream. Serve chilled.
Serve this heavenly scoop to fill you and your family with happiness. Enjoy the Pista flavor with wonder as it gives you one of the best tastes in the world; Pune special.
Nutritional Information of Pistachio Mastani Recipe
| | |
| --- | --- |
| Calories | 453 |
| Protein | 19 g |
| Carbohydrates | 96 g |
| Sodium | 400 mg |
| Fat | 38 g |
| Cholesterol | 135 mg |
How to Make Pistachio Mastani at Home | Video