How To Make Pistachio Butter At Home
Nut Butters are one of the healthiest butter and Pistachio butter is a nut butter that is very healthy and can easily make it at home. I know Pistachios are a bit expensive, but they are worth every penny because of the health benefits served with its consumption.
They are low in calories and fat and rich in protein; pistachios provide the best nutrition you'll be able to get from any other nut.
This delicious nut butter can be spread on a crunchy toast or a scoop into oats or mixed into a cookie batter. You can even replace peanut butter with pistachio butter in some other recipes. It can be used as a spread for sweet or savory crepes.
You can even use it to give flavor to anything you like. I will love to give my banana shake a pistachio flavour by adding this butter to it. Sounds yum, right!
Talking about vegan butters, coconut butter is another great vegan option. Find all about coconut butter and its substitutes here!
While we are thinking of this butter's multi-use, let's check on its ingredients to follow the recipe. But here are some other amazing recipes that you should definitely try.
1. Simple Syrup– Sugar syrup is a thick and sweet liquid like honey syrup, chocolate syrup, etc. This Simple Syrup Recipe (made at home as well, contains a large amount of sugar dissolved in water.
2. Peanut Butter Cereal Bars– Peanut Butter Cheerio Bars are my go-to, quick and easy after-school snack. This cereal bar recipe is no-bake and only requires three ingredients.
3. Tootsie Rolls– Tossie Rolls is a candy that was started in 1907 in the United States as a company that serves mildly chocolate-flavored taffy-like candy.
4. Strawberry Extract– You can use this strawberry extract to personalize the taste of various dishes. And the best thing about this extract is that after making this once, you can preserve it for months. 
Ingredients for Pistachio Butter
| Ingredients | Amount |
| --- | --- |
| Dried, Roasted and Unsalted Pistachios | 3 ½ cups (16 ounces) |
| Kosher Salt | 1 teaspoon |
| Honey | 1 tablespoon |
You can spice the butter up with any combination of ingredients—try ground cinnamon, vanilla bean paste, ground cardamom, grated orange zest, or even melted dark chocolate. This adds some uniqueness to the butter and will enhance its taste.
Easily available ingredients, right? You won't get any hassle to fetch these ingredients as they are super easy to access from any supermarket or your kitchen.
Now, let me tell you the time taken to make this easy to make butter and you will be more surprised.
How Much Time Will It Take?
| | | |
| --- | --- | --- |
| Preparation Time | Cooking Time | Total Time |
| 1 minute | 5 minutes | 6 minutes |
5 minutes! Yes, or maybe less than that. You must be surprised to see the time taken to make this healthy butter. This is a super easy butter recipe. I can't wait to taste this butter. How about you? I know you must be as curious as I am. So, let's get started with the instructions.
Pistachio Butter Recipe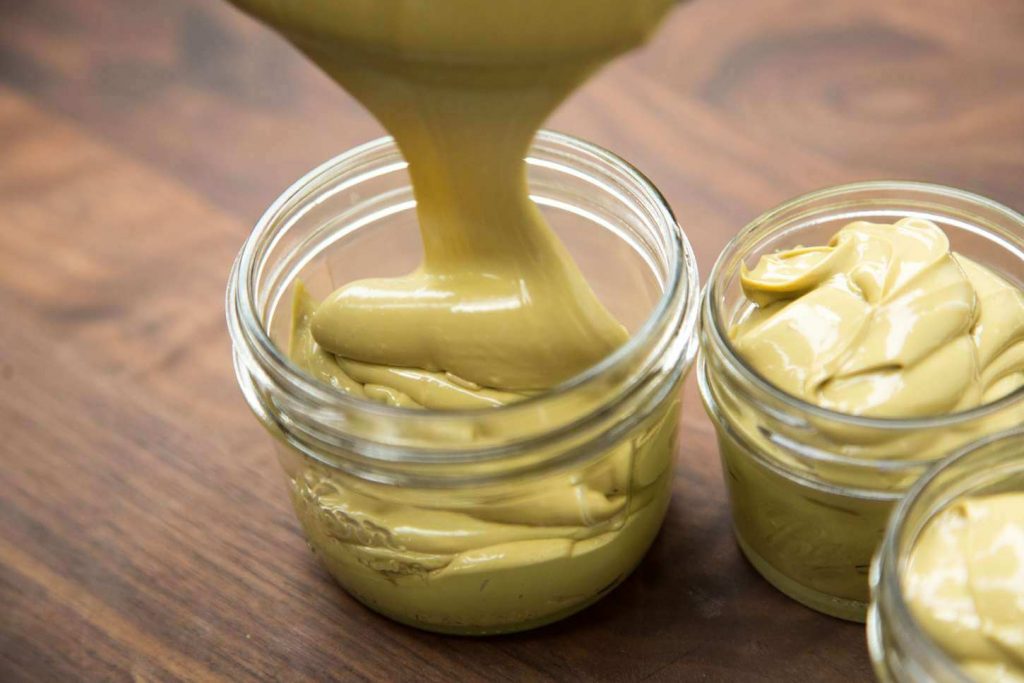 Blend pistachios, salt, and honey together in a jar. Initially, blend the mixture for few seconds or a minute on the lowest speed until it turns into a crumbly paste. 
Now blend it again with an increased speed of the blender for about 3 to 4 minutes until the butter turns smooth and creamy as desired.
Scoop out all the butter and store it in an airtight container. You refrigerate it until its next use.
Notes
Pistachios mostly have their brownish-red skins; it's your choice to keep the skin on or not as the skin is nutritional too.
If you prefer a green pistachio butter, then firstly blanch the pistachio and then gently rub them to remove the skins. Let them cool down and dry them thoroughly before grinding.
Nutritional Breakdown of Pistachio Butter
You can check the nutritional breakdown of Pistachio Butter in the table given below.
| | |
| --- | --- |
| Calories | 160 |
| Fat | 13g |
| Protein | 6g |
| Carbohydrates | 8g |
| Sodium | 120mg |
| Potassium | 6 % DV |
| Calcium | 2 % DV |
| Sugar | 2g |
How to Make Pistachio Butter at Home | Video
Although this butter is very easy to make. But still, I've added a video below so you'll understand each and every direction properly.
I hope you've liked this pistachio butter recipe. I highly recommend you make this healthy butter at your home and share your experience in the comments section below. Till then, stay tuned for more recipes like these.