How To Make Pioneer Woman Cornbread At Home
Today, we are going to make pioneer woman cornbread. It is baked cornbread and that you can ake in less than 30 minutes. It is delicious and has simple ingredients.
The Pioneer Woman is a show that stars Ree Drummond. She is a TV personality, blogger, food writer, and author. This cornbread is from the show Pioneer Woman and thus is named after it.
To make pioneer woman cornbread, mix cornmeal, flour, salt, and baking powder in a bowl. In another bowl, mix buttermilk, milk, eggs, and baking soda. Mix this milk mixture with the flour mixture. Also, add melted shortening to it and mix. Then, add the batter into a pan and cook for 1 minute. Then, place it in the oven. Bake for about 20-25 minutes.
This was just a quick overview of the recipe. Find the complete recipe below. But before going to the full recipe, do check out other bread recipes as well.
1. Pecan Raisin Bread– We love raisin bread and also enjoy the nutty flavor of pecans, so I decided to combine the two for this delectable loaf. It smells wonderful and the tastes so good.
2. Poppy Seed Bread– Soft and delicious, Poppy Seed Bread is the perfect dish for any occasion around the year. New year's eve is incomplete without a bread! This is the tradition at my home.
3. Moong Dal Stuffed Parantha– This parantha is very delicious, easy to make and is one of the best breakfast options you can consider.
4. Cornmeal Hamburger Buns– These cornmeal hamburger buns are better than your normal burger buns as it has a very special connection with the spicy taste.
Ingredients for Pioneer Woman Cornbread
| Ingredients | Amount |
| --- | --- |
| Yellow Cornmeal | 1 cup |
| All-purpose flour | ½ cup |
| Salt | 1 teaspoon |
| Baking Powder | 1 teaspoon |
| Buttermilk | 1 cup |
| Milk | ½ cup |
| Egg | 1 |
| Baking soda | ½ teaspoon |
| Shortening | ¼ cup plus 2 teaspoons |
How Much Time It Will Take?
| | | |
| --- | --- | --- |
| Preparation time | Cooking time | Total time |
| 5 Minutes | 20 Minutes | 25 Minutes |
Pioneer Woman Cornbread Recipe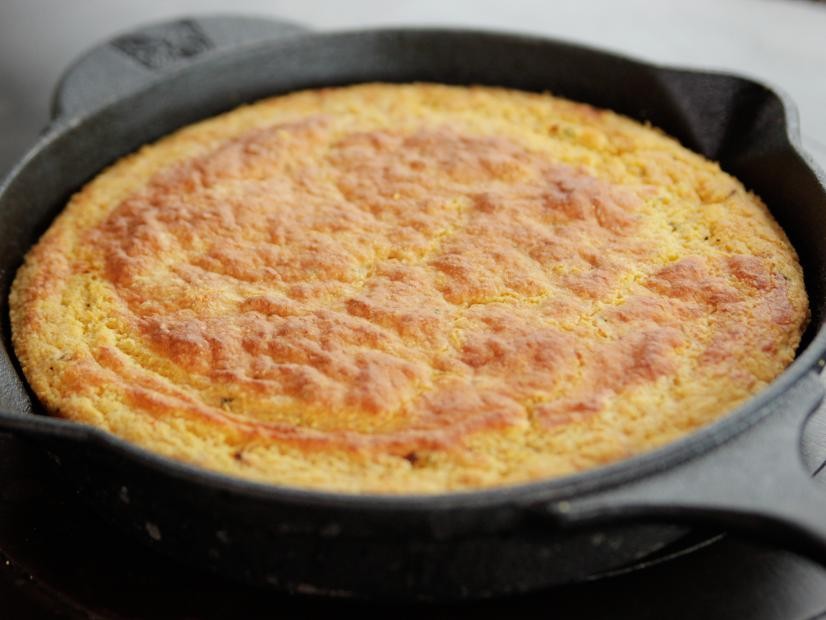 In a large mixing bowl, add cornmeal, flour, salt, and baking powder. Mix them well.
In a milk measuring mug, add the buttermilk, milk, and eggs. Beat them together. Add some baking soda and pour this milk mixture into the dry ingredients and mix well.
Melt ¼ cup of shortening in a small bowl. Add it to the batter. Mix it well.
Add the remaining 2 tsp shortening to a pan. Keep the pan over medium heat. The batter should make a sizzling sound.
Let it cook for 1 minute. Then, place it in the oven and bake it for 20-25 minutes until it gets golden brown in color. Watch out for the crispy edges of it.
Nutritional Breakdown of Pioneer Woman Cornbread
| | |
| --- | --- |
| Calories | 190 |
| Carbohydrates | 21 g |
| Fat | 10 g |
| Protein | 4 g |
| Cholesterol | 49 mg |
| Sodium | 485 mg |
| Sugar | 2 g |