How to Make Pineapple Upside Down Cake at Home
Note- This post may contain affiliate links, we earn from qualifying purchases made on our website. If you make a purchase through links from this website, we may get a small share of the sale from Amazon and other similar affiliate programs.
Sweet and delicious cakes make our world even more delightful. Pineapple Upside Down Cake, a dessert classic is no exception. This yummy cake is loved by people of all ages. Pineapple in itself is a tasty fruit and making a cake out of it is beyond comparison. It is different from all as the name suggest, it is inverted! To add to its delight, we have cherries on top!
Well, this Pineapple Upside Down Cake recipe was made on my younger sister's birthday. It was the centre of attraction of every kid. They were much delighted to have this cake. No doubt, the cake was prepared by me and I was responsible to make my sister's day more exciting and thrilling. So, the Pineapple Upside Down Cake was the best way to do so.
Now, if you want to surprise your friends or family and bring smiles to their faces, do make this cake yourself. And I am providing you with the Pineapple Upside Down Cake Recipe. If you love cakes, then you should definitely check out the other cake recipes that I've handpicked just for you.
1. Rum Cake– Rum Cake is a dessert that has rum and usually eaten by people in the Caribbean. You can have rum cake on the holiday season, Thanksgiving, St. Patrick's Day, etc.
2. Crack Cake– It is a cake that attracts most people with its taste and appearance. This Crack Cake recipe is easy and delicious. A yellow cake mix is doctored up, baked to golden brown perfection and topped with a luscious wine glaze.
3. Almond Cake– Almond cake is soft, fluffy with finely grounded almonds and a dash of lemon flavor in it. This recipe is easy to make. It will be a great help in a situation when you get an unexpected visit from guests.
4. Cheese Wheel Cake– The soft, smooth, sweet, and creamy texture of this cheese wheel cake make it amazing. Just like its taste, the looks of this cake is also phenomenal.
Ingredients required for Pineapple Upside Down Cake Recipe
| | |
| --- | --- |
| Ingredients | Amount |
| Butter | 1/4 cup |
| Packed dark brown sugar | 2/3 cup |
| Pineapple slices | 10 |
| Maraschino cherries | 10 |
| Granulated sugar | 1 cup |
| Shortening | 1/3 cup |
| Baking powder | 1 1/2 teaspoons |
| Salt | 1/2 teaspoon |
| Milk | 3/4 cup |
| Egg | 1 |
| Granulated sugar | 1 cup |
| All purpose flour | 1 1/3 cups |
How much will it take?
| | | |
| --- | --- | --- |
| Preparation time | Cooking time | Total time |
| 15 minutes | 45 minutes | 1 hour 10 minutes |
Pineapple Upside Down Cake Recipe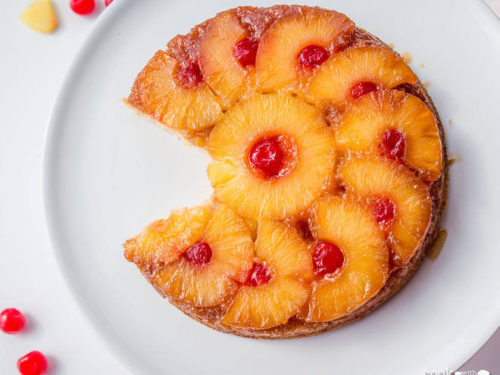 Take a square pan. Melt butter in it in a preheated oven(350 F).
Now, brown sugar is to be sprinkled over this melted butter.
Take pineapple slices and place over brown sugar evenly.
Arrange cherries over the pineapple slices such that they lie on the top of slices.
Take a medium bowl.
The remaining ingredients are to be mixed properly in the mixer for half a minute. Keep the mixer on low speed. Also, do scrape the bowl frequently.
Now, mix them on high speed for 30 minutes with occasional scraping.
Pour the prepared batter over the pineapple slices and cherries.
Bake for about an hour. Then, take a heatproof serving plate. Place it over the pan so that it lies upside down over pan and vice versa.
This would ensure the drizzling of brown sugar over the cake.
Serve warm after removing the pan.
If you want to store cake, do it by loosely covering it.
Nutritional Information of Pineapple Upside Down Cake Recipe
| | |
| --- | --- |
| Calories | 390 |
| Total fats | 14 gm |
| Saturated fats | 6 gm |
| Carbohydrates | 62 gm |
| Dietary fiber | 1 gm |
| Sodium | 270 mg |
| Proteins | 4 gm |
| Cholesterol | 40 mg |
How to Make Pineapple Upside Down Cake at Home | Video