How to Make Pineapple Coconut Jello Shot at Home
Note- This post may contain affiliate links, we earn from qualifying purchases made on our website. If you make a purchase through links from this website, we may get a small share of the sale from Amazon and other similar affiliate programs.
A drink having pineapple and coconut sounds like a treat to hear. These two ingredients have different tastes and are mixed to make a drink that is considered one of the best drinks in the American region. Not only this, the twist is when you come to know that this drink is not a liquid. It has a jelly type structure. How cool is that?
The drink that we are about to make is called the pineapple coconut jello shot. A simple yet delicious and refreshing drink having both tangy and sweet flavours combined. Pineapple plays the tangy part and coconut adds a sweet touch to its taste. And the best part is the addition of rum into it. Yes! This drink also consists of rum that adds to its taste.
Although this drink consists of rum, the choice is yours. By any chance, if you are allergic to pineapple, then you can try some pineapple substitutes to make this recipe . Here are the ingredients that you need to make this recipe. I am sure you all are waiting for this. But there are many other drinks that we've covered in our blog. You should definitely check them as well.
1. Red Death Cocktail– Red Death Drink! It may sound unpleasant to you but this drink is a winner with its sweetness. It is just a tricky name given to this drink because of the drink's beautiful red color.
2. Jolly Rancher Shots– This fruity recipe is incredibly easy to make and a quick, cheap mixed drink. It's also versatile enough to be served as a stylish martini, a fruity punch, or a tasty party shot. 
3. Brooklyn Egg Cream– It is a sweet, light and bubbly drink. You can enjoy this drink anytime. Many of you must be confused by its name; wondering does this drink comprises an egg as one of its ingredients. Well, no. It is just the name given to the drink because of the foam it has.
4. Apricot Nectar– Some of you might hate eating raw apricots but will definitely going to enjoy this apricot nectar. I recommend you all to try this recipe of apricot nectar just for once after that, you can't stop yourself.
Ingredients for Pineapple Coconut Jello Shot
| Ingredients | Quantity |
| --- | --- |
| Pineapple Juice  | 1 cup |
| Plain Gelatin  | 2 envelops  |
| Coconut-Flavored Rum  | 1 cup |
| Toasted Coconut  | ¼ cup |
So this was the list of ingredients that you need to arrange. You will get them from any nearest supermarket or grocery store.
Let's know how long you have to wait to get this pineapple coconut jello shot recipe done. The complete time details are shared in the table below.
How Much Time Will it Take?
| Preparation Time | Refrigerating Time | Total Time |
| --- | --- | --- |
| 10 Minutes  | 4 Hours  | 4 Hours 10 Minutes |
Here is the recipe that you all were waiting for. Follow the steps and make the best pineapple coconut jello shot at home. This recipe will make you a refreshing and soothing drink, or jelly I must say. So enjoy!
Pineapple Coconut Jello Shot Recipe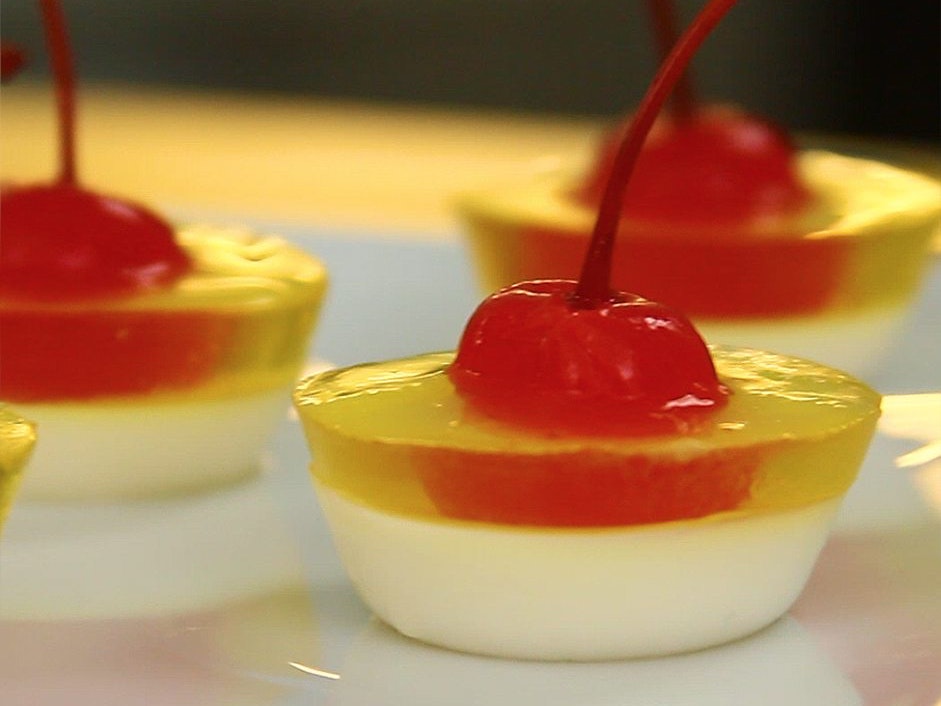 In a saucepan, add pineapple juice and also add the gelatin over the juice. Let it rest for about 2 minutes.
Now keep this mixture over low heat and let this gelatin dissolve in it, it will take about 5 minutes.
Add the coconut rum to it and stir it.
Refrigerate this mixture until it is set, might take 4 hours or less.
Now cut this jelly drink into any desired shape you want. Add the bottoms of this jelly with toasted coconut and serve immediately.
Here you go! Your pineapple coconut jello shot is ready and can now be tasted by everyone in the house.
Nutritional Breakdown of Pineapple Coconut Jello Shot
The nutritional values of this pineapple coconut jello shot are listed in the table below. 
| | |
| --- | --- |
| Calories  | 53.4 |
| Fat  | 0 gm |
| Cholesterol  | 0 mg |
| Carbohydrates  | 2.5 gm |
| Sugars  | 2.4 gm |
How to Make Pineapple Coconut Jello Shot at Home | Video
Here is a video that you can watch to know more about this recipe. It will help you to make it easily at home without any confusion or trouble.
Try this pineapple coconut jello shot recipe at home and tell us your views and thoughts. Comment down below and ask any queries of yours. Share this recipe with your friends and family and let them also enjoy this fantastic recipe. Cheers!