How To Make Persimmon Pudding At Home
Note- This post may contain affiliate links, we earn from qualifying purchases made on our website. If you make a purchase through links from this website, we may get a small share of the sale from Amazon and other similar affiliate programs.
Persimmon pudding is a tasty and healthy pudding recipe. In this post, let's see how you can make it at your home.
Persimmon is a fruit, which looks like a tomato but is a berry. It has a slippery silk-like texture and a creamy, tangy and sweet taste. Persimmon pudding is a traditional American dessert. It is baked in the oven or steamed. You can serve this dessert with whipped cream, ice cream, apple sauce and many other options.
To make persimmon pudding, mix baking soda, eggs, persimmon pulp, sugar and eggs in a bowl. Now, add flour, butter, cinnamon, baking powder, vanilla, milk and salt. Pour the batter into a baking pan and bake for 55 minutes. Serve.
Now, let's see the detailed recipe. But before we jump onto the recipe, let's check out some other desserts that you might like.
1. Sticky Toffee Pudding– Sticky toffee pudding is a British dessert that is popular in the UK and also in other territories like Australia and New Zealand. It is considered as one of the finest English desserts and it's my favorite too, because of its moist texture and sweet taste.
2. Tomato Pudding– Most people think that pudding is always made up of vanilla, chocolate, or butterscotch. But this tomato pudding is going to surprise you. This crispy, crimson, and fragrant pudding is a treat straight from the oven.
3. Baklava– This honey baklava is flaky, crisp and tender and I love that it isn't overly sweet. It's basically a party in your mouth. I am a huge fan of baklava and this is the best baklava recipe I have ever tried. Hands down.
4. Leche Asada– This recipe is also known as roasted milk. It is a traditional dessert in Chile. Though it is not considered something special there, it is really something special if you are trying it for the first time.
Ingredients for Persimmon Pudding
| Ingredients | Amount |
| --- | --- |
| Baking Soda | ½ teaspoon |
| Persimmon Pulp | 2 cups |
| White Sugar | 2 ½ cups |
| Eggs | 2 beaten |
| All-Purpose Flour | 2 cups |
| Baking Powder | 2 teaspoon |
| Cinnamon  | ½ teaspoon |
| Vanilla Extract | ¼ teaspoon |
| Salt | 1 pinch |
| Milk | 2 ½ cups |
| Butter (melted) | 4 tablespoon |
These ingredients will be readily available at any supermarket. Just make a list and check what needs to be brought. Go and grab them and start prepping up. Till then see the time it will take to prepare this pudding.
How Much Time Will It Take?
| Preparation Time | Cooking Time | Total Time |
| --- | --- | --- |
| 20 minutes | 55 minutes | 1 hour 15 minutes |
It is a little time consuming pudding but it will be worth all the efforts. You will replace this pudding with the Christmas cakes for sure. Follow the instructions and get going.
Persimmon Pudding Recipe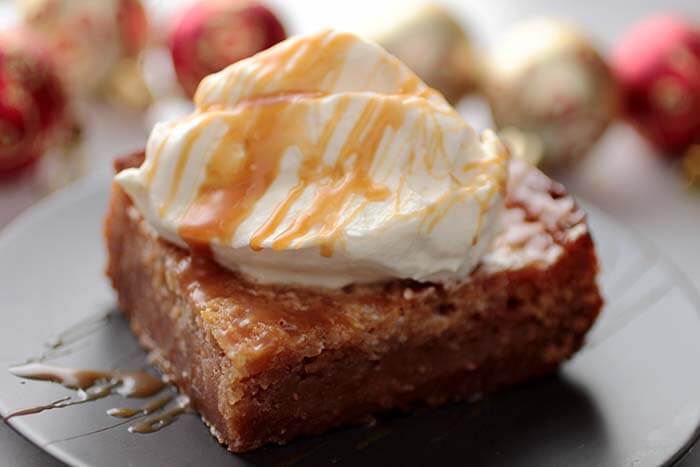 Set the oven on preheat mode to 325 degrees F.
Take a bowl and mix baking soda, eggs, persimmon pulp, sugar and eggs. 
Now, add flour, butter, cinnamon, baking powder, vanilla, milk and salt. Mix them well.
Take a baking pan and pour this batter into it and bake for 55 minutes in the preheated oven. Pudding will rise in the pan. It will even fall a little when you remove it from the oven. But do not worry. 
Serve it warm or cold.
Nutritional Breakdown of Persimmon Pudding
| | |
| --- | --- |
| Calories | 539 |
| Protein | 7.9 g |
| Carbohydrates | 110.1 g |
| Fat | 9 g |
| Cholesterol | 67.9 g |
| Sodium | 310.8 mg |
How to Make Persimmon Pudding at Home | Video
What a pleasant aroma it will have. I just can't stop thinking. Try out this pudding and you will love it. Here is the video to help you in every step of cooking. If you want to know more details of the recipe, kindly watch this video as it will be an excellent help to you.
So what are your views about this Persimmon Pudding recipe? Let me know your reviews so that I can help you out if anything has to be made clear. I am happy to help you. Share this recipe with your friends and do comment in the section below with your experience and queries.