How to Make Pear Wine at Home
I always think like wine is made of grapes and apples, my thinking was the same until one day, I was watching food factory on the discovery channel and they were telecasting types of wines and how to make them at home.
In the starting, they showed some common wines but after some time they started showing those wines which I never heard about. The one that attracted me the most was pear wine and while they were making Pear Wine, I started recording the video of Pear Wine Recipe on my phone.
When they finished their recipe, I started making it at home and this is a time-consuming process but I had the curiosity to make wine at home. I was not bored with the process and after a few weeks, I made it and found it very tasty. I served Pear Wine to my guests the very next day and they also appreciated it.
So today, I was thinking about Pear Wine which I made and thought to share Pear Wine Recipe with my lovely wine lovers, so you can make it at home.
But there are many other drinks that we've covered in our blog. You should definitely check them as well.
1. Banana Wine– Do you know there is a wine made you of banana and is consumed in India's southern region? Yes, this wine is called banana wine and is good in taste and is smoothing.
2. Hawaiian Gingerly Carrot Juice– It's great for boosting the immune system, lowering cholesterol and breaking down fat! I love the colour of this super orange juice, it's naturally sweet-tasting, the ginger adds a spiced tangy depth.
3. Oatmeal Stout– There is something about winter that demands warmth and comfort, hearty flavours and earthiness. It is the perfect season for brewing a nice dark oatmeal stout. 
4. Black Manhattan– This drink got its name after it was invented by a bartender known as Black in the city of Manhattan in the late '80s. This drink is a fusion of various other famous types of alcoholic brands that makes it a perfect blend for any occasion or gathering.
Ingredients For Pear Wine
| Ingredients | Amounts |
| --- | --- |
| Chopped Pear | 4 quarts |
| White Raisins | 3 Cups |
| Sugar | 6 Cup |
| Light Brown Sugar | 1 Cup |
| Water | 4 quarts |
| Champagne Yeast | 1 Packet |
| Yeast | 1 tsp |
Let's see how much time we have to invest in the process of making pear wine.
How Much Time It Will Take?
| | |
| --- | --- |
| Preparation Time | Total Time |
| 4 weeks | 4 weeks |
When I watching it over the Tv I was very excited to know the recipe, as I have mentioned above it is time consuming. Each and Every should be done perfectly with the proper instructions I will provide below follow it.
Pear Wine Recipe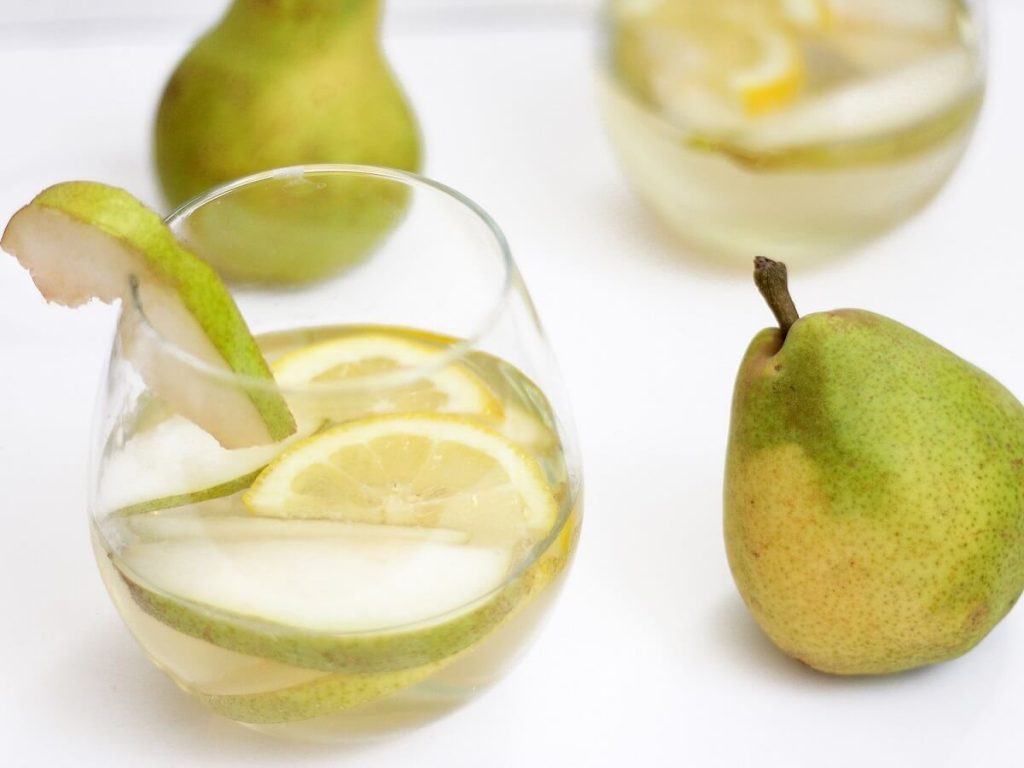 Clean your potato masher and fermenting first.
By combining water with sugar and boil the mixture.
Wash the pears first and remove the cores of pear without peeling.
At the bottom of the fermenting bucket drop the straining bag with some chunks of pears and also add one Campden tablet. Mash the pears with a potato masher.
In a straining bag add chunks of pears and them leave it in the bottom of fermenting bucket and in a fermented bucket add one crushed Campden tablet and start mashing pears in potato masher.
When you see pears are mashing properly add wine tannin and yeast nutrients with second Campden tablet when the miixture is cooling and leave it for 24 hours.
After one day add pectic enzyme and add yeast with a spoon. Attach an airlock to the lid with covering fermenter.
Disturb the straining bag, to extract the flavor from pears.
After 5 days you will see a straining bag is full of pulp and squeeze the pulp softly. To keep it safe for 2-3 weeks airlock it.
After 2-3 weeks you will see the fermentation is done and with hydrometer check the gravity which is around 1.000 sg.
In a demijohn rack the fermented wine so that it will clear.
Leave it for 2 months and you will find it tastier.
Now your Pear Wine is ready to serve. Just like I served it to my guest, I suggest you the do the same and I am sure that everyone will like it.
Nutritional Facts of Pear Wine
People always think like wine is good for health. If you want to know, how much healthy Pear Wine is, then I have mentioned nutritional information of Pear Wine.
| | |
| --- | --- |
| Calories | 123.3 |
| Fats | 0.8 g |
| Potassium | 261.3 g |
| Carbohydrates | 31.6 g |
| Protein | 0.8 g |
How To Make Pear Wine at Home | Video
I made Pear Wine by watching it virtually on Discovery Channel and I thought to share the video of Pear Wine Recipe so you can make it easily at your home.
I hope you liked this recipe of recipe of Pear Wine. If you have any kind of drink that you want to be featured in thefoodxp blog, do let me know in the comments section below. Till then, stay tuned for more recipes like these.