How to Make Peanut Butter Pie Jar at Home
Note- This post may contain affiliate links, we earn from qualifying purchases made on our website. If you make a purchase through links from this website, we may get a small share of the sale from Amazon and other similar affiliate programs.
We all want something refreshing and cool in summers to eat. Most of the time, we eat ice cream or sundaes. But today, I am here with the Peanut Butter Pie Jar recipe which will definitely help you leave scorching heat in summers.
I came to learn about this drink when I was in Miami for my summer vacation with my family and I got to know about it in a restaurant. I was attracted to the drink and I thought to ask the recipe but I was not able to ask.
When I came back I did a lot of research about Peanut Butter Pie Jar and I got this one which I will share with you today but before sharing it, let's discuss about the benefits of eating Peanut Butter.
It will help to lose weight.
It is healthy for the heart patients.
It reduces the risk of Cancer.
It also protects you from Alzheimer's Disease.
It also prevents us from Gallstones.
It also reduces the risk of Diabetes.
It helps to build stronger bones.
Now, you will come to how beneficial is eating Peanut Butter Pie Jar is. Let's move towards know how you can make it home. But first, you have to gather the ingredients required to Make Peanut Butter Pie Jar Recipe at home. But first, I've mentioned some other cherry pie recipes that I think you should definitely try at your home.
1. Velvety Chocolate Butter Pecan Pie– The richness of this pie will make you go nuts. This pie is a classic combination of Pecan Pie and Chocolate Pie. This dessert is undoubtedly irresistible once you take a bite.
2. Black Raspberry Pie– This is the best black raspberry pie because of it is a two crust pie and has a hint of cinnamon and nutmeg to bring your fork back for another piece of pie.
3. Chocolate Cream Cheese Pie– The perfect blend of chocolate and the whipped cream, what else one needs to cherish their mood? So not wasting any time, check out the recipe and make it a reality in your kitchen.
4. Kool Aid Pie– Delicious and scrumptious dessert, Kool-Aid Pie is the easiest way to bring smiles to the faces of your loved ones. It proves to be a great hit for any housewarming party or get-together.
Ingredients For Peanut Butter Pie Jar
For Graham Cracker Crust
| Ingredients | Amount |
| --- | --- |
| Graham Cracker Sheets | 9 |
| Melted Butter | 8 tbsp |
| Sugar | 1/4 Cup |
For Peanut Butter Cream
| Ingredients | Amount |
| --- | --- |
| Cream Cheese | 8 ounces |
| Peanut Butter | 1 Cup |
| Powdered Sugar | 1 Cup |
For Chocolate Ganache
| Ingredients | Amount |
| --- | --- |
| Milk Chocolate | 1 Cup |
| Heavy Cream | 1/2 Cup |
| Powdered Sugar | 1/3 Cup |
Most of the ingredients are already in your kitchen but some are not, then you should buy them from the supermarket. Now, the question arises how much we have to invest to make this drink in the scorching heat. You will get to know about this from the table I have mentioned below.
How Much Time It Will Take?
| | |
| --- | --- |
| Preparation Time | Total Time |
| 30 Mins | 30 Mins |
Now you know all the ingredients and the time duration. So now let's move onto the directions to make this Peanut Butter Pie Jar at home.
Peanut Butter Pie Jar Recipe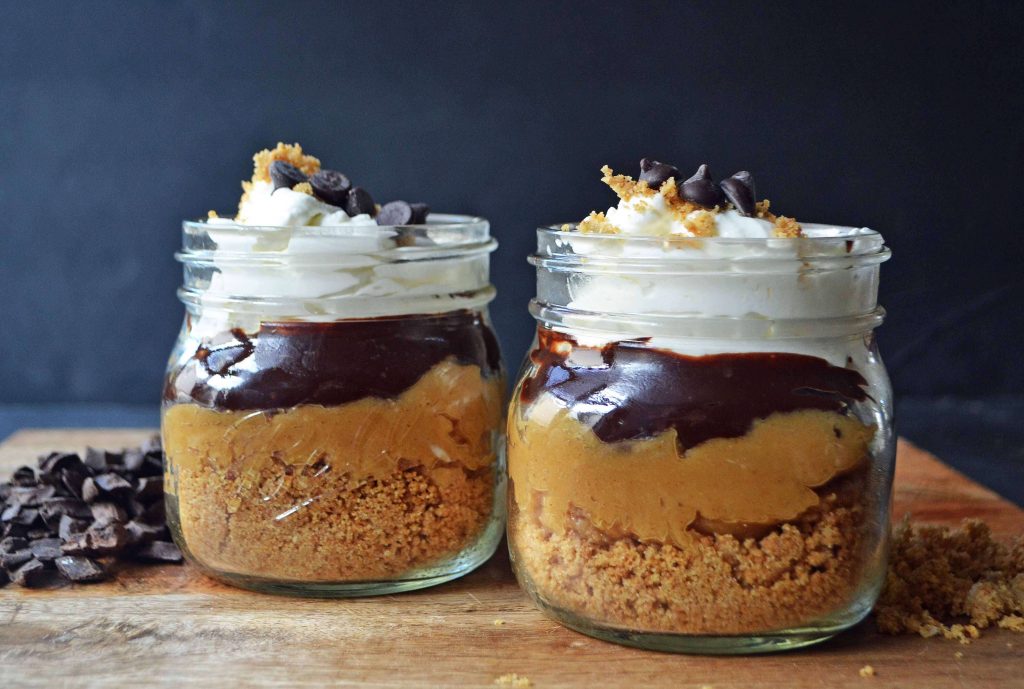 Add crushed graham crackers crumbs, melted butter, and sugar in a small bowl. Combine with a fork and set aside.
Combine peanut butter, cream cheese, sugar and peanut butter in a large bowl and mix for 3 minutes until it will look fluffy.
Melt heavy cream and chocolate in a microwave for 1 minute.
In a bowl whip the heavy cream and add sugar, beat until it will combine each other.
In a large serving glass make a layer of cracker crust first then peanut buttercream, and then chocolate ganache, then whipped cream. Make sure you will use a glass that has a wide mouth and top the glass with chocolate chips.
Keep the glass in the refrigerator until you serve.
Finally, Peanut Butter Pie Jar is ready. Have it in summers and you'll definitely love it.
Nutritional Facts Of Peanut Butter Pie Jar
As I've told above that this Peanut Butter Pie Jar is very healthy because of the ingredients present in it. But still, I've added a nutritional breakdown below.
| | |
| --- | --- |
| Calories | 700 |
| Carbohydrates | 59g  |
| Protein | 14g |
| Cholesterol | 63mg |
| Sodium | 550mg |
| Potassium | 387mg |
How To Make Peanut Butter Pie Jar at Home | Video
If you are having a doubt that this recipe will be difficult for you, then I've added a video below. After watching the video, it'll be easier for you to make it at home.
I hope you've liked this recipe. I highly recommend you make this Peanut Butter Pie Jar at home. Do share your reviews in the comments section below. And for more chicken recipes like this, stay tuned.