How To Make Peanut Butter Cereal Bars At Home
When I was a kid, I used to eat cereal every morning. There were a bunch of cereal options available but my favourite was Captain Crunch Peanut Butter Cereal. It was considered as one of the best cereals during my childhood. 
But one day when my aunt visited my home, she made something really special using the Peanut Butter Cereal that I truly loved. She made Crunchy Cereal bars. And those bars were so tasty that I couldn't resist myself from eating those.
The reason why I loved these bars so much was because of the taste of peanut butter combined with chocolate chips. So, I learned the recipe of these Peanut Butter Cereal Bars from her. And to this day, I make these bars for myself and for my kids as well. 
Want to make peanut butter bars but out of peanut butter? Here is a list of peanut butter substitutes that you can try.
So today, I will share this recipe with you all But before jumping onto it, let's gather all the ingredients that are required to make these cereal bars at home. But here are some other amazing recipes that you should definitely try.
1. Pistachio Butter– This delicious nut butter can be spread on a crunchy toast or a scoop into oats or mixed into a cookie batter. You can even replace peanut butter with pistachio butter in some other recipes.
2. Heath Bar Cookie– If you appreciate a good Heath Bar or English Toffee you will love these delicious, easy to make cookies. They are slightly soft and incredibly chewy with a nice crunch along the edge.
3. Shahi Tukda– Shahi Tukda is a soft bread pudding, whose topping melts like caramel in your mouth. The richness of saffron and the flavour of cardamom, send your taste buds to a different world this royal delicacy is served with Rabdi.
4. Strawberry Extract– You can use this strawberry extract to personalize the taste of various dishes. And the best thing about this extract is that after making this once, you can preserve it for months. 
Ingredients for Peanut Butter Cereal Bars
| Ingredients | Amount |
| --- | --- |
| Captain Crunch Peanut Butter Cereal  | 6 cups |
| Chocolate Chips | 2 cups |
| Peanut Butter | ¾ cups |
| Butter | 3 tbsp |
| Vanilla Extract | 1 tsp |
| Marshmallows | 10 ounce |
You can get all these ingredients from the nearest supermarket. Now let's check out how much time will these Peanut Butter Crunch Cereal Bars take to prepare at home.
How Much Time It Will Take?
| | | |
| --- | --- | --- |
| Preparation Time | Cooking Time | Total Time |
| 15 Minutes | 5 Minutes | 20 Minutes |
That is quick. Now let's check out the directions that are required to transform your peanut butter cereal into crunchy bars.
Peanut Butter Cereal Bars Recipe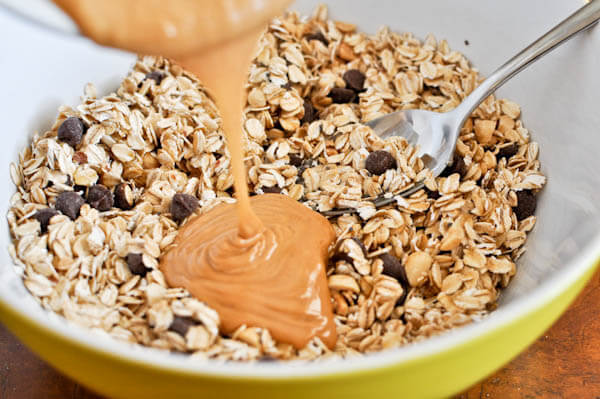 Take a pot and put peanut butter in it and melt it over medium heat.
Now add marshmallows to the melted peanut butter and stir until marshmallows are completely melted.
Now remove the pot from the stove and add vanilla extract immediately and stir.
Now add cereal to it and also add choco chips to it as well and stir. Let the choco chips melt.
Now line a 9 X 13 inch baking sheet with foil and spray it with cooking spray.
Now put the mixture in it and top it with the remaining choco chips.
Let it cool at room temperature and cut into desired pieces.
Now your Crunchy Cereal Bars are ready. Make this at your home and relive your childhood days of Captain Crunch.
Nutritional Breakdown of Peanut Butter Crunch Cereal Bars
For all the health conscious people out there, I've mentioned the nutritional breakdown of these cereal bars below.
| | |
| --- | --- |
| Calories | 140 |
| Protein | 4 g |
| Carbohydrates | 16 g |
| Fat | 10 g |
| Fiber  | 1 g |
| Calcium | 30 g |
| Iron  | 1 mg |
How to Make Peanut Butter Cereal Bars at Home | Video
To make the cooking process easier, I've added a recipe video below. It'll be easier for you to understand all the steps by watching this video.
I hope you've liked this recipe. I highly recommend you to make these cereal bars at home and tell us your reviews in the comments section below. Till then, stay tuned for more recipes like these.