How to Make Peanut Butter Blossoms at Home
Note- This post may contain affiliate links, we earn from qualifying purchases made on our website. If you make a purchase through links from this website, we may get a small share of the sale from Amazon and other similar affiliate programs.
When I was a kid, I used to eat Peanut Butter Blossoms cookies which my father bought from a bakery shop. But when I was in the 10th standard the bakery shop was permanently closed.
I cried a lot and I always missed those cookies because those were the cookies which I liked the most and the person who made those cookies is the only person who knows how to make it.
Last week, I went to the market and what I saw is that uncle who was the owner of that shop. I went to him and asked him about why you closed your shop and other things also. But in the end, I asked him about Peanut Butter Blossoms Cookies Recipe.
He said I am participating in a competition tomorrow and in that competition, I am making those cookies. You can come there and I will teach live how to make them.
The next day, I was at that place where the competition was and he taught me how to make Peanut Butter Blossoms Cookies and when he was teaching me, a thought came into my mind to share Peanut Butter Blossoms Recipe with my lovely first.
But here are some other amazing recipes that you should definitely try.
1. Sugared Almonds– It's a typical snack you can get at Christmas markets. But forget to buy these almonds from the market because I can assure you that homemade is so much better.
2. Coconut-Pecan Frosting– If you are a fan of pecans and coconut, you are going to love this decadent and delicious frosting that takes german chocolate cake to the next level.
3. Peanut Butter Cereal Bars– Peanut Butter Cheerio Bars are my go-to, quick and easy after-school snack. This cereal bar recipe is no-bake and only requires three ingredients.
4. Churros– In my opinion, Churros are one of the worlds best desserts – when made fresh from scratch of course. These are hands down the best churros I've ever had, even better than those I got in the Mexican market. 
Ingredients For Peanut Butter Blossoms Cookies
| Ingredients | Amount |
| --- | --- |
| All-Purpose Flour | 1 ¾ Cups |
| Baking Soda | 1 tsp |
| Salt | 1/2 tsp |
| Stick Of Butter | 4 ounces |
| Peanut Butter | 1/2 Cup |
| Granulated Sugar | 1/2 Cup |
| Light Brown Sugar | 1/2 Cup |
| Egg | 1 |
| Milk | 1 tbsp |
| Vanilla Extract | 1 tsp |
| Hershey's Kisses | 5 dozen |
You can get all the ingredients from the nearest supermarket. Now let's check how much time will it take to make these Peanut Butter Blossoms at home
How Much Time It Will Take?
| | | |
| --- | --- | --- |
| Preparation Time | Cooking Time | Total Time |
| 10 Mins | 10 Mins | 20 Mins |
Now, let's head to the part for what we all are waiting for. So without waiting more, let's check out the Peanut Butter Blossoms recipe.
Peanut Butter Blossoms Cookies Recipe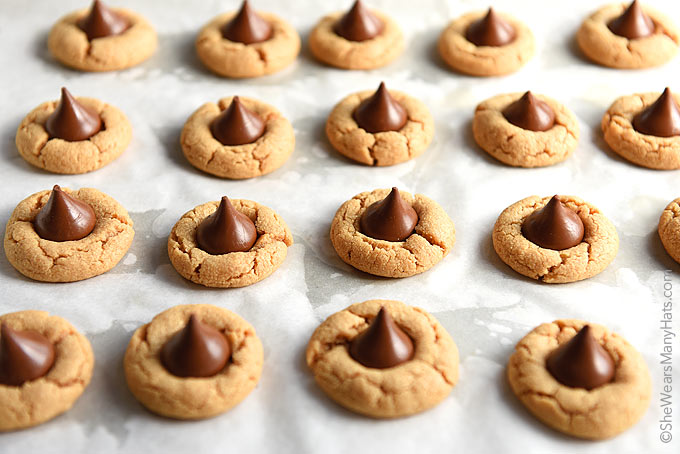 In a mixer, add flour, baking soda, salt, butter, peanut butter, granulated sugar, and light brown sugar.
While you are mixing the mixture, add eggs, milk and vanilla beat until the dough will become soft.
Place the dough in the refrigerator for 1 hour.
At 375 degrees, preheat the oven and spray oil over and set aside. Make balls of dough.
While you are making balls, roll it in sugar and place it in the cookie sheet, bake for 8 minutes or until it will turn light brown.
After the baking process, removes the cookie from oven and place a candy kiss over the cookie in the centre and again place the cookies in the oven for 3 minutes.
Serve Immediately.
Finally, Peanut Butter Blossoms is ready to replace your favourite cookies. Make it for your kids and I bet that they'll love it.
Nutritional Facts Of Peanut Butter Blossoms
Most of the people always think that cookies are not good for health but they are wrong. You will come to know this from this nutritional information table that I have mentioned below.
| | |
| --- | --- |
| Calories | 100 |
| Fats | 6g |
| Carbohydrates | 13g |
| Protein | 1g |
| Sugars | 44mg |
How To Make Peanut Butter Blossoms Cookies at Home | Video
I always recommend everyone to watch a video before trying something for the first time. So for Peanut Butter Blossoms, I have added a video below.
I hope you've liked this recipe of Peanut Butter Blossoms Cookies. Make sure to try this t your home and share your reviews in the comments section below. Till then, stay tuned for more recipes like this.