How to Make Peameal Bacon at Home
Note- This post may contain affiliate links, we earn from qualifying purchases made on our website. If you make a purchase through links from this website, we may get a small share of the sale from Amazon and other similar affiliate programs.
Have you ever visited Niagara Falls? If yes then you must have aware of the term Peameal Bacon, when I was a kid I still remember my friends who were the residence of Toronto used to bring these at school I found them so tasty that I could not stop myself from eating those.
Today, I was missing that Peameal Bacon which my friend used to bring in school and I thought to call her, to know Peameal Bacon Recipe. I asked her about the recipe but instead of giving me the recipe she invited me to her home for dinner where she catered me Peameal Bacon and after so many years, I had it and taste was same.
A Few minutes before I leave her house she provided me Peameal Bacon Recipe and I thought I will share this recipe first with my Peameal lovers first. So, I will provide you Peameal Recipe in the following steps.
I will start by providing the list of ingredients require for Peameal Bacon. Also, there are other recipes that you can have as starters, let's check them out.
1. Teriyaki Meatballs– Teriyaki meatballs are a combination of teriyaki sauce and meatballs. It combines the beef and pork meatballs with the sweet and savory teriyaki sauce to make a flavorful and unforgettable combination. 
2. Bread and Butter Pickles– Bread and butter pickles are really cheap staple in household and this unique sweet and tangy taste of homemade bread and butter pickles is loved by so many people.
3. Crab Cake– Crab cakes make the perfect appetizer for your family bonding or get together, regardless of the main course you intend to serve.
4. Mushroom Chips– These chips will satisfy even those that are quite picky. They are boosted with great flavour and still very low in carbs! Mushrooms are also a good source of potassium which is sometimes deficient in our diets.
Ingredients For Peameal Bacon Recipe
| Ingredients | Amount |
| --- | --- |
| Cold Water | 3 quarts |
| Maple Syrup | 1 Cup |
| Kosher Salt | 2/3 Cup |
| Prague Powder | 2 tbsp |
| Peppercorns | 10 |
| Mustard Seeds | 1 tbsp |
| Bay Leaf | 1 |
| Boneless Lean Pork Loin | 4 1/2 Pounds  |
| Dried Yellow Peas | 1 1/2 Cups |
It is a time consuming dish and let's see how much time it will take to become a perfect dish.
How Much Time It Will Take?
| | | |
| --- | --- | --- |
| Preparation Time | Cooking Time | Total Time |
| 40 Mins | 210 Mins | 250 Mins |
Peameal Bacon Recipe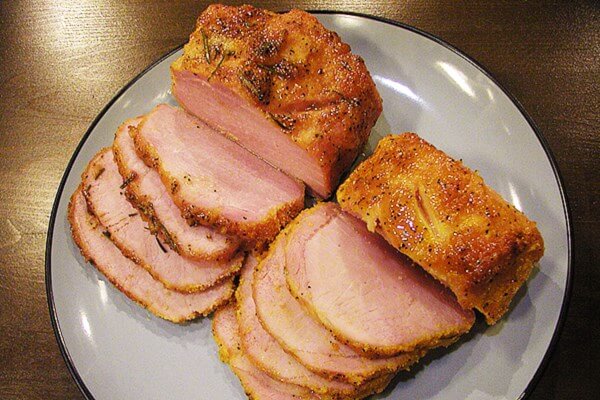 In a large tall container add water, maple syrup, salt, cure, spices, and meat. Mix them properly.
In the injector, inject the brine and inject it to loin. Distribute the brine properly over the loin.
With the mixture in the container place loin with brine and keep it in the container for 4 days.
Remove the loin and pat it dry. Place it in the refrigerator. So, the mixture and meat grab each other properly.
After the freezing process you can fry it or you can bake it the choice is yours.
Finally Peameal Bacon is ready to make you dinner super special.
Nutritional Facts Of Peameal Bacon
For health conscious people I have mentioned Peameal Bacon nutritional facts in the below.
| | |
| --- | --- |
| Calories | 157 |
| Sodium | 904 mg |
| Carbohydrates | 1.7 g |
| Fat | 7 g |
How To Make Peameal Bacon at Home|Video
From my experience, I understand one thing that watching something practically or lives will make your task easy. So, I've added this video of how to make Peameal Bacon at home.
I hope you've liked this recipe of a healthy Peameal Bacon. Try this healthy recipe at your home and don't forget to share your experience with us in the comments section below.