How To Make Panettone Bread At Home
Pannetone bread is a traditional Italian Christmas bread. The bread is made using regular ingredients but what makes it so delicious is the inclusion of wine, butter, and raisins. They enhance its taste and make it a perfect bread that everyone can enjoy.
I learned this recipe from my aunt. She gave me full notes and training about making this Panettone bread at home. This bread is a perfect choice for a Christmas party or gathering. Everyone will love to have it with some drinks or beverages. The soft, sweet, and juicy flavors of the bread are hard to get over.
To make the Panettone bread, soak raisin overnight in water and rum. Add flour, sugar, yeast, salt, lemon zest, and vanilla bean to a mixer. Also, add eggs, tepid water, and honey to it. Add butter and mix for about 8 minutes to make the dough. Then, add raisins to it. Let the dough rest for 12 hours. Put in a mold and let it rest for another 3 hours. Then, bake it for an hour. 
This was just a snippet of the recipe. Find the complete recipe below. But before going to the full recipe, do check out other bread recipes as well.
1. Orange Cranberry Bread– This moist & flavorful orange cranberry bread is packed with orange zest and tart cranberries, topped with cinnamon streusel, and finished with orange glaze.
2. Rye Croutons– If you love croutons then, you should know that homemade croutons taste the best. You can easily make rye croutons with leftover rye bread. They are really easy to make and get ready in no time.
3. Corn Pone– Corn pone is made without milk and eggs. It can be baked or fried. The ingredients are simple and easily available. It is easy to make corn pones at home and it takes less than an hour to make them.
4. Banh Mi– It is a Vietnamese sandwich made with chicken and full of pickled vegetables. It is a perfect meaty sandwich combined with bright and crunchy homemade pickles stuffed into a fluffy baguette.
Ingredients for Panettone Bread
| Ingredients | Quantity |
| --- | --- |
| Raisins  | 1 cup |
| Light Rum  | 2 teaspoons |
| Hot Water  | 2 teaspoons |
| All-Purpose Flour  | 3 ¾ cup |
| Granulated Sugar  | ⅔ cup |
| Dry Yeast  | ½ teaspoon |
| Salt  | ½ teaspoon |
| Lemon Zest  | ¼ teaspoon |
| Vanilla Bean  | ½ |
| Eggs  | 3 |
| Tepid Water  | ¾ cup |
| Honey  | 1 teaspoon |
| Unsalted Butter  | 10 ½ teaspoons |
| Unsalted Butter Melted  | 1 teaspoon |
| Candied Citron  | ⅔ cup |
How Much Time Will it Take?
| Preparation Time | Cooking Time | Resting Time | Total Time |
| --- | --- | --- | --- |
| 1 Hour  | 1 Hour  | 1 day 4 Hours  | 2 Hours |
Panettone Bread Recipe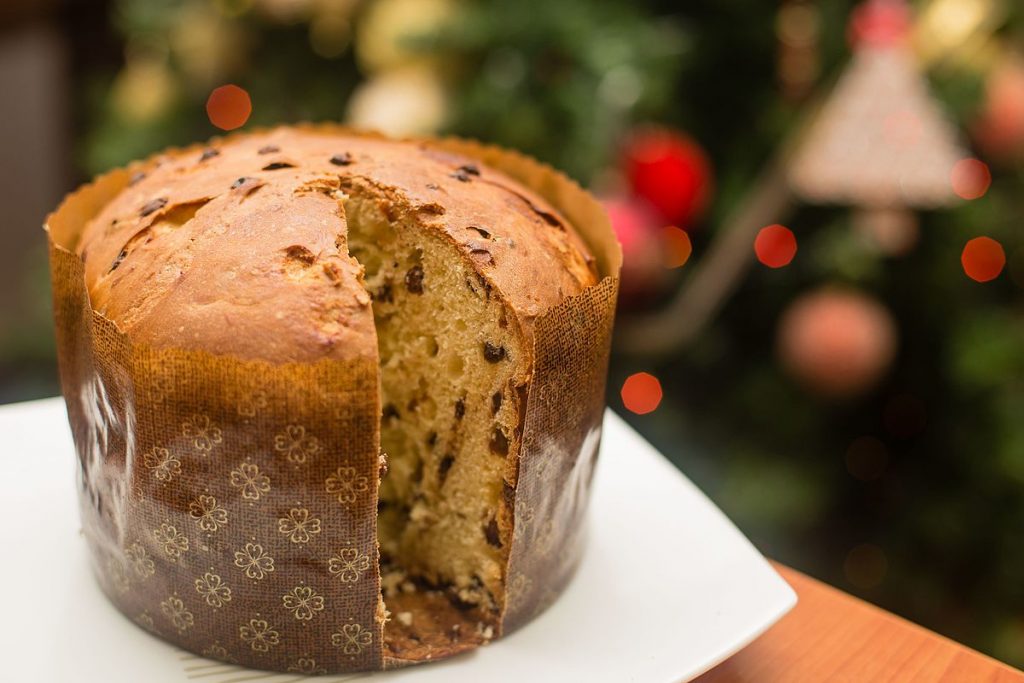 Take a small bowl and add hot water and rum to it. Soak raisins into it and stir it occasionally. Keep them soaked overnight until the raisins are fluffy and water has reduced.
Now, get ready with your mixer with paddle attachment installed. Add flour, sugar, yeast, salt, lemon zest, and vanilla bean to it. Mix them well.
After this, take a medium bowl and add eggs, tepid water, and honey to it. Whisk them properly and keep the mixer low. Add this egg mixture to the flour mixture in the making. Increase the speed and let the contents mix well.
Add the butter and let it mix at high speed until a smooth and soft dough is prepared. It will take around 8 minutes to make it.
Add the raisins that you soaked last night and drain the liquid. Mix them with the dough with the help of a wooden spoon.
Now, keep the dough in a bowl and cover it using plastic wrap or a wet cloth and keep it in a cool place and let it rest for about 12-15 hours.
After your dough has rested well, remove the vanilla beans. Sprinkle some dry flour on the dough, and place it on a smooth surface.
Now, shape the dough by making a loose ball. Fold its edges and place it in the Panettone mold. Let it rest for another 3-5 hours.
Preheat your oven to 370oF.
Keep this mold filled with dough on a baking sheet. With the help of a sharp knife, make an "X" on the whole surface of the dough. Keep a teaspoon of butter in this mark. Bake it for 60-75 minutes until the color of this Panettone changes.
Now, remove it from the oven and insert the skewers through the cake such that it hangs. Let it cool over a stockpot before you cut it.
Nutritional Breakdown of Panettone Bread
| | |
| --- | --- |
| Calories  | 381  |
| Fats  | 13 g |
| Cholesterol  | 72 mg |
| Carbohydrates  | 59 g |
| Sugar  | 19 g |
| Protein  | 6 g |
How to Make Panettone Bread at Home | Video