How to make Oyster Roast at Home
Note- This post may contain affiliate links, we earn from qualifying purchases made on our website. If you make a purchase through links from this website, we may get a small share of the sale from Amazon and other similar affiliate programs.
Oyster Roast is the perfect recipe for your evening snacks and for sudden friend's get together. I know that most of the oyster recipes take many efforts of yours but this oyster roast recipe is easy to make and will not take much of your efforts.
I have a great and unforgettable incident with this particular recipe which makes me burst into laughter. One day while sitting in my room, I was watching a Cookery show from where I have learnt this recipe.
After that, I went inside the kitchen and started experimenting, according to the directions given by the host of the show. Any guesses about the result? Yes, you are right! I spoiled the whole dish which makes me feel a little bit disappointed but my inner self encourages me to do it once again.
So the next day, I experimented again and made the Oyster Roast dish. I am sure you will make it perfect with the ingredients and directions that I've mentioned below. Let's check out the ingredients first which are used to make Oyster Roast at home. Also, there are other recipes that you can have as starters, let's check them out.
1. Chile Toreados– If you are like me who likes extra spice in food, you must know Chile Toreados. In this post, I will share the recipe of this Mexican dish, which will help you spice up your food.
2. Humboldt Fog Brulee– Humboldt is basically aged goal milk cheese. This cheese was originated in California. I was watching this cooking show on the BBC and then I came to know about this kind of dish.
3. Fancy Fish Sticks– Fancy Fish Sticks are incredible in taste and they are easy to make. The recipe which I bought for you includes halibut, panko – pumpkin seeds, breed crumbs which make these sticks more crunchy and crispy.
4. Punjabi Fish Pakora– This Punjabi fish pakora recipe with pudina chutney is one of the finest fish recipes that you can make at your home. This yummy fish pakora is crispy on the outer side and completely soft and tasty on the inside as it contains the delightful fish.
Ingredients for Oyster Roast
| | |
| --- | --- |
| Ingredients | Amount |
| Lemons (halved) | 8 |
| Fresh Oysters | 8 Dozen |
| Spicy Cocktail Sauce | ——— |
| Garlic Butter Sauce | ——— |
| Tarragon-Black Pepper Sauce | ——— |
We don't need a huge list of ingredients for this oyster roast. You will get anything from any nearby supermarket.
How much time it will take?
| | | |
| --- | --- | --- |
| Preparation time | Cooking time | Total time |
| 10 minutes | 15 minutes | 25 minutes |
This will give you an estimate of the time it will take to get ready. Now, you have a list of ingredients and estimated time, so let's move towards the main course, I mean the directions of the recipe.
Oyster Roast Recipe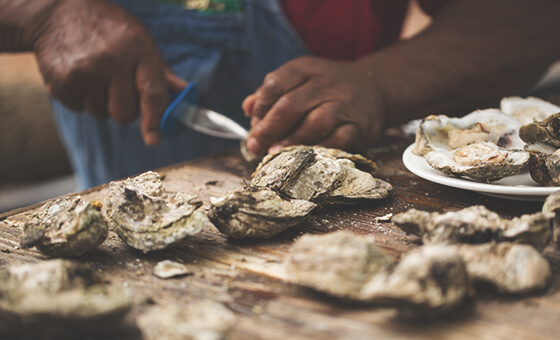 Preheat the oven at 400-450 degrees.
Take halved lemons and put it inside the oven and cook until browned. (2 minutes)
Place oysters for a roast, and cook it for about 10 minutes.
Put it outside in a dish.
You can serve it with Cocktail sauce, Garlic butter Sauce, tarragon black pepper sauce and grilled lemon.
After trying this, you can say that you can have something in your menu which you can make instantly without any hard efforts.
Nutritional Facts of Oyster Roast
From this nutritional breakdown, you will get to know about the percentage of nutrients in this particular recipe. Have a great time!
| | |
| --- | --- |
| Calories | 69 |
| Fat | 2 g |
| Sodium | 90 mg |
| Carbohydrates | 4.2 g |
| Protein | 8 g |
How to Make Roasted Oysters at Home | Video
Here is the quick video of the Oyster Roast recipe for you. It might make it easy for you to try this dish at home.
Now its time for you to make this at your home with your friends and family. Make sure to share your experience with the Roasted Oysters in the comments section below.