How To Make Oreo Cheesecake At Home
Note- This post may contain affiliate links, we earn from qualifying purchases made on our website. If you make a purchase through links from this website, we may get a small share of the sale from Amazon and other similar affiliate programs.
Oreo cheesecake is the perfect answer to your cheesecake prayers. The chocolate and cream-loaded desert is the one you have been waiting for overnight. Honestly, I would eat the whole in one sitting; it is that tempting.
Oreos took the world by storm. Any dessert that you know about must have an Oreo version of it. From Oreo milkshakes to Oreo ice cream, Oreos are everywhere. So why not try Oreo cheesecake. It is the perfect fusion desert.
To make Oreo cheesecake, make the crust by mixing crushed Oreos with melted butter. Bake it. Then, make the filling by mixing cream cheese, sugar, salt, flour, sour cream and vanilla extract. Bake it and chill overnight. Top with white ganache and swirls of dark ganache. Top with whipped cream, decorate with half-cut Oreos. Oreo cheesecake is ready!
This was just a snippet of the recipe. If you love cakes, then you should definitely check out the other cake recipes that I've handpicked just for you.
1. Mini Cheesecakes– These Mini Cheesecakes feature a homemade smooth and creamy cheesecake filling. This recipe is incredibly easy to make and includes several different topping options to use too.
2. Vegetable Cheesecake– A cake that's savory instead of sweet? Absolutely! Everyone who tastes this cheesy concoction, topped with a dilly of a cucumber sauce, will relish its richness and come back for more.
3. Baked Lemon and Raspberry Cheesecake– These Lemon Raspberry Cheesecake Squares feature a creamy lemon cheesecake filling with a raspberry swirl on a homemade graham cracker crust.
4. Fruity Pebbles Cheesecake– This delicious Fruity Pebble crust is a delight to the mouth. Without the need to bake, Fruity Pebbles Cheesecake takes much less time to cook as compared to regular cheesecake.
Ingredients For Oreo Cheesecake
For the Crust
26 Oreos 
1/2 cup Unsalted Butter (melted)
For the Cheesecake
24 oz. Cream Cheese 
1/2 teaspoon Salt
1 cup Sugar
3 tablespoon All-Purpose Flour
1 tablespoon Vanilla Extract 
3 Eggs 
1 Egg Yolk
1/2 cup Sour Cream
12 Oreos (crushed)
12 Oreos (chopped)
For the White Chocolate Ganache
1 cup White Chocolate 
1/3 cup Cream 
For the Dark Chocolate Ganache
2 tablespoon Semisweet Chocolate 
1 tablespoon Cream 
For the Whipped Cream And Assembly
1 cup Cream Cold
1/4 cup Powdered Sugar 
1 teaspoon vanilla extract
7 Oreos
I know this cake has a lot of ingredients but the end product is going to be worth the list as well as the wait, which I'll be telling you in the section below.
How Much Time Will It Take To Make Oreo Cheesecake?
| Preparation Time | Cooking Time | Cooling Time | Total Minutes |
| --- | --- | --- | --- |
| 20 Minutes | 1 Hour | 12 Hours | 13 Hours 20 Minutes |
The ingredients are ready and the timers are set. All left to do is get to work. So, let's start making this cake.
Steps To Make Oreo Cheesecake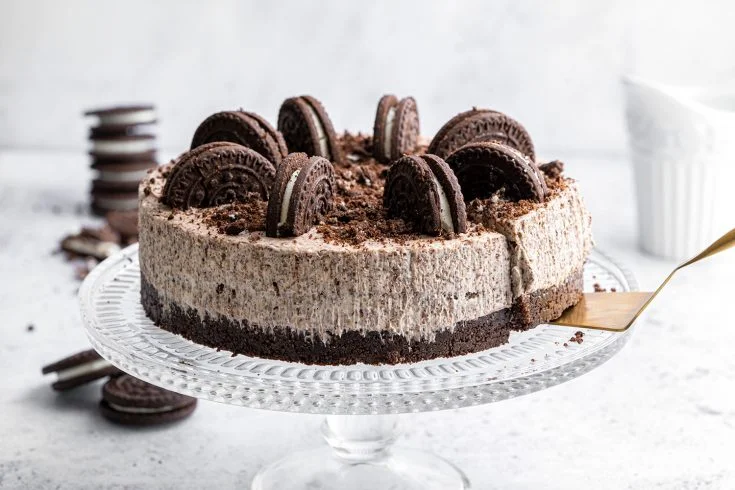 For Crust
Preheat the oven to 350oF.
Crush the Oreos to powder in a food processor and add melted butter to it. Mix this thoroughly.
Spread this mixture on a spring foam pan. Press to form a flat layer of this mixture. Then, bake for 10 minutes.
For Filling
Crush 12 Oreos and set them aside. Chop the other 12 roughly and set them aside as well.
To a mixer bowl, add cream cheese, sugar, salt and 3 tablespoons of flour. Mix all these till this mixture gets a creamy texture. Take it out in a bowl.
To this bowl, add sour cream and vanilla extract and mix well. Then, add eggs whites and yolk, mixing after one after one. Mix all this until smooth.
Mix in the crushed Oreos to this.
Now put 1/3rd of the batter on the crust and top with a layer of chopped Oreos. Make 2 more layers the same way.
Bake it for 10 minutes at 350oF. Then, reduce the temperature to 300oF and bake for another 50 minutes.
Turn the oven after that and let the cake rest inside the oven for about 30 minutes.
Take the cake out of the oven and put it in the refrigerator. Chill overnight.
For Ganache
Take the white and dark chocolate in separate bowls. Microwave both for 20-30 seconds. Then, add hot cream to both and mix well to form a creamy ganache.
Pour the white ganache over the cake and smoothen it. Add 4-5 spoonful of dark ganache and swirl both of them together.
For Whipped Cream
In the mixer bowl, take cold cream, powdered sugar and vanilla. Whisk them until soft peaks are formed.
Put the whipped cream in a piping bag and pipe the edges of the cake.
Cut 7 Oreos in half and place them straight down.
Viola! Your beautiful Oreo cheesecake is ready! It was a hell of a ride making this cake. Let's take a quick look at the nutritional value of the cake.
Nutritional Breakdown Of Oreo Cheesecake
| Nutritional Breakdown | Per Serving |
| --- | --- |
| Calories | 584 |
| Carbohydrates | 47 g |
| Protein | 10 g |
| Fiber | 1 g |
| Sugar | 48 g |
How To Make Oreo Cheesecake At Home | Video
I have added a similar video for this recipe to help you in case you got lost in all the steps. Do check it out!
This was it about the recipe. Mention any suggestion or queries in the comments and let me know how I can be of help. Enjoy this recipe!