How To Make Open Faced Texas Burger At Home
When you think about a burger, you think about a patty topped with cheese enclosed in a bun. But that is about to change. Today, we are going to make a burger with a twist. The recipe I am talking about is the open-faced Texas burger.
The open-faced burger consists of a meat patty covered in a mixture of sauces and cheese served on a toast. There is no top bun which is the reason it is called 'open-faced'. It is very versatile and can be eaten for breakfast, lunch, supper, or as an evening snack. In Europe and North American, it is a regular breakfast and supper. 
To make an open-faced Texas burger, mix onion, garlic, thyme, and beef in a bowl. Shape this mixture into patties and cook them until they are no longer pink. Meanwhile, cook the Texas toast. Then, add tomato sauce, brown sugar, Worcestershire sauce, and steak sauce to a skillet and cook until it gets thick. Coat patties in this sauce and add cheese. Serve the patties on the toast. 
You might feel the above-mentioned method to be sufficient for making this recipe. It was just a brief and you will get more details on the recipe below. Also, there are other recipes that you can have as starters, let's check them out.
1. Berenjenas Con Miel– Berenjenas Con Miel is a fried eggplant and honey dish. This dish is a great combination of sweetness and saltiness. It is a classic dish of Moorish origin and is served across Granada, Córdoba, Málaga, and Jaén.
2. Cheese Fries– It is safe to claim that everyone enjoys a bowl full of cheese fries. These can be the perfect movie snack for you to enjoy with your friends.
3. Fancy Fish Sticks– Fancy Fish Sticks are incredible in taste and they are easy to make. The recipe which I bought for you includes halibut, panko-pumpkin seeds, breed crumbs which make these sticks more crunchy and crispy.
4. Punjabi Fish Pakora– This Punjabi fish pakora recipe with pudina chutney is one of the finest fish recipes that you can make at your home. This yummy fish pakora is crispy on the outer side and completely soft and tasty on the inside as it contains delightful fish.
Ingredients For Open faced Texas Burger
2 tablespoons Onions (chopped)
1 small clove Garlic(minced)
1/8 teaspoon Thyme (dried)
2/3 cup Colby-Monterey Jack Cheese (shredded, divided)
2/3 pound Ground Beef
2 slices frozen Garlic Texas Toast
1/2 cup Tomato Sauce
1 1/2 teaspoons packed Brown Sugar
1/2 teaspoon Worcestershire Sauce
1/2 teaspoon A.1. Steak Sauce
How Much Time Will It Take To Make Open faced Texas Burger?
| Preparation Time | Cooking Time | Total Time |
| --- | --- | --- |
| 10 minutes | 15 minutes | 25 minutes |
Steps To Make Open faced Texas Burger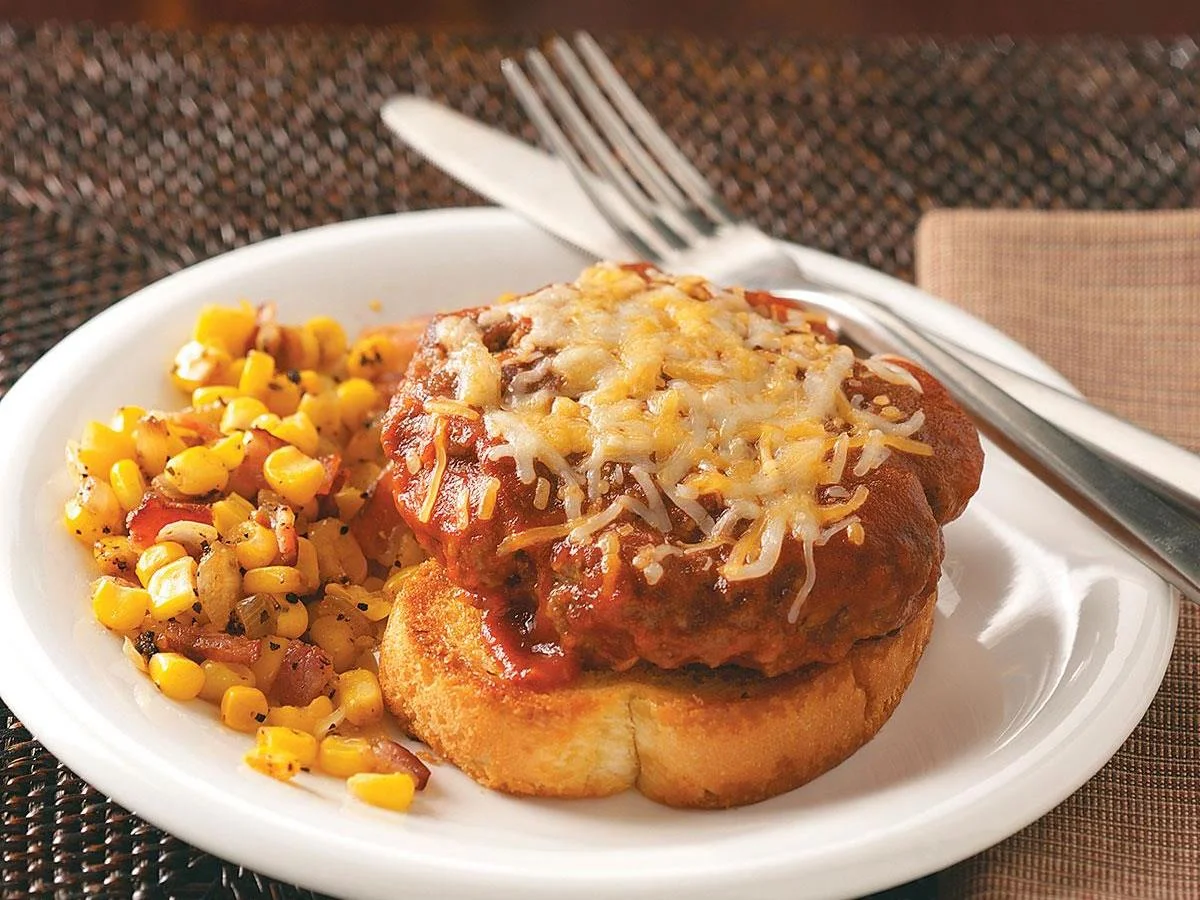 In a large bowl, mix onion, garlic, thyme and ½ cup of cheese. Add crumbled beef to this mixture and mix well. Shape the prepared mixture into two oval patties. 
Now, place a large skillet over a medium flame. Cook the patties in it for 5-6 minutes on each side until the meat is no longer pink. Then, keep the patties aside and try to keep them warm.
Meanwhile, prepare Texas toast as per the instructions given on its packet.
After that, add brown sugar, tomato sauce, Worcestershire sauce and steak sauce in a skillet. Bring them all to boil and cook them until the mixture gets thick. Add patties to the skillet and flip them so they get coated from all sides. Sprinkle some cheese over them. Place the patties on the toast.
Serve hot with potato wedges or French fries. 
Nutritional Breakdown of Open faced Texas Burger
| | |
| --- | --- |
| Calories | 614 |
| Protein | 41g |
| Carbohydrates | 31g |
| Fat | 36g |
| Cholesterol | 133mg |
| Sodium | 939mg |
How To Make Open faced Texas Burger At Home | Video