How To Make One Pot Spaghetti Alla Puttanesca At Home
Note- This post may contain affiliate links, we earn from qualifying purchases made on our website. If you make a purchase through links from this website, we may get a small share of the sale from Amazon and other similar affiliate programs.
The one-pot spaghetti alla puttanesca is the recipe that tops the chart when it comes to gets-ready-in-no-time and needs-less-effort criteria. It has simple ingredients and the whole dish comes together in one pan.
The one-pot spaghetti alla puttanesca is not a traditional Italian recipe but an easy take on the Italian pasta. I came across this recipe while looking to make something that needs less time and less effort. This recipe checks all the boxes. It is delicious and not fussy at all. You can easily make this recipe.
To make one-pot spaghetti alla puttanesca, put your spaghetti along with some water, passata, capers, black olives, garlic, onion, and parmesan cheese in a saucepan. Cook for about 10-15 minutes till the pasta is cooked. Garnish with parsley and parmesan and serve.
Your one-pot spaghetti is ready! For more details about the recipe, scroll down to find the steps section. There are other main course recipes on our blog as well that you should also check.
1. Gluten-Free Chicken Ramen Noodles– If you love ramen soup, this recipe for gluten-free instant noodle cups will prove that gluten-free ramen noodles are quick, easy, and delicious.
2. Braciole– Braciole is a classic Italian dish made with thin slices of meat and its filling is cooked in wine-infused sauce. So all the wine lovers will relish this without a doubt.
3. Katsu Style Ramen– The combination of that broth (which is mainly of chicken or pork) with some veggies and ramen noodles adds to its taste. This dish is very nutritious, full of flavors, and healthy too.
4. Tex-Mex Summer Squash Casserole– Yellow squash has a mild flavor, but in this recipe, squash's flavor gets enhanced by flavorful chiles, jalapenos, and red onions. If you do not want to spice up the dish, then you can use diced green chiles instead of jalapenos.
Ingredients For One Pot Spaghetti Alla Puttanesca
200 g Spaghetti
1 2/3 cups Passata
1 2/3 cups Water
2 tablespoon Capers
3 tablespoon Black Olives (sliced)
2 cloves Garlic (chopped)
1 Onion (thinly sliced)
1/2 tablespoon Crushed Chillies
Black Pepper
Fresh Parsley (to garnish)
Parmesan Cheese (grated)
How Much Time Will It Take To Make One Pot Spaghetti Alla Puttanesca?
| | | |
| --- | --- | --- |
| Preparation Time | Cooking Time | Total Time |
| 5 Minutes | 15 Minutes | 20 Minutes |
Steps To Make One Pot Spaghetti Alla Puttanesca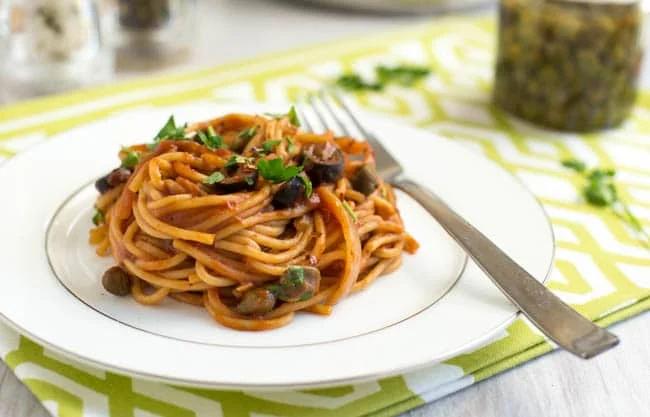 In a large saucepan, put the spaghetti along with water, passata, garlic, olives, capers, onions, chillies and black pepper. Put the pan over medium-high heat and let everything cook. Push the spaghetti down into the water mixture as it softens.
After the spaghetti is in the pan, reduce the heat to low flame. Cook it for about 10-15 minutes, while stirring regularly so the pasta doesn't stick. Keep stirring till the sauce reduces to your desired thickness. Then, remove the pan from the flame.
Garnish with parsley and grated parmesan cheese and serve.
Nutritional Breakdown Of One Pot Spaghetti Alla Puttanesca
| | |
| --- | --- |
| Calories | 399 |
| Fat | 3.8 g |
| Carbohydrates | 74.1 g |
| Fiber | 3.9 g |
| Protein | 14.4 g |
How To Make One Pot Spaghetti Alla Puttanesca At Home | Video