How to Make New England Clam Chowder at Home
Topping the menu today, what we have is a hot and steamy recipe that will tickle your taste buds and warm up your soul. It's the New England Clam Chowder. The creamy texture of the milk/cream along with the crunchiness of veggies and clams makes the dish feel exotic.
There are many brands in the market selling clam chowders in cans; however, preparing your fresh chowder at home is a different feeling.
Fresh clams are not that easy to find. So, to prepare Clam Chowder at home, I usually grab clam tins from the nearby supermarkets, which are perfectly acceptable. I cook this dish often as my family is fond of a hot bowl of Clam Chowder on cold winter nights.
This dish has a good number of calories and is a source of protein too. The Nutrition Table at the end will provide you with the proper nutrition breakdown of the dish. I am sure you would want to try this hot chowder at home for the winter nights and will love it. Down below is a list of ingredients you will need. But here are some other amazing recipes that you should definitely try.
1. Mama's Cabbage– If you love eating healthy and green veggies, then try making Mama's Cabbage at your home.
2. Egg Tofu– This food is basically from the parts of China, where tofu was considered as one of the best medications for various health disorders. And even today, it is widely consumed mot only in china but the majority parts of south and Southeast Asia as well.
3. Chicken Chop Suey– This simple chop suey combines carrots, celery, and bean sprouts with tender bites of chicken for a budget-friendly favorite.
4. Duck Liver– Duck livers are normally associated with velvety smooth pâté, sometimes mixed with luxurious and expensive foie gras. 
Ingredients for New England Clam Chowder
| Ingredients | Amount |
| --- | --- |
| Bacon strips | 4 |
| Celery ribs (chopped) | 2 |
| Large onion (chopped) | 1 |
| Garlic clove (minced) | 1 |
| Small potatoes (chopped) | 3 |
| Cup water | 1 cup |
| Clam juice | 1 bottle |
| Reduced-sodium chicken bouillon  | 3 tbsp |
| White pepper | ¼ tbsp |
| Dried thyme | ¼ tbsp |
| All-purpose flour | 1/3 cup |
| Chopped Clams (undrained) | 2 cans |
| Fat-free half-and-half | 2 cups |
So, grab all the ingredients and let's give this dish a try. But first let see how much time you need to invest in making this recipe.
How Much Time Will It Take?
| | | |
| --- | --- | --- |
| Preparation Time | Cooking Time | Total Time |
| 10 min | 30-35 min | 45 min |
I will now share the procedure to cook the clam chowder, step by step. So let's check it out.
New England Clam Chowder Recipe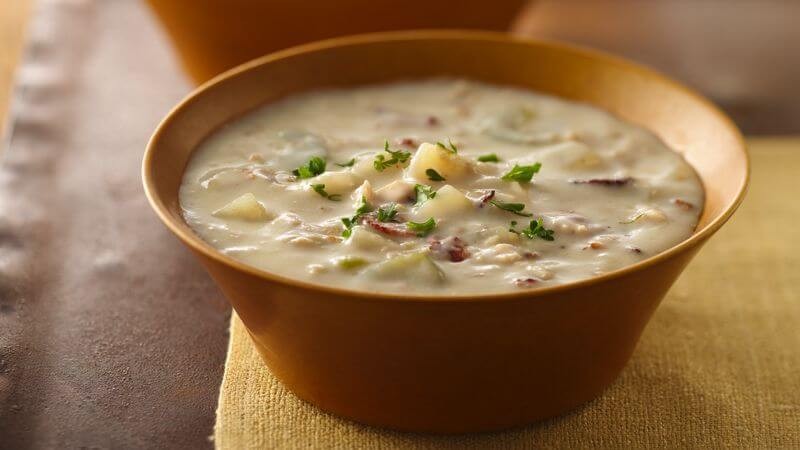 Firstly, fry the bacon over medium heat in a saucepan, until it is crisp. Set it aside on paper towels.
Sauté onion, garlic and celery ribs until they are soft and golden. To this, add water, potatoes, clam juice, thyme, pepper, chicken bouillon cubes and salt to taste.
Stir and bring the mixture to a boil. Let it simmer for about 15-20 minutes until the ingredients are tender.
Now, in a different bowl, prepare the white, creamy portion by mixing flour and 1 cup half-and-half. Add it to the above mixture and keep stirring.
Let it cook on low flame until the mixture thickens (for 1-2 min).
Now is the time to pour in the chopped clams and the remaining half-and-half to add more creaminess. 
Crumble the bacon and sprinkle it over each serving for that crunch. 
All set to serve.
This recipe certainly needs a fair amount of your time and attention, but I assure you, its worth it! So, friends, collect the ingredients today and try cooking this at home.
Nutritional Breakdown of Clam Chowder Soup
For the fitness freaks out there, down below is the detailed breakdown of the nutritional aspect of the dish. 
| | |
| --- | --- |
| Calories | 260 |
| Total Fat | 4g |
| Cholesterol | 22mg |
| Sodium | 788mg |
| Carbohydrate | 39g |
| Protein | 13g |
Note: The given Nutrition breakdown is 1 big cup of serving.
How to Make New England Clam Chowder at Home | Video
I've added a recipe video below, so you can try this delicious dish at your home.
I hope the above recipe helps you in creating your own, homemade Clam Chowder. Do give it a try and share your experience with the whole process with us. We would also love to know if you added your twist to the dish. Until then, keep your taste buds happy.