How to Make Mutton Shami Kabab at Home
Note- This post may contain affiliate links, we earn from qualifying purchases made on our website. If you make a purchase through links from this website, we may get a small share of the sale from Amazon and other similar affiliate programs.
Am I the only one who thinks that mutton and chicken takes a lot of time to cook, prepare; it makes you you wait for almost a lifetime before tasting it. If yes, then this mutton dish can be a great choice for you. Today, I will tell you the Hyderabadi Mutton Shami Kabab recipe.
Mutton Shami Kabab is a delightful starter with a soft texture and absolute spices to take your taste buds to a different level. It is taken up as the best street food mainly eaten in southern India. It's a chain of change leading health, health leading happiness, and yet another pleasurable taste.
So let's create this pleasure again and make this wonderful Mutton Shami Kabab recipe for anytime occasion. Also, there are other recipes that you can have as starters, let's check them out.
1. Chapli Kebab– Kebab is such cuisine that you can find in a Michelin star restaurant and also as street food. This Mughlai Pakistani cuisine and fondly relished by the people of Dhaka.
2. Chicken-In-a-Biskit Strips– These crispy and delicious Chicken Biscuits Strips can be a treat for you if you are a chicken lover.
3. Gluten-Free Turkey Meatballs– Gluten-free Turkey Meatballs are healthy, easy to cook, moist and juicy which require only a handful of simple ingredients. Gluten-free Turkey Meatballs are the most delicious meatballs ever.
4. Khaman Dhokla– This khaman dhokla recipe makes a wonderfully soft and fluffy, lightly sweet and savory cake that's perfect to enjoy anytime of the day.
Ingredients required for Mutton Shami kebab Recipe
| | |
| --- | --- |
| Ingredients | Amount |
| Fresh bread slices | 3 units |
| Mutton keema | 250 gm |
| Chaat masala | ¼ tsp |
| Red chili powder | ½ tsp |
| Black pepper powder | ¼ tsp |
| Cumin seed powder | ¼ tsp |
| Garam masala | 1 tsp |
| Salt | 1 tsp |
| Chopped green chili | 2 tsp |
| Coriander | 2 tsp |
| Mint leaves | ½ cup |
| Ginger garlic paste | 1 tsp |
| Egg | ½ unit |
| Gram flour(besan) | 2 tbsp |
| Oil | 1 cup |
| Mint sauce | To serve with. |
Let's continue with our work of art to create this garden of pleasure on our plate.
How Much Time It Will Take?
| | | |
| --- | --- | --- |
| Preparation | Cooking | Total |
| 30 minutes | 30 minutes | 60 minutes |
Mutton Shami Kabab Recipe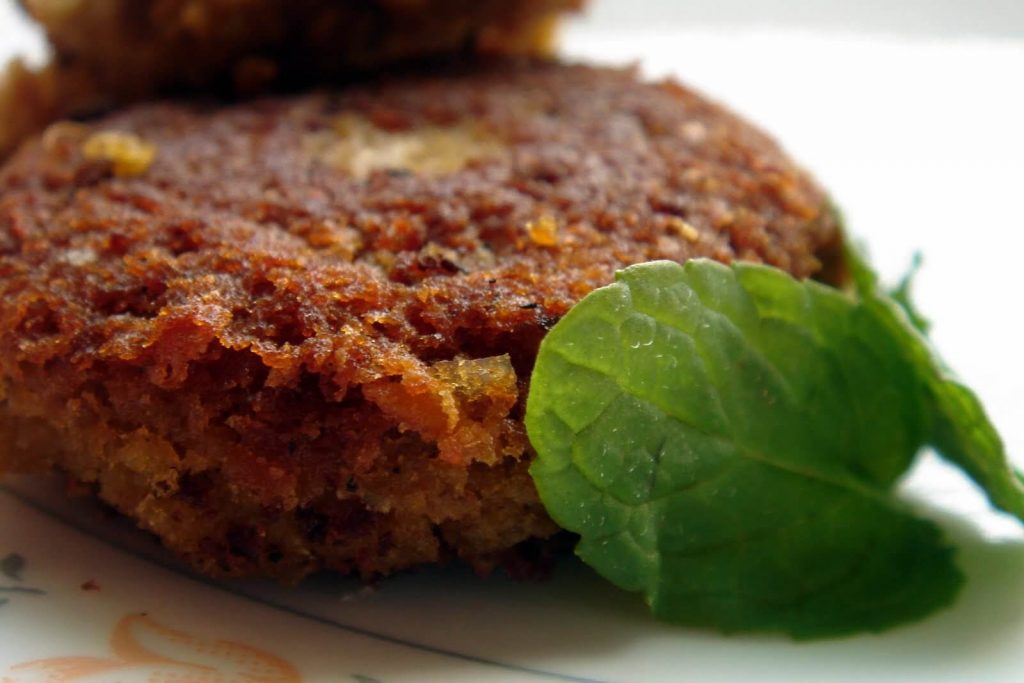 Take bread slices and trim their corners.
Now take mutton keema and dry it of water.
Mash them in a mixer.
Now add ¼ tsp chat masala, ½ tsp red chilli powder, ¼ tsp black pepper powder, ¼ tsp cumin seed powder, 1 tsp garam masala, 1 tsp salt, 2 tsp green chilli, 2 tsp coriander, ½ cup mint leaves and 1 tsp ginger garlic paste; grind it together.
Now add half egg and mix it.
Put this paste in a plate.
Now take a preheated pan to add 2 tbsp of gram flour to it and roast it.
Mix it with the kabab paste made.
Now mold the mixture in a round shape.
Take a pan and add 1 cup oil to it.
Let it heat and afterwards fry these moulds on a medium flame.
Serve it in a plate and sprinkle some chat masala on it.
Serve it with mint sauce.
Decorate this Mutton Shami Kebab on your plate and taste its mouth-watering sight, linger it on your tongue and savour it to reach the garden of pleasure so created.
Mutton Shami Kabab Recipe Nutritional Information
| | |
| --- | --- |
| Calories | 160 |
| Fat" | 12 g |
| Cholesterol | 35 mg |
| Sodium | 560 mg |
| Carbohydrates | 4 g |
| Protein | 9 g |
How to Make Mutton Kabab at Home | Video