How To Make Mustard Greens At Home
Mustard Green is an easy-to-make dish that you can have as a side dish with any food. Today I will share with you its recipe. With the help of this recipe, you will be able to cook mustard greens in minutes.
Once I tasted mustard greens at one of my relative's place. They prepared it as an Indian cuisine with some spices and chillis. I just loved how these mustard greens were making the soup more tasty and delicious. So, I thought to share a recipe of mustard greens with you. To provide with you the best recipe, I was searching the internet and found this recipe.
Mustard greens are a bit bitter. The bitterness is due to the peppery leaves of the plant. To prepare the dish, sauté onions in a saucepan and add garlic to it. After the garlic is cooked, add mustard greens and broth. Cook it till the water is lost from the leaves. Toss in some sesame oil and lastly, season with some salt and pepper.
You will feel the taste is like spinach. But you will find some unique flavour in it. Make sure you try this recipe once. I assure you, it's worth trying and you will love it. Also, there are other recipes that you can have as starters, let's check them out.
1. Vegetable Nuggets– This Veggie Nuggets recipe is healthy, kid friendly, and simple to make. Perfect for lunch boxes and snacks.
2. Scottish Shortbread– Scottish shortbread is a traditional Scottish biscuit that was originated in 1736. This shortbread recipe is very famous among people. But as the name suggests, this bread is primarily popular in places like Ireland and Scotland.
3. Fried Crab Legs– Crab legs are valuable sources of protein, high in Omega-3 Fatty Acid, helps to build the immunity. Crab Legs is also very good for our bones as well.
4. Sambusa– Sambusa's are great snacks to make at your home and now you can make it too by following this simple recipe.
Ingredients For Mustard Greens
1/2 Cup Thinly Sliced Onions
2 Cloves Garlic (minced)
1 Tablespoon Extra Virgin Olive Oil
1 Pound Mustard Greens (washed and torn into large pieces)
2 Tablespoons Chicken Broth or Vegetable Broth (vegetarian option)
1/4 Teaspoon Salt
1/4 Teaspoon Pepper
1/4 Teaspoon Dark Sesame Oil
The ingredients needed for making these fresh mustard beans might be available in your kitchen itself. So before heading out to the grocery store, take a tour of your kitchen and make a note of the ingredients that have to be grabbed from the store. Let me tell you the time of preparation for this recipe.
How Much Time It Will Prepare To Mustard Greens?
| Preparation Time | Cooking Time | Total Time |
| --- | --- | --- |
| 5 minutes | 15 minutes | 20 minutes |
A healthy recipe will be ready in just 20 minutes. You need not put efforts in this dish as it's easy to prepare. Take a look at the steps you need to follow to make this dish.
Mustard Greens Recipe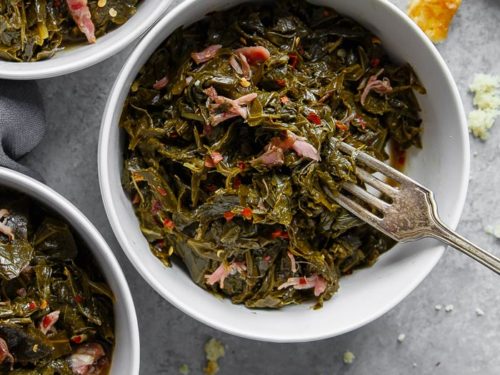 Take a large saucepan. Heat olive oil in it over medium flame. Add onions and sauté them and then caramelize them for 5-10 minutes after they turn brown. 
After onions are done, add minced garlic to the pan and cook till it gets fragrant. 
Add the mustard greens and broth in the pan and cook them.
Toss them with sesame oil and season with salt and pepper.
Serve hot.
You can even store it in the refrigerator for days. Just take them out, wash them and use. If you want to store it for months, then zip-lock it and freeze it. You can eat them as a meal itself. Else you can eat them with some flat bread.
Nutritional Breakdown of Mustard Greens
Like every green leafy vegetable, Mustard greens will surely be full of nutrition. So let's take a look on that. 
| | |
| --- | --- |
| Calories | 15 |
| Protein | 2g |
| Carbohydrates | 3g |
| Fat | 1g |
| Cholesterol | 0mg |
| Sodium | 20mg |
How To Make Mustard Greens at Home | Video
Try this recipe and let me know about your reviews in the comment section below.
I have also uploaded the video for the detailed steps. Watch it in case you have any confusion. If you have any query, then do not hesitate to ask me in the comment section. Your suggestions are also welcomed. Have a good day!