How To Make Mushroom Chips Recipe at Home
Note- This post may contain affiliate links, we earn from qualifying purchases made on our website. If you make a purchase through links from this website, we may get a small share of the sale from Amazon and other similar affiliate programs.
Most of the people who are foodies like me love to eat different dishes and they feel monotonous after having the same dish again and again. Today, I am here for you and I have dish name Mushroom Chips which will make your evening time snacks sumptuous and luscious.
I have an incident related to where I get this Mushroom Chips Recipe. One day, me and my brother were alone at home. We both were craving for food, in the refrigerator, we have a lot of things to eat we want something marvelous and chewy. I saw mushrooms in the refrigerator and we both started experimenting with the dish.
Guess what happened? It comes out to the best crunchy and marvellous dish I ever had and today, only I made it my home and a thought came into my mind to share Mushroom Chips Recipe with my food lovers. Also, there are other recipes that you can have as starters, let's check them out.
1. Peameal Bacon– This is easy to make a version of real homemade Canadian Bacon. Also known as peameal bacon in Canada. Works wonderfully for peameal on a bun.
2. Boiled Peanuts– Traditional Southern hot boiled peanuts. Raw peanuts boiled in salt water for a salty, shell-shucking-worthy snack.
3. Microwave Popcorn– Popcorn, quite famous with everyone especially movie-goers, is notorious for being exorbitantly costly. Yet, a movie is incomplete without having popcorn in your hands. If you can have homemade microwave popcorn, what would you do?
4. Maggi Pizza with Egg– Maggi pizza with egg is basically a delight held together with an egg to serve your taste buds just a step- above amazingness and respite.
Ingredients For Mushroom Chips Recipe
| Ingredients | Amount |
| --- | --- |
| Oyster Mushrooms | 10 ounce |
| Avocado Oil and Melted Butter | 2 tbsp |
| Kosher Salt | 1 tbsp |
| Freshly Ground Pepper | 1 tbsp |
How Much Time It Will Take?
| | | |
| --- | --- | --- |
| Preparation Time | Cooking Time | Total Time |
| 15 Mins | 45 Mins | 60 Mins |
Mushroom Chips Recipe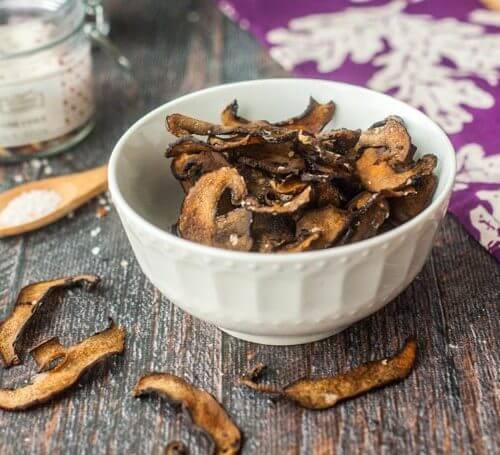 With Parchment Paper line some rimmed baking sheets, and preheat the oven at 275°F.
Cut the mushrooms according to your shape with a slicer.
On the Parchment-lined baking sheet put all the slices of dry mushrooms with leaving some space.
On both sides of mushroom slices, apply avocado oil or melted ghee and season them with salt and pepper according to your taste.
For 45 minutes to 60 minutes, until the chips become chewy and crunchy or turns the color to golden brown.
Nutritional Facts Of Mushroom Chips
| | |
| --- | --- |
| Calories | 92 |
| Carbohydrates | 22 |
| Fats | 0 g |
| Sodium | 120 mg |
How To Make Mushroom Chips At Home | Video