How to Make Mushroom Bisque at Home
Note- This post may contain affiliate links, we earn from qualifying purchases made on our website. If you make a purchase through links from this website, we may get a small share of the sale from Amazon and other similar affiliate programs.
When I was in cooking classes, there was a lady who always asks the cooking teacher When she will teach us Mushroom Bisque Recipe? and One day, the teacher announced she will teach How To Make Mushroom Bisque and I was very confused about what is bisque? Is Mushroom Bisque a special variety of mushroom or something else.
The Lady who regularly asked teacher about Mushroom Bisque Recipe, I went to her and asked about confusions about Mushroom Bisque. I will share those confusions with you too.
First question which I asked that lady was What is Bisque?
She told me that Bisque is a creamy seafood soup which is originated from France. From which Mushroom we can make Mushroom Bisque? She answered that Mushroom Bisque can be made from any type of Mushroom. At that day, I learned how to make Mushroom Bisque and I still make it for my kids.
Out of mushrooms? Here is a list of the best mushroom substitutes. Come let's gather the ingredients which are required for Mushroom Bisque. Also, there are other recipes that you can have as starters, let's check them out.
1. Barley Vegetable Soup– It is a Polish dish and my mother learnt it from one of her school friends. I always loved the smell of barley and veggies cooking on the pot and waited eagerly for the soup to be served.
2. Red Pepper-Pistachio Bisque– This creamy, paprika-laced red bell pepper bisque, along with a parsley-pistachio pistou for the topping; makes you the lavish combination.
3. Crab Bisque– Crab Bisque is creamy in texture, unlike crab soup.  It's an old-school creamy soup that's perfect for a special occasion. It is also very easy to make.
4. Sweet and Sour Fish– This Chinese sweet and sour fish recipe uses fish fillets to create a stunning presentation while keeping the cooking process as easy as possible.
Ingredients For Mushroom Bisque
| Ingredients | Amount |
| --- | --- |
| Dried Mushroom | 4 ounces |
| Hot Water | 5 Cups |
| Unsalted Butter | 3 tbsp |
| Minced Fresh Mushrooms | 1 Pound |
| Minced White Onion | 1 |
| Brandy | 1/3 Cup |
| Salt | 1 tsp |
| Dried Thyme | 1 tsp |
| Heavy Cream | 4 tbsp |
| Parsely | 1 |
| Black Pepper | 2 Cups |
Now Let's see how much time it will take to make Mushroom Bisque at home.
How Much Time It Will Take?
| | | |
| --- | --- | --- |
| Preparation Time | Cooking Time | Total Time |
| 60 Mins | 45 Mins | 105 Mins |
I was very curious to know the Mushroom Bisque Recipe when the teacher was giving us the instructions. I know you are very excited too but don't worry you don't have to wait for it because you are one step away from it.
Mushroom Bisque Recipe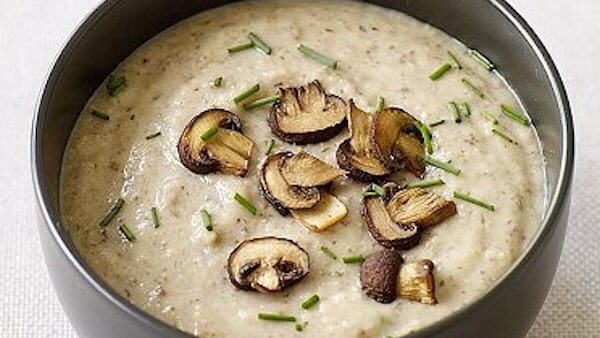 In hot water soak the dried mushroom for 45 minutes.
After 45 minutes chop mushroom and save the soaking water by removing the dirt and debris.
In a pan add butter, onions, and mushroom heat them over medium heat for 10 minutes, and while they are heating stir the mixture until it will turn brown.
In the pan add the soaked mushrooms, cook for 4 minutes.
After 4 minutes add salt, thyme, and sherry and cook until it will turn brown, stir occasionally.
In the pan add 4 cups of water and cook for 20 to 30 minutes, until it will simmer.
For garnishing mushroom bisque, slice some mushrooms and saute it in the butter and cook until it will turn brown. Leave it aside.
In a blender, blend the 1/3 to 1/2 of the soup and puree. After it will become smooth add it to the pan and add water while stirring until it will become thick.
Before you serve add heavy cream and black pepper in the pan.
Transfer the soup from pan to a serving bowl and garnish with sauteed mushrooms.
Finally, the Mushroom Bisque is ready to serve and it can be a good starter in any party or in dinner.
Nutritional Facts Of Mushroom Bisque
Before you eat Mushroom Bisque, check-in the nutritional breakdown that I have mentioned below stating how much healthy it is.
| | |
| --- | --- |
| Calories | 143 |
| Carbohydrates | 19 g |
| Protein | 4 g |
| Fats | 6 g |
| Cholesterol | 16 mg |
| Sodium | 9 mg |
How To Make Mushroom Bisque at Home | Video
I have learnt to make the Mushroom Bisque live and I thought to share the video of the recipe Mushroom Bisque, so you can easily make it by watching it live while you are making it in your kitchen.
I hope you will love the munchy and delicious Mushroom Bisque and when you will make it at home, share your meaningful reviews in the comment section, and for more recipes like these, stay tuned!