How To Make Movie Popcorn At Home
Popcorn is the best snack to binge for a movie night or snack for the kids. Today we are going to make the best-tasting movie butter popcorn at home. When you think of popcorn, you probably envision a stack container of movie theatre-style popcorn.
Yes, this popcorn is delightful, but it's also jam-packed with sodium, artificial butter, and saturated fat. However, I will share a healthier and easier way to make movie popcorn at home. 
Craving for crispy fresh popcorn? Here's a quick homemade recipe to follow and satisfy your munchie cravings. Making movie popcorn at home is way more affordable and healthy than popcorn in packed bags coated with artificial butter. 
MSG adds a great taste to the popcorn. But if you want you can also add any of its substitutes like salt. Here is a list of MSG substitutes for you.
Making this popcorn recipe at home will also save you a bundle and the homemade method exactly imitates the way theatre does it. I am going to guide you on how to make healthy movie popcorn at home. Check out the list of equipment, ingredients, and crave-worthy ways to make movie popcorn.
What Equipment Will You Need To Make Movie Popcorn At Home?
Saucepan – The saucepan is used to make the refined butter by melting it down. Secondly, it is used to make popcorn.
Mesh Strainer – Strain the melted butter to get the clarified one. 
Bowl – Take a bowl to put in the strained butter.
How Much Time Do You Need To Make Movie Popcorn At Home?
| Preparation Time | Cooking Time | Total Time |
| --- | --- | --- |
| 5 Minutes | 5 Minutes | 10 Minutes |
What Ingredients Will You Need To Make Movie Popcorn At Home?
MSG (Salt) – Take a tablespoon of MSG(salt) blend it nicely until it becomes powdery.
Butter – Use unsalted butter to pop the kernels. The melted butter gives a subtle flavor to the popcorn.
Dry Maize Kernel – It is the main ingredient to make the movie popcorn. Add a bowl of a kernel in hot melted butter and let the flavors infuse. Be careful it doesn't explode and knock down your nose!!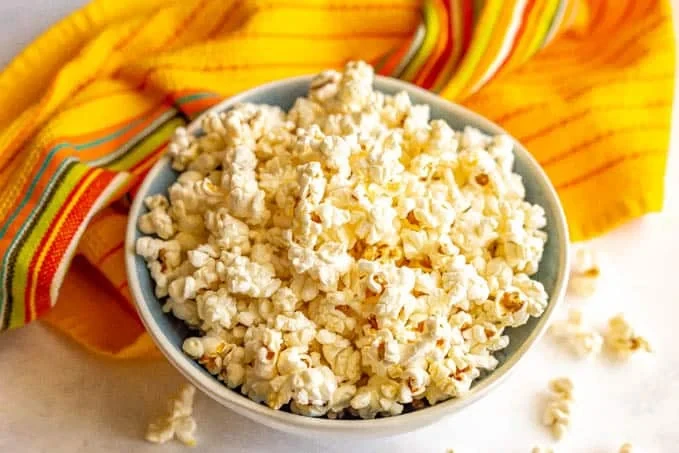 Steps To Make Butter Movie Popcorn At Home 
1. Deliquesce
Use a saucepan to melt the butter over medium heat. When the butter is melted, use a mesh strainer to strain the excess foam. Once you have strained the butter, it will be clear and purified. Then, take a spoonful of msg(salt) and blend it nicely until it becomes powdery. 
2. Keep It Simple
Heat the purified butter in the saucepan, pour in the popcorn kernels, season it with powdered salt and close the lid. Shake the pot back and forth to mix it well. This will not let the popcorn burn or get soggy. The moment you hear the popping sound, remove the saucepan from the heat. Let it rest for 1 minute, drizzle a spoon of butter again and serve freshly popped popcorn. 
Nutritional Information
| | |
| --- | --- |
| Calories | 93 kcal |
| Protein | 3 g |
| Fat | 1.1 g |
| Carbohydrates | 18.6 g |
| Fiber | 3.6 g |
| Sugar | 0.2 g |
| Sodium | 1.9 mg |
How Will Movie Popcorn Look And Taste Like?
The homemade movie popcorn looks fresh, crunchy, salty, and has no artificial butter coated on it. These popcorn are happy snacks to satiate your munchie cravings. The classic taste of popcorn can be modified with the choice of your seasoning.
Movie Popcorn Recipe
This quick recipe of movie popcorn at home is made with melted butter and powdered sugar. It is an amazing option for your crunchy cravings .
Saucepan

Mesh Strainer

Bowl
1

tablespoon

Msg (salt )

2

tablespoons

Butter (Melted And Purified)

1

bowl

Whole Kernel Corn
Use a saucepan to melt the butter. Strain off the excess foam in the butter. Pour the clarified butter in a small bowl to make the popcorn.

Then take 2 tablespoons of msg(salt), blend it well until it becomes powdered.

Heat the saucepan, pour the purified butter. Leve it for a few seconds and then gently add the kernel grains.

Close the lid, shake the saucepan back and forth, let it cook for 5 minutes.

Take it off from the stove and let it cool down for a minutes and then serve!
On a run down for an easy recipe to add to your list of staples? Here, I encourage you to try your hand at this easy homemade movie popcorn recipe. Share your experience with me in the comments section below!!