How to Make Moose Milk at Home
Moose Milk is a creamy alcoholic beverage that can be served both ways, either warm or cold. In this post, I am going to share the recipe for this cocktail.
I first tried Moose milk when I was in Canada. In Canada, it is served at new year's celebration to honor their armed forces (especially on National Milk Day). This drink is a party hit and if you have a sore throat, it is the best drink to soothe your throat.
Moose milk cocktail is prepared with 5 main ingredients. The ingredients are vanilla ice cream, dark rum, vodka, coffee-flavored liquor and milk. To prepare the cocktail, take a bowl and whisk ice cream, milk, coffee liqueur, dark rum, and vodka. Sprinkle some nutmeg or cinnamon. The cocktail is ready.
The complete detailed recipe is mentioned below. So don't forget to check it along with its nutritional benefits and a recipe video. But there are many other drinks that we've covered in our blog. You should definitely check them as well.
1. Milk Stout– Milk stout or cream stout are rich, chocolate roasted essences with pints of coffee and caramel present in it. There is only a subtle difference between milk stout and traditional dry stouts. The milk sugar balances the roasted bitterness present in stouts and is a smooth version of it.
2. Thai Iced Coffee– Thai Iced Coffee is somewhat similar to Thai Coffee. "Iced" suggests that it is refrigerated and then drunk. It is my favourite coffee and is capable of refreshing and soothing your dull mind. Thai Iced Coffee is the best stress-buster in summer.
3. Buttery Nipple– The buttery nipple is also known as a butterball. It is a boozy shot. There are two ways you can make this shot ready. One is to make the shot in layers and the second is to combine all the ingredients.
4. Cream Ale– It is a light beer that can be consumed repeatedly. It is an American style lager with a touch of corn in it. Ales give you a more bitter taste. Till the 20th century cream ales remained localized. But after the Canadian brewers started brewing cream ales, it got improved.
Ingredients for Moose Milk
1 gallon Vanilla Ice Cream
4 ¾ cups Dark Rum
4 ¾ cups Vodka
4 ¾ cups Coffee Flavored liquor
1 gallon Milk
A pinch of Nutmeg or Cinnamon
Collecting the ingredients will not be a hassle for you. You can find them readily available in any supermarket. I can't wait to grab a glass of mine. Let's see how much time it will take to be prepared and how much you have to wait to grab a glass.
How Much Time It Will Take To Make Moose Milk?
| Preparation Time | Cooking Time | Total Time |
| --- | --- | --- |
| 10 minutes | NA | 10 minutes |
It is the best drink and surprisingly we can get it in just 10 minutes. The best part is its ready in minutes and you can have it whenever you feel like.
Steps to Make Moose Milk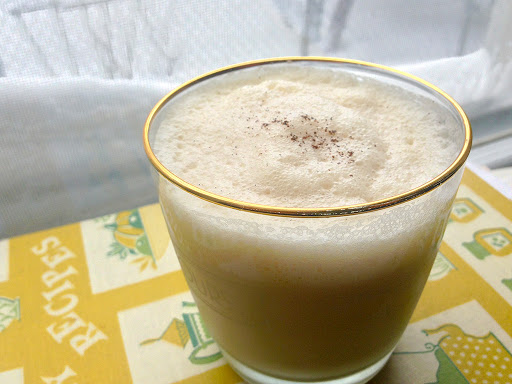 In a bowl, whisk ice cream, milk, coffee liqueur, dark rum and vodka together.
Whisk them all till it turns frothy and turns liquid.
Sprinkle some nutmeg or cinnamon and serve.
Such an easy recipe for a creamy, frothy cocktail. You will fall in love with it once you try it. And can impress anyone with your drink-making skills with this moose milk.
Nutritional Breakdown of Moose Milk
To check the nutritional breakdown of this cocktail, you can check the table mentioned below.
| | |
| --- | --- |
| Calories | 431 |
| Protein | 5.6g |
| Carbohydrates | 31.4g |
| Fat | 8.7g |
| Cholesterol | 34.4mg |
| Sodium | 94.8mg |
How to Make Moose Milk at Home | Video
You might feel the recipe should be given in a video. So, here I have uploaded the video for the recipe, so you do not get confused in any context. Refer the video for more convenience.
Are you having any queries regarding the Moose Milk recipe? Just send me your questions in the comment section below and I will get back to you soon for the same. Also, do not forget to share your reviews in the comment section below. Share this recipe with your near and dear ones if you like it. Enjoy your drink!