How to Make Monster Cake at Home
Note- This post may contain affiliate links, we earn from qualifying purchases made on our website. If you make a purchase through links from this website, we may get a small share of the sale from Amazon and other similar affiliate programs.
Do you want the recipe for Monster Cake? If yes, then you're at the right place. Today, I am going to share the recipe of this cake that you may have seen in the game The Legend of Zelda: Breath of the Wild.
I used to play many games during my high school and one of my favorites was The Legend of Zelda: Breath of the Wild. This monster cake would restore the health of the character and I was really fascinated with it. I wondered if we could make this cake in real. So I searched google and came to know about the cake.
There are 4 main steps to make the monster cake: Making the chocolate horns, cake, frosting and assembling it. Make horns with white chocolate and corn syrup. Now make the cake using baking powder, sugar, flour, eggs and milk. Now make frosting cream with cream and butter. At last, assemble and frost the cake.
Are you feeling confused about the recipe? Don't worry, the complete detailed and easy recipe is mentioned below. So make sure you check the full recipe below before making the cake. If you love cakes, then you should definitely check out the other cake recipes that I've handpicked just for you.
1. Panda Cake– Make the best panda cake with this recipe. This cute and tasty cake is something that you and your kids can't resist. These easy panda cakes will be fun to serve for Valentine's Day, a baby shower, a birthday party, or Sweetest Day.
2. Crack Cake– It is a cake that attracts most people with its taste and appearance. This Crack Cake recipe is easy and delicious. A yellow cake mix is doctored up, baked to golden brown perfection and topped with a luscious wine glaze.
3. Raspberry Charlotte Cake– This raspberry charlotte dessert is a wonderful cake by taste (just like it looks). The baked dessert is topped with raspberries and its filling gives it a sweet and tangy taste.
4. Strawberry Rhubarb Dump Cake– Made with only 7 ingredients, this simple and easy dump cake recipe with the perfect combination of sweet and tart.
Ingredients For Monster Cake
6 ounces White Chocolate
2 cups All-Purpose Flour
1/4 cup Corn Syrup
3/4 cup Sugar
3 tsp Baking Powder
7 Eggs
1 tsp Salt
3/4 cup Milk
1/2 cup Vegetable Oil
4 ounces Ube Extract
4 ounces Purple Yam Jam/ Grated Ube
4 cups Sifted Powdered Sugar
8 ounces Cream Cheese
1 tsp Violet Food Coloring
4 ounces Any Topical Fruit (Coconut, Pineapple or Mango)
1 tsp Brown Food Coloring
These recipe do require a lot of ingredients. But once you get all these ingredients, you will be able to make a perfect Monster Cake. Now it's turn to see the steps to make the cake.
Steps to Make Monster Cake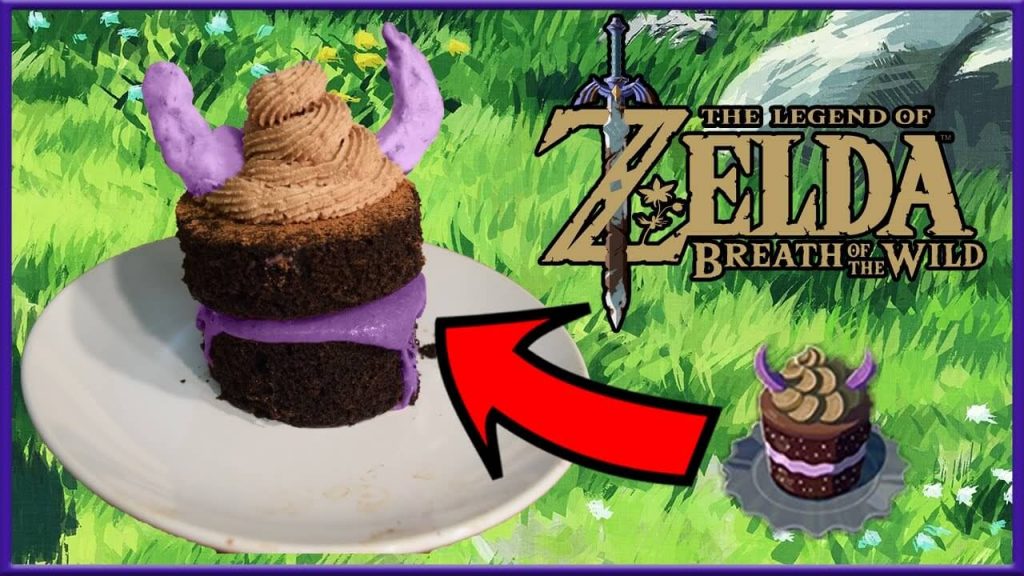 For Chocolaty Horns
Firstly melt the white chocolate and put some corn syrup in it and mix it well till it comes in the thick paste form.
Now wrap a plastic sheet around the mixture and allow it to cool at room temperature.
Now after it cools down properly, remove the plastic sheet and add some violet food colouring until you haven't reached your desired colour.
Now shape into the form of horns and if the chocolate becomes a little bit oily, add some corn syrup in it.
Now put it in a refrigerator to cool up.
For the Cake
While the chocolate is cooling up in the refrigerator, take a bowl and mix baking powder, 3/4 cup sugar, flour, and salt and mix them together.
Now take another bowl and add vegetable oil, egg yolks, milk, grated ube, ube extract and the violet food colouring until the desired colour is reached.
Now mix it with the mixture that you've made in point 6 and mix everything well.
Now add 3/4 cup Sugar in it and mix it well until glossy stiff peak forms.
Now take a cupcake pan and fill it with the cake batter you've just made and heat an oven at 350 F. And bake the cake for around 40 minutes until the exterior of the cake becomes golden brown.
Put it on a wire rack and allow it to cool.
For the Frosting
Now for the frosting, have a bowl of a stand mixer and beat cream cheese and butter in it.
Add sifted powdered sugar and mix slowly using the mixer, but gradually increasing the speed until a thick frosting appears.
Now divide this frosting into two equal parts and add ube extract in one half of the frosting until a light purple colour appears.
Beat the other half of the frosting with your choice of tropical fruit and add brown food colour in it until the desired colour is achieved.
Assembling the Cake
Now slice the baked cake into two parts.
Sandwich the light purple frosting into the two cake parts and put the tropical cake frosting on the above of the top cake piece.
Now for the monster look, press the chocolaty horns on each side of the tropical fruit frosting, and your monster cake is ready to serve.
Nutritional Breakdown of Monster Cake
In the games, monster cake is used to restore the health of the character but let's see how many nutrition does this cake give you in real life.
| | |
| --- | --- |
| Calories | 650 |
| Carbohydrates | 78 g |
| Protein | 10 g |
| Fats | 50 g |
| Cholesterol | 150 mg |
| Sodium | 400 mg |
| Potassium | 185 mg |
How to Make Monster Cake at Home | Video
Don't forget to watch this awesome video which will help you make your cake even more perfect.
Now what are you waiting for? You know the recipe just go and make monster cake. I will be really grateful if you post your reviews in the comment section below.