How to Make Mirchi Pakoda at Home
I always had this weird feeling for Mirchi (Green Chilli) because of its spiciness. I still remember the first time I had Mirchi Pakoda when we went out on a family trip. And my parents bought a variety of pakodas and one of the variety was Mirchi Pakoda.
I decided to try it for once and to be honest, to date, Mirchi Pakoda is my favourite pakoda. It is because of the spices that water my mouth just on a mere sight of it. It can be savoured with any variety of sauces as at the end the only thing that remains is the delight of the spice that can linger on till your dinner tables.
So in this article, I will tell you Mirchi Pakoda recipe. And as the name Mirchi Pakoda itself shows you an image of delight that you are going to later savour. From this Mirchi Pakoda recipe, you'll be able to crunchy and spicy tasted food absolutely fits at the time of supper.
Lets enjoy journey to a pleasurable cooking. Also, there are other recipes that you can have as starters, let's check them out.
1. Guyanese Beef Patties– Beef patties are like hand pies with juicy and tender minced beef inside and a flaky pastry on the outside. This recipe has a perfect ratio of crust and filling.
2. Potato Masoor Dal Ki Patties– This tikki is very healthy. It does not have potato. It has paneer and hence has goodness of calcium. Masoor is good in proteins, hence it is diabetic friendly, good for growing kids and a good source of calcium and proteins for pregnant ladies.
3. Roasted Poha Chivda– This south Indian plain Chivdas with a raw taste can be turned into a delight unexpected. The punch of Hing powder has the ability to burst your taste buds with an amazing taste.
4. Vegetable Spring Rolls– Spring rolls; an experience with pressing the readied recipe would justify your name. A crispy outer cover with smoother interiors of noodles gives you the absolute delight to have for special suppers.
Ingredients for Mirchi Pakoda Recipe
| | |
| --- | --- |
| Ingredients | Quantity |
| Bhavnagari Chillies (Thick Green Chillies) | 4-5 units |
| Mashed cheese | 1 cup |
| Mashed peanuts | 1 cup |
| Lemon juice | 2 tsp |
| Gram flour | 1.5 cup |
| Water | ½ cup |
| Salt | 1 tsp |
| Oil | Enough to fry the chillies |
How much time it will Take?
| | | |
| --- | --- | --- |
| Preparation Time | Cooking Time | Total Time |
| 10 Minutes | 20 Minutes | 30 Minutes |
Mirchi Pakoda Recipe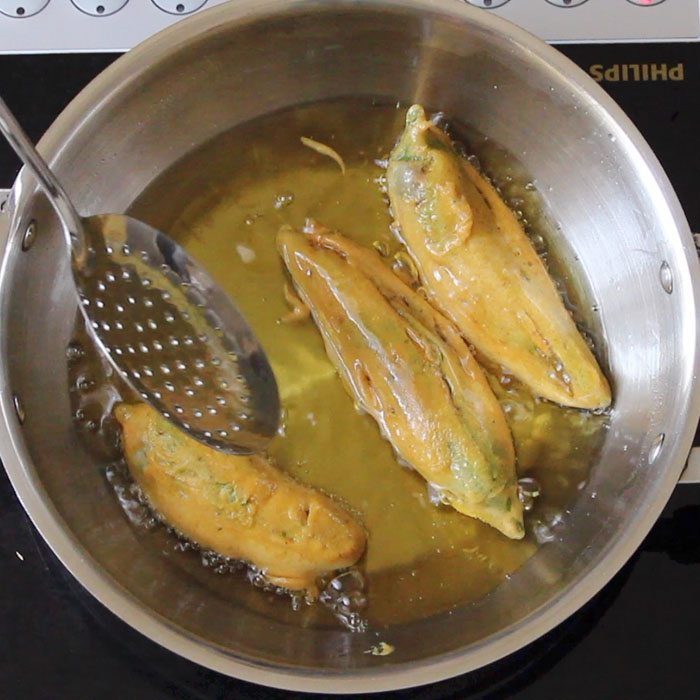 Cut the chillies from the middle and empty it of its seeds.
In a bowl take cheese and peanuts, mash them and add 2 tsp lemon juice in it. Mix it all. With this filling fill the above-emptied chillies.
Now take another bowl and add gram flour and water in it. Add 1 tsp salt to it and mix it. Make a thick textured batter out of it.
Cover the filled chillies with the batter so made.
In a pre-heated pan heat some oil enough to fry.
Fry these till it gives a golden colour.
Cook on a medium flame for the reason that it doesn't get splashed up in the oil.
Serve hot with the sauce of your choice.
Savour this MIRCH PAKODA RECIPE with a steaming ear. Add spice to a boring life you lead at times. Or just add spice to your life another way out there for change but not with just any material but food.
Mirchi Pokada Nutritional Information
| | |
| --- | --- |
| Calories | 165 |
| Total Fat | 1.5 g |
| Cholesterol | 0 mg |
| Sodium | 27 mg |
| Carbohydrates | 32 g |
| Protein | 7.7 g |
How to Make Mirchi Pokada at Home | Video