How to Make Mincemeat Cookies at Home
It was during a visit to my grandma's place when I was a kid that I got to taste mincemeat cookies for the first time. I was smitten by this dish so much that I demanded them every day. During my stay at her place, she offered to share the recipe of mincemeat cookies with me which I readily accepted owing to me craze for them.
I learnt to make mincemeat cookies as they were much easier and quicker to make, much to my happiness and surprise. Back at my home, I baked them for my parents who were thrilled to have cookies baked by me. My mother told me how proud she was. Such wonderful moments make me nostalgic.
Cookies are no doubt the favourite of many people out there. They are tasty and appetizing. These flavorful cookies would surely make your day and you would like to have more of them. Yummy mincemeat cookies are go-getters for every small or big occasion.
You will be eager to check how they are made? So, ending your curiosity here with the delightsome and scrumptious Mincemeat Cookies Recipe listed below. But here are some other amazing recipes that you should definitely try.
1. Drop Biscuits– Drop biscuits serve as a great evening snack when you need something light and tasty. You would be amazed to know that drop biscuits were invented due to the necessity to save time in making up biscuits.
2. Snickerdoodle– Snickerdoodle is a cookie made of flour, white sugar, butter and rolled in cinnamon sugar with eggs, baking soda and cream of the tart. Its texture is crisp outside on the edges but soft inside.
3. Butter Crackers– A touch of sugar makes these flakey crackers equally as tasty with peanut butter as they are with cheese. Look for a fluted edge cookie cutter to make your crackers look like the classic Ritz crackers.
4. Ritz Crackers– Ritz Crackers is one of the things that many people remember from their childhood. And if you have come to this article, then you want to have that nostalgic feeling once again.
Ingredients required for Mincemeat Cookies Recipe
| | |
| --- | --- |
| Ingredients | Amount |
| Packed brown sugar | 1 1/2 cups |
| Shortening | 1 cup |
| Egg | 1 |
| Prepared mincemeat pie filling | 2 cups |
| All-purpose flour | 3 1/4 cups |
| Salt | 1/4 teaspoon |
| Baking soda | 1 1/2 teaspoons |
How much time will it take?
| | | |
| --- | --- | --- |
| Preparation time | Cooking time | Total time |
| 15 minutes | 10 minutes | 25 minutes |
Mincemeat Cookies Recipe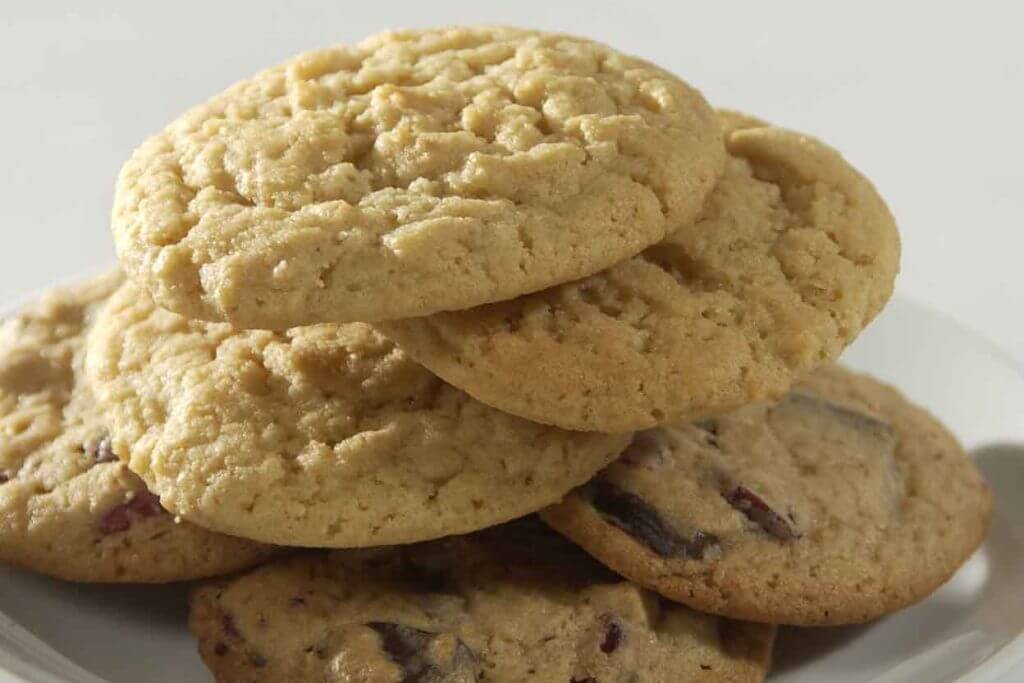 Take brown sugar and brown sugar for creaming together.
Then, mincemeat and egg are to be added into them and the ingredients are to be combined properly.
Mix together flour, salt and baking soda and put into the mixture of mincemeat.
Place them on cookie sheet.
Bake them in preheated oven (425 F or 220 C ) for about 10 minutes.
Your dish is ready.
Nutritional Information of Mincemeat Cookies Recipe
| | |
| --- | --- |
| Calories | 315 |
| Total fats | 12.7 g |
| Saturated fat | 3.5 g |
| Cholesterol | 10 mg |
| Sodium | 215 mg |
| Potassium | 52 mg |
| Carbohydrates | 49.3 g |
| Fiber | 1.9 g |
| Sugar | 30 gm |
| Proteins | 2.7 gm |
| Vitamin A | 14 IU |
| Calcium | 20mg |
| Iron | 1 mg |
How to Make Mincemeat Cookies at Home | Video