How To Make Mexican Adobo Sauce At Home
Mexican adobo sauce is perfect for any kind of Mexican cuisine. The sauce has got a spicy flavor and was originally used to preserve meat.
The sauce is mainly made from chili powder, garlic, vinegar and other spices. I first tried the sauce at a Mexican restaurant and really loved it. So, I asked the chef for the recipe and he told me everything that I needed to make the sauce at my home.
Mexican adobo sauce can be made by creating a paste of Ancho Chile powder. Now, roast the garlic and blend it with chile powder paste, pepper, oregano, cumin, vinegar, cinnamon and salt. Refrigerate and serve.
I hope you got an idea about the recipe, but this was just an overview of the recipe. So, don't forget to check out the detailed recipe below. Before that, check out the other sauce recipes as well.
1. Lemon Curd– Whether it's cakes or scones, this recipe of lemon curd will amplify the taste of the food. It's so delicious, tangy and creamy, that it just melts in your mouth, the moment it comes in contact with your taste buds.
2. Famous Dave's BBQ Sauce– This copycat recipe has an intake of many ingredients but when combined, they make an awesome barbecue sauce. The recipe adds a sweet and hot flavor to your food.
3. Melba Sauce– Whenever I think of making something from raspberries, melba sauce is on my priority list. This sauce is an awesome add-on for waffles, ice cream and pancakes.
4. Little Caesars Buttery Garlic Dipping Sauce– Looking for the secret Little Caesar's buttery garlic dipping sauce recipe? Then, I could definitely help you by sharing how the brand makes their garlic sauce in a few easy steps.
Ingredients for Adobo Sauce Recipe
| | |
| --- | --- |
| Ingredients | Quantity |
| Ancho Chile Powder | ½ cup |
| Water | ¼ cups |
| Olive Oil | 1 teaspoon |
| Garlic Cloves | 8 units |
| Ground Cinnamon (Mexican Canela) | ½ teaspoon |
| Ground Black Pepper | ¼ teaspoon |
| Ground Cumin | 1/8 teaspoon |
| Dried Oregano | 1 teaspoon |
| Apple Cider Vinegar | 3 teaspoon |
| Kosher Salt | 1.5 teaspoon |
Important notes about ingredients:
Ancho chili is a large aromatic variety of chili, used (usually dried) in dishes of Mexican origin or style.
Mexican Canela is a type of cinnamon from Sri Lanka called Ceylon but known as Canela in Mexico.
Apple cider vinegar is a type of vinegar made from cider or apple must and has a pale to medium amber color.
Kosher salt is a variety of edible salt with a much larger grain size than some common table salt, it consists mainly of the chemical compound sodium chloride.
How much time it will take:
| | | |
| --- | --- | --- |
| Preparation | Cooking | Total |
| 15 minutes | 15 minutes | 30 minutes |
Mexican Adobo Sauce Recipe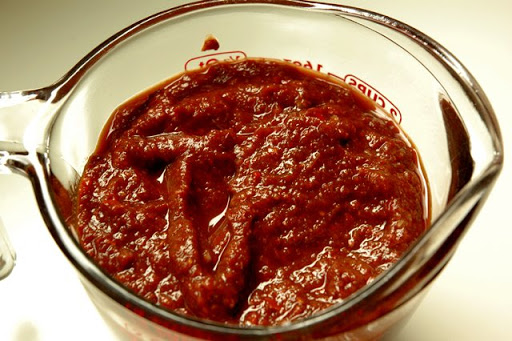 Boil water and put Ancho Chile powder in a blender with the water you've boiled. Blend both to create a smooth paste.
Now, take a pan and put olive oil in it and roast garlic in it until they become golden brown.
Then, put it in the blender along with pepper, oregano, cumin, vinegar, cinnamon and salt.
Now, blend it until all the ingredients blend together.
For better taste, put the Adobo Sauce in the refrigerator for a day or two.
Nutritional Information of Mexican Adobo Sauce Recipe
| | |
| --- | --- |
| Calories | 60 |
| Carbohydrates | 6 g |
| Fat | 3 g |
| Sodium | 122 mg |
| Pottasium | 45 mg |
| Sugar | 5 g |
How to Make Mexican Adobo Sauce at Home | Video
Now that you know the recipe, it's your turn to make the sauce. Please don't forget to post your feedback in the comment section below.