How To Make Melted Snowman Cookies at Home
Note- This post may contain affiliate links, we earn from qualifying purchases made on our website. If you make a purchase through links from this website, we may get a small share of the sale from Amazon and other similar affiliate programs.
Do You Know from where word cookies arrived? If no, then I will tell you. In the early times, the cookie was called a jumble and the word cookie is a dutch word which means small cake and in the 19th century people started calling them biscuits.
But let's see Who Invented Cookies? Cookies were invented in 7th century AD in Persia, when sugar was common and it was spread in Europe by the Muslim conquest of Spain and in the 14th century, they were commonly eaten in royal cuisines and street vendors.
Isn't this information amazing and guess what! Today I will share the Melted Snowman Cookies Recipe which you can make on Halloween or Christmas and your guests will definitely love it.
I know you must not be aware of Melted Snowman Cookies. Don't worry, I was in the same situation when I was not aware of these cookies. I got to know about these cookies when I was at my friend's residence to celebrate Halloween.
Most of the people were looking scary and when I saw these cookies over the table, they were looking so cute. I could not stop myself to ask my friend about the recipe of these Melted Snowman Cookies.
So today is Christmas, I was thinking to make something exciting for my family and suddenly I thought to make these cookies. As you all know if I eat something tasty and unique, I will definitely share the recipe with you. So here am I with Melted Snowman Cookies Recipe.
But first, we have to go to the supermarket to collect all the ingredients to make Melted Snowman Cookies Recipe at Home. But here are some other amazing recipes that you should definitely try.
1. Black and White Cookies– Have you heard about New York's Special Black and White Cookies? If yes, then you must know that they are the best cookies out there.
2. Gingerbread Men Cookie– These cookies that we are about to make are called gingerbread man cookies. This is because it is made in the shape of a human. So, these cookies will be the best choice for your small parties or your kid's birthday party.
3. Pink Cookies– Pink Sugar Cookies are the easiest soft baked sugar cookies you will ever make. These chewy and delicious sugar cookies are crisp on the outside and soft on the inside.
4. Pretzel Sticks– Pretzel sticks make a great snack. It is a dish that can be paired with almost every kind of dip or sauce. They are super handy, crunchy, and salty sticks making it a delightful snack. 
Ingredients For Melted Snowman Cookies
For Royal Icing
| Ingredients | Amount |
| --- | --- |
| Egg Whites | 4 |
| Confectioners Sugar | 8 Cups |
| Lemon Sugar | 1/4 Cup |
For Cookies
| Ingredients | Amount |
| --- | --- |
| Sugar Cookies | 24 |
| Large Marshmallows | 24 |
| Orange Decorating Gel Tube | 1 |
| Black Decorating Gel Tube | 1 |
| Silver Nonpareils | 75 |
| Red Decorating Gel Tube | 1 |
| Green Decorating Gel Tube | 1 |
You must be scared after watching the long list of ingredients and the same is the case in the time you have to invest to make these cookies. I have mentioned the proper timings in the table below.
How Much Time It Will Take?
| | | |
| --- | --- | --- |
| Preparation Time | Cooking Time | Total Time |
| 2 Hours | 1 Hours | 3 Hours |
You must be excited to know the directions but first, I will ask you a question which you have to answer in the comment section and the question is Why is it called Cookie?. The directions are just a step away.
Melted Snowman Cookies Recipe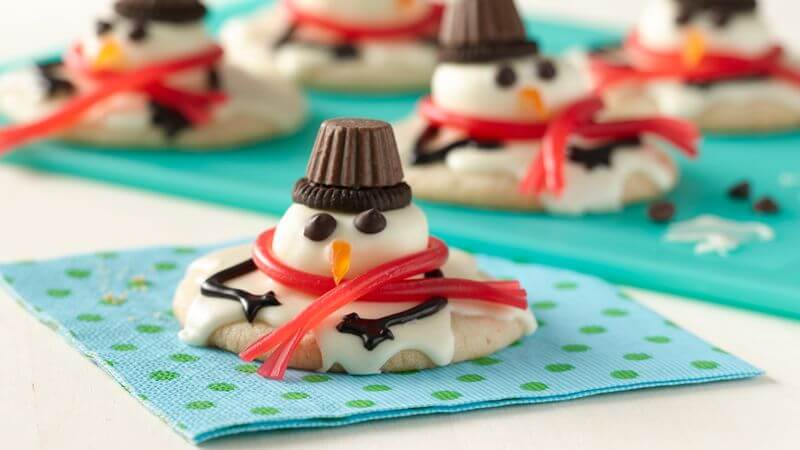 In a large bowl, beat egg whites with an electric mixer until it will look fluffy.
Add sugar to the beaten eggs and to hold the shape add icing with lemon juice, blend them until they will reach to a consistency.
In a large sheet of waxed paper, spread the icing so that it looks like melting snow.
With cooking spray, spray the microwave spray plate and place a marshmallow in it.
Heat marshmallows in the microwave for 40 seconds and repeat the process with other marshmallows and iced cookies.
Use piping to decorate melted snowmen and make them like arms with black decorating gel on the icing. With black decorating gel make coal eyes and mouth.
With orange decorating gel make carrot nose under the coal eyes and with silver nonpareils make coat buttons.
You can also use red decorating gel to make scarves and bowties.
Remove waxed paper when cookies are dry and leave for at least 1 hour.
Finally, Melted Snowman Cookies are ready. Make it on any occasion and your kids will love it.
Nutritional Facts Of Melted Snowman Cookies
This recipe is really healthy and safe. One can have it without having any health concerns. For nutritional breakdown, consider the table below.
| | |
| --- | --- |
| Calories | 310 |
| Protein | 1.5g |
| Carbohydrates | 70g |
| Fats | 3.2g |
| Cholesterol | 7.7mg |
| Sodium | 126.5mg |
How To Make Melted Snowman Cookies at Home | Video
This recipe is quite easy to make at home. But still, if you are trying them for the first time at the home. So I would recommend you this video which will help you in various steps.
I hope you have liked this video and will surely make these cookies at your home. Please let us know your valuable comments and experiences about this recipe in the comments section below with the answer to the question that I asked above. Till then, stay tuned for more recipes.