How to make Melon Ball Drink at Home
Note- This post may contain affiliate links, we earn from qualifying purchases made on our website. If you make a purchase through links from this website, we may get a small share of the sale from Amazon and other similar affiliate programs.
The Melon Ball is basically a tropical fruit flavor drink that you can enjoy anytime. You can also call it a fruity vodka shooter and you can add on your party menu. And trust me, this cocktail drink will make your party time a great time.
I can recommend one thing that while making this drink, always use fresh juice and melons. That is the only key for making a great Melon Ball Cocktail. If you are a melon lover like me, so this drink is perfect for you also.
When I visited my friend's house for a reunion party, they were serving this Melon Ball as a cocktail there. At that time, I was a little bit confused because before that, I have never heard of such kind of drink. But trust me, it was a perfect drink for all your party plans.
So, today I thought to share this Melon Ball Drink recipe with all my Cocktail lovers. But there are many other drink recipes that we've covered in our blog. You should definitely check them as well.
1. Mojito Pitcher– Mojito seems to be favourite of most people. Get a mojito and your party goes amazing. It surely is a great cocktail.
2. Sparkling Strawberry Lemonade– This refreshing drink is the best way to make yourself full of energy and gives you a blast of sweet and tart flavor combined with a fruity touch. The combination of various ingredients, including strawberries and lemon juice makes it just phenomenal.
3. Bacardi Coquito– It is the Spanish word Coquito which means "Little Coconut" and Bacardi Coquito is Gluten-Free made from natural flavors.
4. Spanish Sangria– Making a drink like Spanish sangria to beat the scorching heat of the sun can be fun. The recipe I am sharing with you today is of a popular wine drink. Yes, you guessed I right. I will be talking about Spanish Sangria.
Ingredients for Melon Ball Drink
| | |
| --- | --- |
| Ingredients | Amount |
| Ice | 1 Cup |
| Pineapple juice | 4 fluid ounces |
| Melon schnapps | 1 fluid ounce |
| Vodka | 1 fluid ounce |
These ingredients are quite less in number and you will get all these ingredients easily. Now, let's see how much time it will take to make the whole cocktail drink.
How much time it will take?
| | | |
| --- | --- | --- |
| Prep time | Total time | Servings |
| 5 minutes | 5 minutes | 1 |
This is very easy to make a drink which you can enjoy anytime. Now, let's move towards the final destination that is the main part of this recipe.
Melon Ball Drink Recipe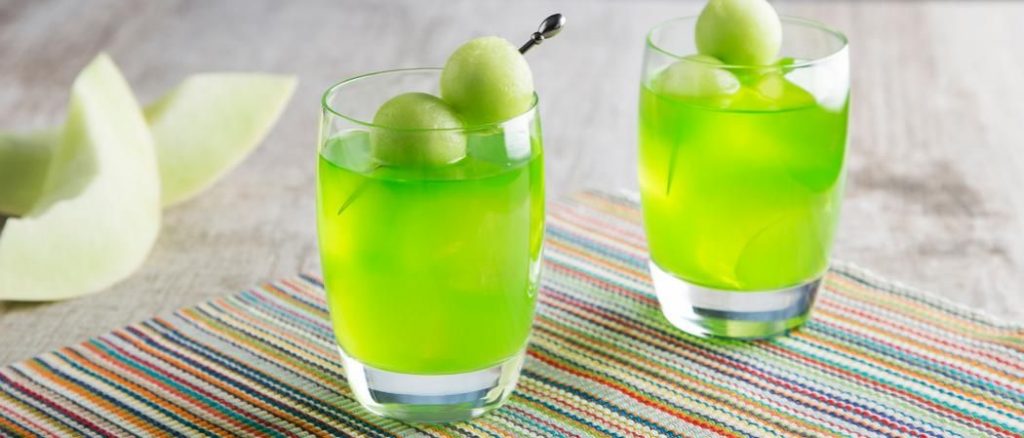 Take a cocktail shaker and fill it with ice.
Add pineapple juice, melon schnapps, and vodka in it.
Shake it well and after that transfer it in a cocktail glass.
You can garnish it with melon balls if desired. Now, your Melon Ball Cocktail is ready and you can enjoy it.
Nutritional Facts of Melon Ball Drink
This table of nutrients is for those people who are very conscious about their health and are following a strict diet plan. So, this breakdown of nutrients will definitely help you.
| | |
| --- | --- |
| Calories | 236.6 |
| Protein | 0.5 g |
| Carbohydrates | 29.4 g |
| Sugar | 24.6 g |
| Fat | 0.2 g |
| Calcium | 22.9 mg |
| Iron | 0.4 mg |
| Magnesium | 17.6 mg |
| Potassium | 169.7 mg |
| Sodium | 11.2 mg |
How to make Melon Ball Drink at Home | Video
I have added a video of Melon Drink recipe, so it'll be easier for you to try it at your home. 
I hope you have liked this recipe of Melon Recipe and I highly recommend you try this cocktail at your home and don't forget to share your reviews and experience with this drink in the comment box below.