How to Make Mediterranean Lasagna at Home
Note- This post may contain affiliate links, we earn from qualifying purchases made on our website. If you make a purchase through links from this website, we may get a small share of the sale from Amazon and other similar affiliate programs.
Did you know lasagna is an Italian wide, flat pasta and possibly one of the oldest? Well, I would be honest I didn't know either. It was during an international conference that I came to know about this Mediterranean Lasagna.
I met several people there. While I was eating this dish, I didn't know anything about it. Yet, it had an incredible taste. This prompted me to ask one of my Italian friends about it. He laughed first and then told me about it. I found it rather interesting.
When I was back home, I discussed this with my chef friend. He called me for dinner at his home and it was so kind of him to make this dish in front of me. He cooked it with perfection. Then, he taught me how to make Mediterranean Lasagna recipe during one of his visits at my place. Although I made mistakes after trying it for two more times, I became perfect with it.
Now, my guests are served with Mediterranean Lasagna as well. They are left to wonder in surprise, how do I make it so perfect.
So, my friends here is that secret: Mediterranean Lasagna Recipe for you. Surprise your family or guests with this delicious homemade dish. But here are some other amazing recipes that you should definitely try.
1. Sicilian Timballo– Sicilian Timballo is an oven-baked anelletti cooked in meat sauce, popular in Sicily. Anelleti is little rings of pasta. These rings measure about one centimeter in diameter. This dish is excellent for every occasion, from birthdays to Christmas dinner.
2. Shabu Shabu– Shabu shabu is a hot pot served with thinly sliced meat and some assorted vegetables. Shabu means swish, related to the recipe it indicates the swishing sound of meat when added to the simmering broth.
3. Spaghetti Squash Burrito Bowl– Spaghetti squash burrito bowl is the best recipe if you want a fulfilling dish that is healthy as well as delicious. It has vegetables, spaghetti squash, and cheese, making it a must-try.
4. Jamie Oliver's Spaghetti Carbonara– Spaghetti Carbonara- a classic Italian dish that receives love by everyone who eats it. And what is not to love about this dish, it has everything in it that a person likes- pasta, cheese, bacon and more.
Ingredients Required for Mediterranean Lasagna Recipe
| | |
| --- | --- |
| Ingredients | Amount |
| Medium Zucchini | 2 |
| Small Egg Plant | 1 |
| Kosher Salt | 2 teaspoons |
| Lasagna Noodles (12 noodles) | 8 ounces |
| Extra-Virgin Olive Oil | 3 tablespoons |
| Cremini mushroom, stemmed and roughly chopped | 1pint |
| Fresh baby spinach | 1 lb |
| Minced garlic | 1 tablespoon |
| Zested lemon | 1 |
| Chopped parsley | 1 tablespoon |
| Whole milk ricotta cheese | 16 ounces |
| Chopped basil | 2 teaspoons |
| Dried oregano | 1/2 teaspoon |
| Crushed red pepper flakes | 1/2 |
| Tomato sauce | 1 ( 25 ounce jar) |
| Shaved parmesan cheese | 1 cup |
How much time will it take ?
| | | |
| --- | --- | --- |
| Preparation time | Cooking time | Total time |
| 1 hour | 1 hour | 2 hours 10 minutes |
Mediterranean Lasagna Recipe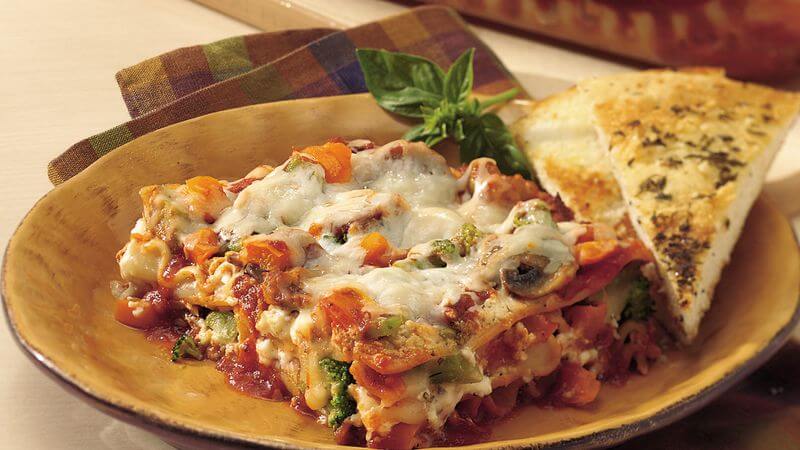 Firstly preheat oven 375 F.
Take a mandolin for slicing the zucchini and eggplant into long strips ( 1/8 inch thick strip).
Now line a paper towel with two half sheet trays and then put the vegetable strips over it
Sprinkle salt the over vegetables.
Take another sheet of paper towel and top the vegetables with it.
Now keep continuing the process of layering of vegetables and paper towels in single layers until they get covered completely.
Leave the vegetables undisturbed for half an hour so that they lose their excessive moisture.
In the meantime take a pot. Put salted water into it and bring it to boil.
Take a sheet of the tray for laying the lasagna noodles onto it in even layers.
Now pour the boiled and salted water over the noodles to soak them for softening for about 20 minutes
Take a large saute pan and heat 2 tablespoons olive oil over medium-high.
Now add the mushrooms and let them cook until they get softened and excess of liquid oil gets evaporated.
Sprinkle salt and add garlic. Cook them until you get the fragrance.
Spinach is to be added now and cooked until it gets wilted. At this time add more salt for taste.
Let the mixture cool down by turning off the heat.
In another large bowl put lemon zest, spinach, ricotta, parsley, dried oregano, basil, red pepper flakes, salt and mushroom mixture in it and mix everything well.
Now spread 3/4 cup tomato sauce over it the bottom of a 9*13 inch baking dish.
Now put lasagna noodles over the sauce in the baking dish.
Now over that, put the ricotta mixture, followed by half of the eggplant slices
Now spread 1/3 of the ricotta mixture over the noodles.
Press down on the eggplant firmly to ensure the layers are even.
Now first spread an additional 3/4 cup of sauce of eggplant followed by zucchini.
For the keeping, the layers even once again pressed down on the zucchini.
Now take one-third of the ricotta over the zucchini, that will be followed by noodles and tomato sauce
The remaining eggplant is to be shingled over the sauce and press down again.
Over the top, remaining ricotta is to be spread with last 4 noodles and 3/4 tomato sauce.
Now lasagna's is to be shingled with zucchini along with sprinkling it with shaved parmesan.
Bake the lasagna in the oven for 45 minutes.
Take it out from the oven and leave it undisturbed for 15 minutes.
Finally, cut it with precision and serve.
After following all the above mentioned steps of the Mediterranean Lasagna recipe, you can serve it to your guests for a wonderful dinner.
Nutritional information of Mediterranean Lasagna Recipe
| | |
| --- | --- |
| Calories | 361 |
| Total fat | 15 gm |
| saturated fats | 7 gm |
| Total carbohydrates | 40 gm |
| Sugar | 12 gm |
| Protein | 6 gm |
| Sodium | 886 mg |
| Cholesterol | 34 mg |
| Fibre | 6 gm |
How to Make Mediterranean Lasagna at Home | Video