How To Make McDonald's Tartar Sauce At Home
Note- This post may contain affiliate links, we earn from qualifying purchases made on our website. If you make a purchase through links from this website, we may get a small share of the sale from Amazon and other similar affiliate programs.
A sauce can elevate any recipe in a trice. McDonald's tartar sauce is one of those sauces that is paired with fried snacks or nuggets. Make the exact copy of tartar sauce served at McDonald's and enjoy your snacks.
Do you guys know that McDonald's sells 4,500 burgers every minute, 270,000 burgers every hour, and 6.48 million burgers every day? But one of the best sauces served with McDonald's food is tartar sauce.
McDonald's uses mayonnaise, dill pickles, chopped onion, parsley flakes, and capers to make their tartar sauce. Just blend all the ingredients and refrigerate for at least 2 hours. Your tartar sauce is ready! 
To make tartar sauce exactly like McDonald's, don't delay anymore and get started with this recipe in your comfort kitchen. Dive in to see the list of ingredients, equipment, nutritional facts, step-by-step instructions, and some important FAQs. Before you proceed, check out our other copycat recipes below.
1. McDonald's Egg McMuffin – McDonald's egg McMuffin is one of the most-loved breakfast sandwiches. To make McDonald's Egg McMuffin, all you need is a handful of ingredients. t has melty cheese and Canadian flavorful bacon sausage topped with a poached egg.
2. McDonald's Holiday Pie – McDonald's holiday pie is a small parcel of crumbly, crispy, and creamy holiday pie. It tastes delightful and prepared in no time. Glazed with sprinkles the holiday pie looks appetizing and delicious.
3. McDonald's Hash Browns – Perfectly browned and crispy McDonald's hash browns are delicious. The texture of hash brown is firm and crunchy. Crunchy on the outside and melting soft on the inside the hash browns taste appetizing.
4. McDonald's McGriddle – McDonald's McGriddle with bacon sausage, a brick of folded egg, and slices of American cheese is a full-fledged morning breakfast. The sweet flavor is perfectly paired well with the sausage. 
What Equipment Will You Need To Make McDonald's Tartar Sauce?
Bowl – Whisk and combine all the components in a bowl.
Knife – Chop the onions and parsley using a knife.
Spoon – Use a spoon or a whisk to combine all the elements.
How Much Time Will You Need To Make McDonald's Tartar Sauce?
| Preparation Time | Cooking Time | Total Time |
| --- | --- | --- |
| 5 Minutes | – | 5 Minutes |
What Ingredients Will You Need To Make McDonald's Tartar Sauce?
Mayonnaise – Take half a cup of mayonnaise as the base of base of tartar sauce.
Relish Dill Pickles – Add a few chopped dill pickles. It will bring out the spice to the tartar sauce.
Capers – Capers will bring out lemony and minty flavors to the tartar sauce.
Onions – Chopped onions will add savory blend to the tartar sauce.
Parsleyt Flakes – Bring out an aromatic blend with parsley flakes.
Sugar – Just a pinch of sugar will balance the spicy flavors.
Lemon Juice – Make your tartar sauce zesty by adding a teaspoon of lemon juice.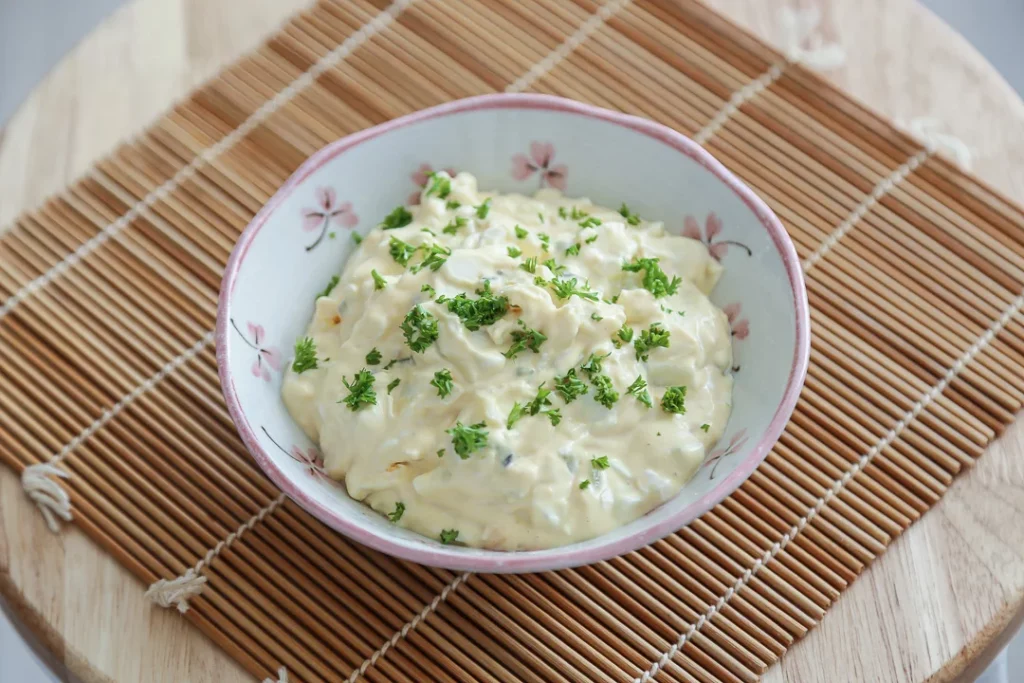 Steps To Make McDonald's Tartar Sauce
1. Whisk
In a bowl, add mayonnaise, capers, chopped onions, relish dill pickles, parsley flakes, and a pinch of sugar. Combine all the components using a whisk. Blend until it the sauce is smooth and creamy. At last, squeeze half lemon and mix it well. The copycat tartar sauce will be ready in just a blink of an eye.
Nutritional Information
| | |
| --- | --- |
| Calories | 140 kcal |
| Fat | 15 g |
| Sodium | 1540 g |
| Cholesterol | 10 mg |
| Dietary Fiber | 1.9 g |
| Carbohydrates | 1.6 g |
How Will McDonald's Tartar Sauce Look And Taste Like?
McDonald's Tartar sauce is sweet, creamy, and flavorful sauce served with fried snacks and nuggets. The flavors are infused evenly. Moreover, the sauce tastes amazingly delicious.
Recipe Card
McDonald's Tartar Sauce Recipe
Tartar sauce is one of those sauces that I love to have with my McDonald's snacks like nuggets or fish and chips. So check out how you can clone McDonald's tartar sauce at your home.
Take a blender and blend mayonnaise, 2 tablespoons relish, capers, 1 tablespoon chopped onion, parsley, and sugar.

Blend them until they are completely smooth.

Take the rest of the relish and onion. Stir both into the blended mixture.

Transfer the sauce to the bowl and cover it with plastic wrap.

Refrigerate it for at least 2 hours.
Frequently Asked Questions (FAQs)
What is Mcdonald's tartar sauce made of?
McDonald's tartar sauce is prepared by adding onions, pickles, capers, parsley, lemon juice, mayonnaise, and sugar.
Is cream of tartar unhealthy?
The creamy tartar sauce is not at all unhealthy. It is prepared with nutritious and flavorful elements. However, consuming in excess quantity may lead to negative consequences.
Did McDonald's change tartar sauce?
The traditional McDonald's tartar sauce is swa[pped with spicy wasabi sauce.
What exactly is the cream of tartar?
Tartar sauce doesn't contain any tartar cream. The cream added in the tartar sauce is the mayonnaise base.
Make and save this sauce for serving with snacks or whatever you like. We're eagerly waiting for your suggestions and experience in the comment section below. Also, don't' hesitate in asking any queries, I'll try to help with any doubts you might have. Till then, happy eating!