How To Make McDonald's Holiday Pie At Home
Note- This post may contain affiliate links, we earn from qualifying purchases made on our website. If you make a purchase through links from this website, we may get a small share of the sale from Amazon and other similar affiliate programs.
Do you know good things come in a small package? A small parcel of crumbly, crispy, and creamy holiday pie offered at McDonald's tastes delightful. How about you get the same McDonald's holiday pie at home? Yes, you got that right. Follow the recipe for the details.
McDonald's holiday pie isn't available throughout the year, and they are very secretive about when they have them in their stock. So, I decided to make this tasty and delicious dessert at my home. After a ton of research and practice, I finally got the holiday pie done right.
McDonald's holiday pie recipe has mainly 3 steps: making the crust, making the filling, and garnishing. First, make the crust by mixing flour, sugar, salt, and oil. Then, make the filling by mixing pudding mix, milk, and yellow cake mix. Make rectangles from the dough and stuff it with creamy filling. Bake for 15-20 minutes.
I know you are getting excited to make this delish pie. So, I won't waste more time, let's jump to the detailed recipe. But before getting the instructions, check out our other copycat recipes below.
1. McDonald's Egg McMuffin – McDonald's egg McMuffin is one of the most-loved breakfast sandwiches. To make McDonald's Egg McMuffin, all you need is a handful of ingredients. t has melty cheese and Canadian flavorful bacon sausage topped with a poached egg.
2. McDonald's Tartar Sauce – McDonald's tartar sauce is one of those sauces that is paired with fried snacks or nuggets. Making the tartar sauce is a child's play.
3. McDonald's Hash Browns – Perfectly browned and crispy McDonald's hash browns are delicious. The texture of hash brown is firm and crunchy. Crunchy on the outside and melting soft on the inside the hash browns taste appetizing.
4. McDonald's McGriddle – McDonald's McGriddle with bacon sausage, a brick of folded egg, and slices of American cheese is a full-fledged morning breakfast. The sweet flavor is perfectly paired well with the sausage. 
What Equipment Will You Need To Make McDonald's Holiday Pie?
Bowls – Take bowls to make the crust and filling mixture.
Parchemnet Sheet – Place the holiday pies on parchment sheets.
Basting Brush – Brush the eggs on top of the holiday pies.
Whisk – Using a whisk beat eggs and mix all the dry rubs.
How Much Time Will You Need To Make McDonald's Holiday Pie?
| Preparation Time | Resting Time | Cooking Time | Total Time |
| --- | --- | --- | --- |
| 10 Minutes | 20 Minutes | 20 Minutes | 50 Minutes |
What Ingredients Will You Need To Make McDonald's Holiday Pie?
For The Crust
Wholegrain Flour – Take wholegrain flour to preapre the crust.
White Flour – Add half a cup of white flour with wholegrain flour to make the holiday's pie.
Cooking Oil (sunflower or vegetable oil is perfect) – A tablespoon of vegetable oil added to the flour mix will keep the crust moist.
Salt – Add salt to your taste.
Water – Prepare the crust dough by adding water.
 Granulated Sugar – Add granulates sugar to the flour mix as per your taste.
Eggs – Brush the beaten eggs on top of the rolled pie before you proceed and bake.
For The filling
Instant Vanilla Pudding – Prepare the filling with instant vanilla pudding.
Cream Cheese – The filling will be thickenend by adding cream cheese.
Milk – For the liquid content add milk to the pudding mix. It will result in thick consisitency of the fillng.
Pillsbury Yellow Cake Mix – The flavors of the filling will be enhahnced with a tablespoon of cake mix.
For Toppings
Cake Sprinkles – Sprinkle some colorful edible pearsl on top of the holiday pie.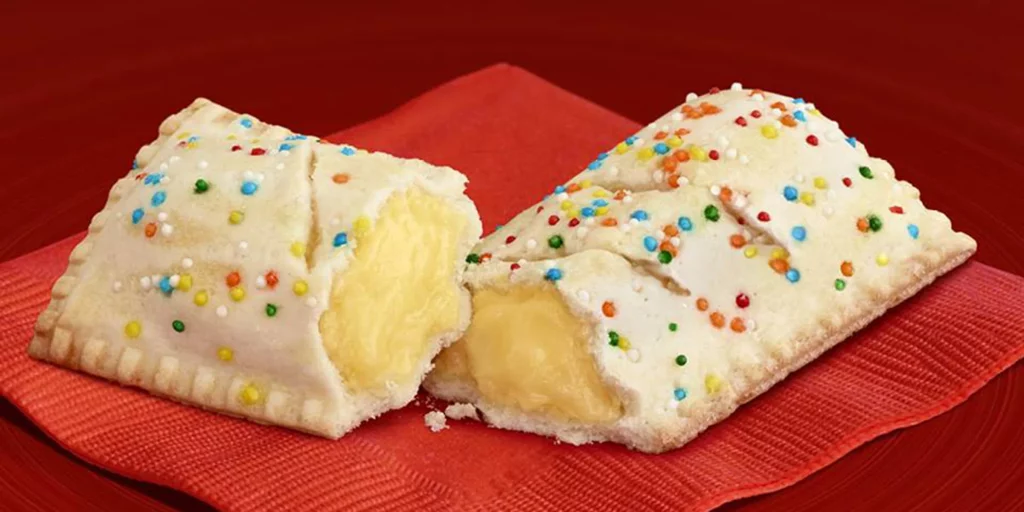 Steps To Make McDonald's Holiday Pie
1. Crust Base
Take a bowl, add the flour salt, and sugar. whisk the dry rubs and place them in the freezer until completely cold. Simultaneously, add oil to a small dish and put it in the fridge. After some time, remove both the bowls and mix the oil with the flour mixture. Stir in evenly until the batter is crumbly. Then, at last, add water and prepare a smooth dough. Roll the dough thinly on a floured surface. Cut the rolled dough into rectangle shapes. You should have two rectangular piles one fot=r the bottom and one for the top.
2. Fill It Up
For the filling, take a bowl, add milk, cream cheese, pudding mix, and yellow cake mix. Mix it well until the filling is smooth and fluffy. You can also add sprinkles to the filling.
3. End Step
Spoon the filling to the rolled rectangular dough. Leave a gap around the edges so that it is not loaded. Top it with the other half of the dough. Seal the edges with a fork and if possible make a small hole on the top of each pie. This will help in venting the steam. Brush the beaten egg on the top of each pie you fill. Dust off a few sprinkles on the top and place them on a baking sheet. Bake the holiday pies for 20 minutes. Serve hot and enjoy!
Nutritional Information
| | |
| --- | --- |
| Calories | 270 kcal |
| Carbohydrates | 34 g |
| Fat | 13 g |
| Protein | 4 g |
| Sodium | 150 mg |
| Dietary Fiber | 4 g |
| Sugar | 15 g |
How Will McDonald's Holiday Pie Look And Taste Like?
McDonald's holiday pie is an amazing treat for all age groups people. You will see the vanilla flavors tucked inside buttery, flaky, and crispy crust. Glazed with sprinkles the holiday pie looks appetizing and delicious.
Recipe Card
McDonald's Holiday Pie Recipe
Making holiday pie just like McDonald's is so easy and simple. You just need a few handful of ingredients. Prepare the crust, filling, and assemble it all together. Put it in the oven to bake for 20 minutes the copycat holiday pie will be ready.
To Make Crust
First, add flour, sugar, and salt in a medium-sized bowl. Mix with a spoon.

Place in freezer until it becomes cold, for about 1 hour.

Take a small dish and put oil in it. Place it in a freezer while you preheat your oven nearly to 380oF.

Now, add oil to the flour and stir constantly.

At last, add water to make a smooth dough.
To Make Filling
Take milk in another bowl and add pudding mix. Make sure you stir the milk while adding a pudding mix.

At last, add the yellow cake mix. You can also add sprinkles if you are using them.
To Make McDonald's Holiday Pies
Roll your dough with the help of a rolling pin on a lightly floured surface. Try to roll the dough as thin as possible.

When your dough becomes flat and uniform in thickness, cut the dough into rectangles. The rectangles should be twice as long as they are wide.

Now, divide the rectangles into two piles to make the bottom and the top.

Put the filling into the centre of each rectangle (make sure to leave a gap around the edges). Brush the edges with water so that edges will be properly sealed.

Take another rectangle from your top pile and place it over the filling. Now, with the help of a fork, seal the edges and make a small hole in the top of each pie which helps to allow steam to vent and prevent the pie from spilling.

Now, brush the top of the pie with a beaten egg and after that, dust with the sprinkles.

At last, bake them on a baking sheet for almost 15-20 minutes or until they are golden brown.
Is Holiday Pie Mcdonalds good?
Yes, holiday pie serve at McDonald's is delightful. It is beautifully glazed with sprinkles and truly satiates your sugar rush.
What is McDonald's Holiday Pie made of?
McDonald's holiday pie is prepared with vanilla custard, milk, flour, cream cheese, and cake mix.
Do McDonald's pies need to be refrigerated?
McDonald's pies can be refrigerated for up to 3 days. Refrigerating the pies will firm up the texture.
How do you reheat a McDonald's pie?
Reheat the McDonald's pies using a parchment sheet. This will not let the pie get sticky.
Now, it's your turn to make this delicious pie. Please share your experience and suggestions in the comment section below. Also, don't hesitate to comment your queries. I'll make sure to help you with the recipe. Till then, happy eating!